We have come a long way since we first started and with each coming day, the team at Limecall is working hard to create an even simpler solution from the features you use with our callback software solution.
This is why we are delighted to announce another product update for Limecall where we have introduced efficient new features and also modified our current features just because we want to make lead management a hassle-free task for you.
Let's get you on board and start the 'New' tour:
1. Feature 1: Introducing Smart Template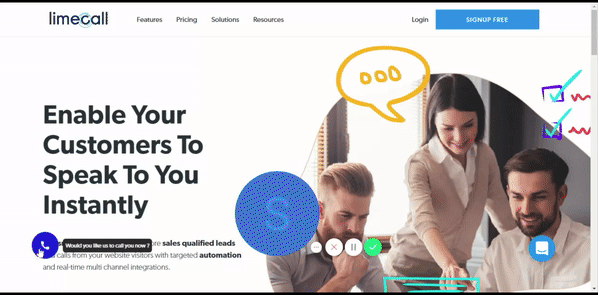 LimeCall Smart Template makes it super easy to receive calls from web visitors on your web page or app in one click
Benefits:
One Click Connect from webpages
Lead qualification within the widget that lets you collect questions/qualification data before calls
Integrated call scheduling if agent is unavailable or during busy hours
Call from applications and API
Post call feedback and survey
Improve lead conversions by 30%
---
2. Feature 2: Automate your workflow with Zapier Integration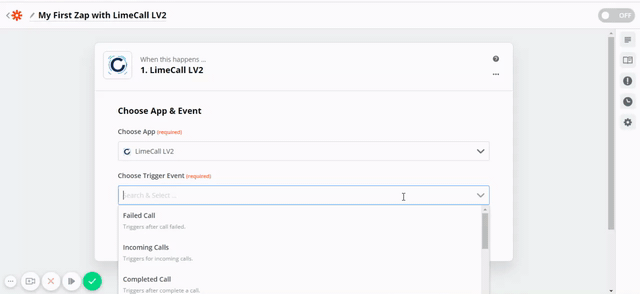 Connect to over 2000+ applications using zapier integration with LimeCall.
Let's say, for example, that you want a new lead from your Unbounce form to trigger a call to your sales team. Or following a conversation you want to add the call recording directly into your CRM (let's say… Pipedrive ). Now you are able to do all that automatically! The best part is: it all happens in the background.
Here are some examples of actions you can automate:
Call back in 25 seconds to a customer who has left his contact details in an Unbounce form;
Sending leads generated with LiveCall widget to Pipedrive CRM;
Creating a list of leads that request a callback in Google Spreadsheets with information if they have already been contacted;
Does your MayChat chatbot generate leads? Send them automatically to your sales rep so a real human follows up on them as quick as 25 seconds.
You don't need to choose just one. You can trigger multiple actions from a single trigger in Zapier.
Trigger a automatic callback for new lead form submissions
Benefits:
No need to install multiple tools for integrations as once you integrate Limecall triggers with Zapier, you can conduct any activity in it
You can do so much with the blend of Zapier and Limecall such as:
Connect with such prospects in 28 seconds who have left their contact details in an unbounce manner
Transferring generated leads with Limecall's click to call widget to the Pipedrive CRM
Triggers
Call completed
Call missed
Task completed
Lead Assigned
Lead Received
Actions
---
3. Feature 3: Auto detect contacts of incoming leads
Our contact module now auto detects any incoming leads and matches it with the contact. It also convert a lead into a contact
If lead A has contacted you earlier, that information is saved in the dashboard. If another lead contacts you who shares common information about lead A such as the company email address, you can now auto associate the new lead with the existing one.
---
4. Feature 4: Buy Incoming Numbers from 50+ countries
We have now added two new things to the list of our ever-expanding features – Numbers and IVR.
This is another step towards enabling our clients to build a professional end-to-end telephone system within their businesses from scratch.
Numbers allow our clients to choose a virtual phone number of their choice and start receiving calls instantly.
Benefits:
Buy a virtual mobile, landline or a toll free number from 50+ countries worldwide instantly
Route the calls to your personal number, team member or to the platform
Build a full fledge IVR and call routing using the numbers
Assigning numbers to your teams can help guide prospects to connect with the right people with their choice
Assign a dedicated phone number to each of your team members
---
5. Feature 6: Day-Off for agents
Days off feature now allows your agents to pick the days where they are on leave or not working.
When agents/consultants are unavailable, no calls will be routed to them hence no leads being missed
Agents will be able to manage their holidays, non working days.
---
6. Feature 7: Enhanced 'Retry failed calls'
Retry failed call option ensures that you don't miss out on any lead missed calls. It has now been enhanced by letting its feature be applied in two situations when an agent fails to answer and also when a customer does the same.
Automatic retry of calls if an agent is busy or misses the call
Automatic call back if lead disconnects the call before call connection
Any failure of calls conducted from both ends will trigger the feature to connect again so that all leads that you receive are catered too.
---
7. Feature 8: Manage social proof settings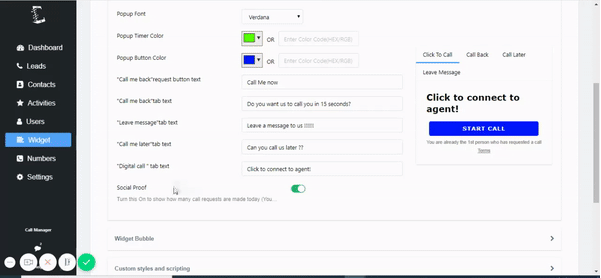 Social proofs display how many prospects have requested calls via the widget. You can now enable/disable social proof on the widget through our dashboard.
---
8. Feature 9: Additional filters for lead management
The task information in the Limecall dashboard consists of every minute lead information such as calls, tasks assigned and more. For a more detailed view of relevant information, we have added filters so that you can decide which information you want to view.
To learn more about Limecall or to receive future product updates, watch this space.
admin
Never underestimate the power of passion. With over 17 years of experience in building internet businesses, 5 successful bootstrapped b2b brands. Sathish spends most of his time executing ideas into niche internet brands through a lean team and enjoys being a wanderlust.