If you want to become a lead generation expert there are two basic things you need to keep in mind:
Psychology of your target group
Quantitative modelling
Understanding the target group is not as simple as it seems.
That's why lead generation is one of the biggest challenges in the B2B world.
Don't be blinded by the thought that you have the best product and that that's enough.
It is much more important what your audience thinks.
You need to get into the psychology of your target group and understand its behaviour.
It is important that you find out what they like, what motivates them, what are they afraid of, what annoys them, what prevents them from doing the specific action you want them to do, and similar.
The more you get to know them, the easier it will be to give them what they want the way they want it.
Quantitative modelling involves dividing the process of presenting a product or service and the sales process into segments and looking at each segment, both individually and as a whole, to make everything work better.
Track the numbers so you could analyse everything and see the results. Become familiar with what you need to keep and what you need to exclude from your sales success.
What is lead generation?
Hubspot explains that the lead generation is the process of attracting and converting strangers and prospects into someone who has an indicated interest in your company's product or service.
In order to make a sale, you need to find a way to get people interested in what you have to offer to turn them into your customers.
Lead generation is one of the key items when it comes to sales strategy and it requires special attention.
It implies that you have to "warm-up" the potential customers for what you have to offer.
If you want your business to thrive, you need to come up with a good lead generation plan because leads are what keeps your business going and what makes it real.
Best lead generation strategies
Although lead generation is one of the biggest challenges when it comes to the B2B world, there are many ways to generate your leads.
Here are some of the best strategies for lead generation:
Whether it comes to the inbound or outbound sales method, creating the ideal buyer persona as your target group representative is of the utmost importance.
Everything you're doing to present your product and reach potential customers requires that you know your audience.
It's the truth that every commodity has its own customer, but you need to know who those customers are.
It is important that you note as many characteristics of your target group as you can, such as:
age
gender
location
what interests them
what they like
what they need
When you understand the behaviour of the people for whom you created the product or service, it will be easier for you to successfully perform the lead generation.
Quality content is what will get people to come to your website initially and keep them coming back for more.
If you want to succeed in doing that, you need to pay great attention to creating content that your target audience will find valuable.
Only if that content is important to them can you expect them to give you their time, and ultimately, their money.
Quality content has to fulfil at least one of the following purposes:
to inform
to educate
to entertain
to help
When you create posts for your website and social networks, ask yourself if they are worthy enough to get people interested and keep them focused.
Combine textual and visual content such as images and videos.
For a successful lead generation, this method is one of the first that needs to be found in your strategy.
When it comes to business, consistency is a must.
Make sure you accustom people when it comes to which days you usually post on social media and blog posts on your website.
Also, find the right measure in the number of posts. Don't overdo it, but also don't post something once a month.
Try out different tactics and see which one brings the best results.
Although it takes time, it will definitely pay off when you find out what works best for your audience.
Remember to post your content at a time when most people are active.
If you run out of ideas but you want to maintain regularity, you can update older posts with new pieces like pictures and information to refresh the content you've already posted.
Many underestimate email marketing and thus make a big mistake.
Email is being used more than ever, and this potential needs to be harnessed for a successful lead generation.
The longer your mailing list is, the greater the likelihood of realising a large number of sales.
Anyone who wants to get serious about a business should have a database of leads.
To get to email addresses, you need to offer something in return that will make people want to contact you.
Be sure to post a contact form on your website so that people could easily subscribe to your newsletter.
Those who like your content will leave their email addresses to receive regular news from you.
But to ensure getting as many contacts as possible, offer them free valuable content such as an e-book or online course. Choose the option that suits your business best.
Social proof, such as testimonials and customer feedback, can have a significant impact on building your relationships with potential customers.
Existing customer experiences are one of the segments that should definitely be found on your website.
Each person who visits your website will have the opportunity to hear the opinions of those who have already tried your product or service.
It will be easier for you to gain the trust of the new customers when you enable them to see and read what other people have to say about you.
Social proofs add a touch of realism and credibility to your business.
Great customer support brings huge benefits to any business.
It is important for people to know that you care about them and that they can contact you when they have a question or a problem concerning your product.
If you show them that you are there for them, you can expect to gain their trust.
Building strong relationships with potential customers will make you a lead generation expert.
Always pay attention to the feedback you get, whether you are dealing with inbound or outbound sales.
Your potential leads can give you direct guidance to improve your business.
If you listen to them, you will know what you need to change and what you need to keep doing in exactly the same way.
People will share their pain points with you, and knowing what those are, you will be able to offer them an adequate solution.
That way, you both generate and nurture your leads.
Inbound sales
When it comes to inbound sales, the focus is on the buyers, not the seller.
Everything is subordinate to creating the best possible customer journey.
As New Breed points out, inbound sales is a sales methodology that prioritizes the needs, challenges, goals and interests of individual buyers.
Also, the leads have an absolute choice. They get to choose whether they want to contact you, whether they will give you their time, whether they will leave you their contact, and so on.
It is up to you to create such a user-friendly experience that they want to take all the necessary actions that will benefit you as a seller.
When it comes to this method, it implies that prior interest has already been generated in the leads, even before you entered into communication. They are the ones who make contact with the seller when they decide it's time for that.
The inbound sales method takes more time than the outbound, but thanks to well-designed user experience, very strong relationships can be built with potential customers.
Outbound sales
Unlike in inbound sales, when it comes to outbound sales the emphasis is on the seller.
It is not the customer who starts the communication, but the company chooses when to contact potential customers.
The main concepts of outbound sales are cold emails and cold calls.
They are called "cold" because the audience usually does not have any previously acquired interest in the company that contacts it.
Tenfold says that outbound sales represent the process where a seller, usually represented by a sales agent, initiates customer engagement from its end.
What remains as a choice when it comes to leads is whether they will trust the seller and make a purchase or not.
As there is no previous interest in potential buyers as in inbound sales, it may be more difficult to make one. However, there are some ways to gather leads that will make you a lead generation expert when the outbound sales are in question.
Different stages of lead generation/lead generation funnel
The whole sales process, as well as the lead generation process, is designed in the form of a funnel.
The funnel consists of the various stages that a potential customer goes through in order to eventually make a purchase.
It is logical that at the beginning, in the initial stages of the funnel, there will be significantly more leads than at the bottom.
At the bottom stay those who are actually your hottest leads.
At the end of the funnel, these leads convert into your customers.
The loss of the leads during the process does not mean that they will not make a purchase in the future.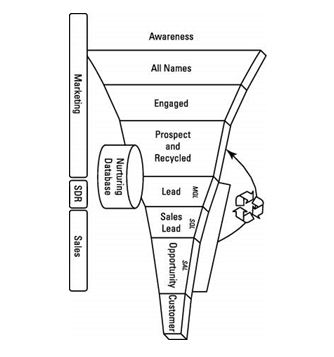 Source: Digital Marketing
Stage 1: Raise awareness
The first phase is all about raising brand awareness through quality content on the website and social media channel, SEO and paid ads.
Stage 2: Collect contacts
While these may not yet be your most important leads, it is important that you collect as much contact information as you can, such as their email addresses.
Design contact forms where people can leave information. This extends your mailing list.
Stage 3: Engagement
The information you gathered in the previous phase is intended to help your leads get engaged with your content.
Take them further through the funnel by offering them to sign up for your newsletter, attend your course or webinar, and similar.
Stage 4: Prospects
When you enter into communication with people, you will know if they fit into your ideal customer profile.
Not engaging in lead generation is just as bad as spending time on those who do not represent your target group.
Stage 5: Qualified leads
After these stages, you will see who your qualified leads are, that is, who your target group really consists of.
Qualified leads are the ones who have shown the most attention for what you're offering.
Stage 6: Recycled leads
Recycled leads are those who have not initially shown enough interest in becoming qualified leads, but their behaviour indicates that they have the potential to do so.
Still, they should remain in your lead generation funnel. You can, for example, keep them on the mailing list until they become qualified leads.
Stage 7: Sales leads
Sales leads are qualified leads that give signs that they are almost ready to make a purchase.
They show the greatest amount of interest in your offer and are in communication with your sales team.
Stage 8: Sales opportunity
Immediately after you realize who sales qualified leads are, they are recognized as a sales opportunity.
They become a part of your marketing opportunity and that can include engagement and conversion costs.
Stage 9: Real customers
The last stage that also represents the bottom of the lead generation funnel is the one in which sales qualified leads are converted into real buyers by making a purchase from you.

It is important for you to understand that lead generation funnel is not going to be exactly the same for every type of business.
Take this funnel as an example and design a funnel that fits your business and niche.
How to make outbound lead generation work
Like in inbound sales, outbound one has its own ways for lead generation.
Given that when it comes to outbound sales there is often no prior interest from the target audience, you need to use everything you can to reach the conclusion of a sale.
We will now see how to become an outbound lead generation expert step by step.
1 . Understand your target audience
When you find out more about your target group, it will be easier for you to know when and how you should contact it.
It is just as important as in inbound sales to create your ideal buyer persona. This will determine the further course of planning for your strategy.
For example, if your target group consists of employed people who are working from 9 AM to 5 PM, the best time to call will be after they arrived at their workplace and got prepared for the new workday.
Although people do not like to be interrupted during their activities, most B2B managers consider cold calls part of their job and therefore will be ready to hear what you have to offer them.
2. Make a great team
Your sales reps are the ones who communicate with your leads.
Lead generation begins from the first conversation.
People will notice the way a sales agent interacts with them, how professional he sounds, what his presentation methods are, etc.
The sales team has to be:
thoroughly educated on what it presents to the potential buyers
eloquent, because good communication skills are essential
motivated by the goal that needs to be achieved
concentrated on the conversation itself, without multitasking
ready for the various questions that the interlocutors may have
Make a training session with your sales team where you will go through all the important items of one phone conversation.
For example, you can create a FAQ guide to help you prepare your sales team as much as possible.
3. Valuable content
Even though you, as a seller, are the one who starts communication with potential customers, it is important that you create valuable content on your website and social networks.
People love to explore and find out as many interesting things as possible. Be sure that they will search you through Google and what they come across should sustain the interest you have created during the conversation with them.
4. Emails worth the attention
If you send cold emails, you want to show people that your messages deserve their attention.
The first thing they will see when they enter their inbox is the subject. You'll have a few seconds to maintain their attention, so make sure the subject is interesting enough for them to click on your email.
In the body of the email, meet those expectations set by the subject otherwise people will be disappointed in your promises and you will lose the opportunity to gain their trust.
Also, try to personalize emails.
In this way, you show that every potential customer is important to you.
5. Maintain the communication
Rarely does a call immediately end up with a sale. When you set the next call with a potential buyer, be sure to respect the time you have arranged.
If you have denied the interlocutor the answers to specific questions, you will need to provide those answers in the next call.
This way, you will maintain quality communication and demonstrate professionalism.
Also, after people make a purchase from you, don't forget about them.
Contact them to hear how satisfied they are with your product or service, if it was the solution they were looking for, and if they would change anything about it.
6. Listen to your leads carefully
By communicating directly with people, you will find out exactly what they are interested in and what they need.
You can also ask them to complete a survey to get as much information as possible.
Keep an eye out for comments and feedback.
These pieces of information can help you to improve your business further and at the same time show how important it is for you to have satisfied customers.

Tools for lead generation
Lead generation is a serious and complex process, but today there are various tools on the market that can help automate this process as much as possible.
To save yourself some time, use their full potential.
Limecall is a callback software that allows you to provide answers to your leads in real-time.
You can provide your customers with a personal one-on-one answer.
Instead of leaving people to wait for an answer, you can enable them to get the answer the moment they ask for it.
In addition, Limecall also offers a website widget in the form of a window asking: Do you want us to call you in 28 seconds?
Check Limecall Pricing Now!
The visitors generally do not expect such a quick reaction, so this will certainly leave a positive impression on them.
This way you show them that you value their time.
If they are not able to answer the call in 28 seconds, they can schedule it for another time.
Datanyze helps you research prospects and thus saves you time.
This is a great tool for outbound sales.
It shows you what technologies your prospects are using and it helps you find the new ones precisely based on those they currently use.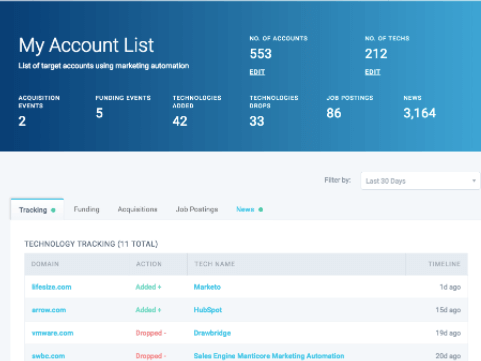 This lead generation tool helps you find qualified leads, check email addresses and get your data enriched.
You can automatically schedule your emails, find out if someone has opened your message or if you have been blocked by the email recipient.
Turnstile generates leads with the help of a video.
This is Wistia's product and works by collecting contact information after people have watched your video.
A contact form appears at the end of the video and those interested in you and your product or service will enter their details.
You can choose when the contact form will appear.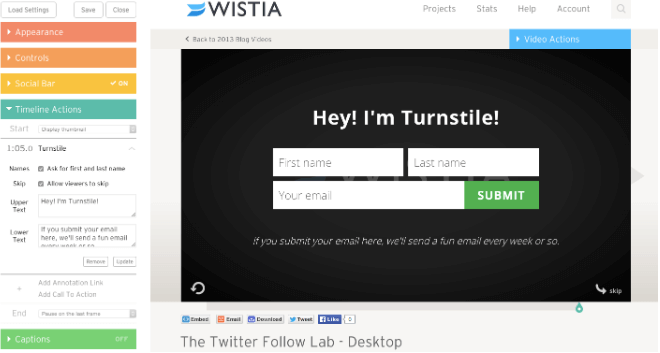 ContactOut helps you to quickly and easily find phone numbers and addresses of people from platforms like LinkedIn and GitHub.
You can also find new leads and new employees.
It gives you the ability to save profiles of interest to you, as well as to send email campaigns.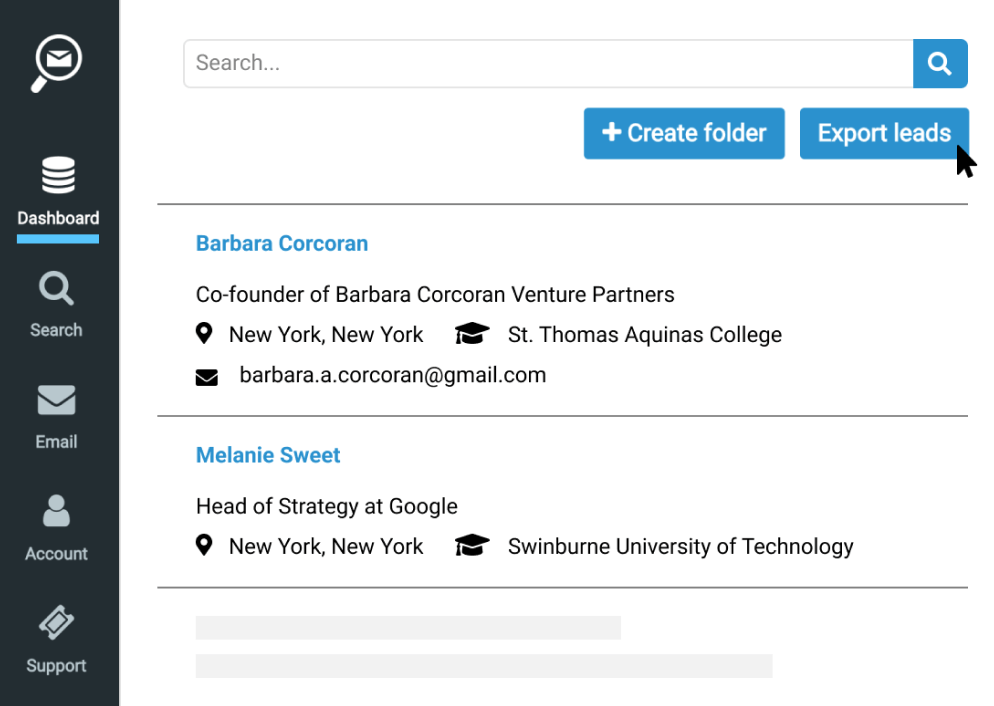 This tool helps you create interesting surveys that your visitors would fill out with pleasure.
This is a great opportunity to get engaged with them and find out what their opinions are.
It also provides advanced targeting and insights reporting.
Lemlist allows you to send personalized emails as well as personalized images that can get you more replies.
This tool monitors the behaviour of your visitors so you can see who are the ones who have shown the most interest in your business.
With Lead Forensics, you can identify who your visitors are in real-time.
This lead generation tool finds out who your visitors are by using their IP addresses, even if they haven't filled out a contact form.
Therefore, you can get in touch with those who often visit your website, and ease the way to conversions as they have already shown some interest in you.
Source: 3 Chillies
These are just some of the lead generation tools that can help you become a lead generation expert.
Explore these tools and find the ones that are best for you in order to successfully generate leads and grow your business.
Click2Magic is a lead generation software with Personalized Customer-Enterprise conversations.Its attend volumes of support tickets with intelligent AI chatbots, and customer support teams with great ease. Powerful features like
Single Interface that Hosts Multiple Web-Properties
Powerful Archives to View Chat History
Customizable Widget Launch Requirement
Supports Text/Audio/Video File Attachments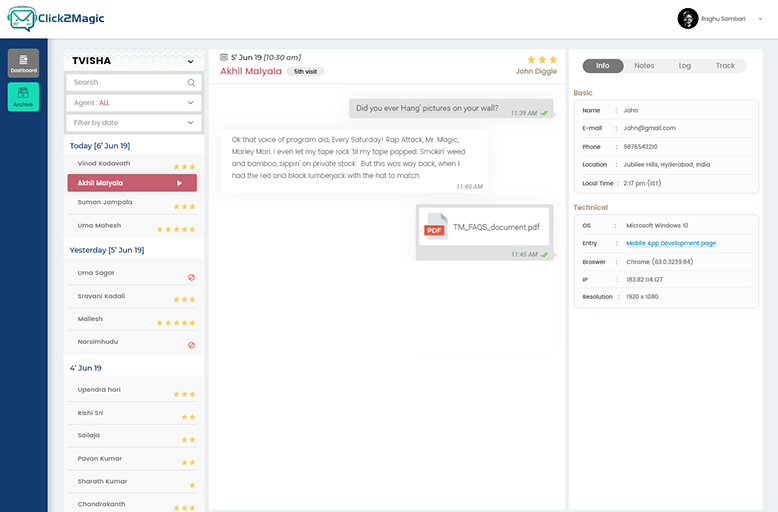 The Bottom Line
As you can see, being a lead generation expert requires a lot of knowledge, but mostly it is a matter of practice.
Once you embark on this challenge, you will be presented with new perspectives and additional ways to accomplish successful lead generation.
Do not neglect any segment of the lead generation funnel, as it is up to you to design the best possible user experience.
Check also our : Callback apps for real estate
If you work hard to create a great experience for your leads, you can expect people to pay you back. Firstly, with their time and attention, and then with becoming paid customers.
Although this process seems complicated, follow the tips and the guidelines from this article and the results will certainly not be missed.
Check our Callback Software and Limecall Pricing.