It is 2020 and you are still doing calls.

By now you have understood that phone sales are one such technique that can yield you qualified leads in huge numbers.

Despite understanding this, do you still fail to acquire qualified leads for your business?

Have you tried every trick to master the art of phone sales?

Before you answer the second question, think again. Google has a lot of articles on this topic, so is another one being curated?

The reason is that this article stresses more on 'how' instead of 'what' for you to learn the trade secrets about phone sales.

You are working as a sales rep in 2020 and it's obvious that you need to follow the 2020 style of phone selling, which is exactly what this article will cover.

In this 2020 edition of phone selling techniques you will learn:

How do you define 'phone selling' in 2020?
Advantages of phone selling techniques in the current sales market.
22 Phone Selling Techniques which demand your attention in 2020
But wait…

We can't just jump into the 26 phone selling techniques without understanding why it is even important in 2020.

And that is exactly why, this article will begin building your knowledge on the basics, starting with the main question.
How do you define 'phone selling' in 2020?
Understanding that 2020 has grown into a more digitized platform for businesses, phone selling in this generation defines itself as one of the easiest ways to capture clients right at this very moment.

Confused?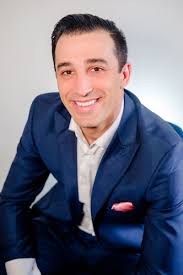 Let Marcwayshak, a sales strategist himself explain you this point:

''Fewer sales people are actually picking up the phone and truly calling prospects and this is your opportunity to stand out. The phone is still one of the most powerful tools that we salespeople have in our arsenal''.

Picture it this way:

If your competitor is going to use social media to engage with its clients, he/she will definitely get a lead, but all that process will take time. The reason being the need to develop a trustful bond which social media doesn't let it happen easily.

Today almost every information you need is available online, but how true are those facts?

We live in a world where platforms such as Wikipedia are being edited by anyone and everyone no matter if they have the experience on that topic or not.

When such a disadvantage is happening online, how can you expect clients to actually trust you?

On the other hand, when you engage with your clients via cold calling, you increase the chances of also qualifying a lead but in a more quicker way. Since your interacting over call, you will be able to win your clients over as you'll be directly addressing their needs on the spot.

This matters hugely in the 2020 sales market.

Today's clients are well informed due to their research about the brand and market information online, they know what they want and what are the expectations they have before they even view your solution.

And that is exactly why phone selling matters here. Via phone calls, you are able to able to address those factors instantly and convert them into a convincing solution for them to ponder upon.

Let's understand this with an example:

Sales Rep: Hello, Am I speaking with Bob?
Bob: Yes, it is, how can I help you?
Sales Rep: Bob, this is Alex calling from ABC company and we have something which might interest you with reference to increasing your lead count on your website.
Bob: My website is doing fine and the leads I get are great too.
Sales Rep: That's great to hear Bob, but what are you doing when it comes to customer support?
Bob: I have mentioned my contact number on the page.
Sales Rep: Ah, that's the problem right there Bob. Not all your leads will like to contact you directly, some may just be looking to learn and understand what you sell. They may be viewing your website in office or at a meeting, how can you expect them to call?
Bob: Oh that's right, but how can your solution help me?
Sales Rep: We provide you with a 24/7 live chat service where our inhouse chat agents will interact with your visitors and convert them into leads during the process. We even help you filter the good leads from the bad saving your time too.
Bob: This sounds better actually for my business.
Sales Rep: It sure does, why don't we take this forward to a face to face meeting where we can learn about your company and how our solution can help you better? How does Thursday at 4pm sound to you?
Bob: It sure sounds great. Here are my contact details xxx.

In this example it is evident that Bob knew what he was doing and was satisfied with his results. But Alex knew that Bob could be happier if he was offered a solution which would help him ease his current sales process.

He triggered that by stating the problem of lack of customer support to Bob which Bob instantly pondered upon.

Check our : Callback apps for travel agency
If this example was done via social media, Bob wouldn't be as convinced as he was during the call. He would have either delayed it or ignored it understanding that so many sales reps reach him out via his social media page.

As Marcwayshak continues to explain:

''Selling on the phone, an old fashioned mode of communication is actually more relevant today than it was a few years ago''.

And that is exactly why you need to understand why 2020 is defining phone selling techniques in such a manner.
Advantages of phone selling techniques in the current sales market
1 . Retaining the lack of human touch
You can't crack a sales deal without your clients ensuring that they have faith and trust in your solution and your brand. For this to happen, phone selling needs to be applied.

Phone sales are a great medium to understand your clients better because it only takes a human to empathize what are the pain points a client's need surrounds.

For example:

AI is one of the most talked about creation which could benefit any business to develop leads quicker. Many are under the idea that if they feed their chatbots the same information how a human interacts, the process becomes much more convenient.

What big companies fail to understand here is that whenever a client needs real problem-solving solutions, they will contact a human and not a robot to resolve it.

Check also our Callback apps for real estate
Insidesales proves:

''Data from management consulting firm, McKinsey & Company shows that organizations that add the human touch to digital sales consistently outperform their peers. They achieve five times more revenue and eight times more operating profit''.

Companies invest in robots because they believe that they can cater to all the client's queries quicker. Though the queries are solved in a blink, the personal vibe is lost.

The reason being, robots can answer all the questions but can never empathize with what your clients are going through.

In sales, the key factor to connect better with your clients is to first understand what their needs are, why have they developed such a need, how can you connect with them, how can your solution help them?

When you are able to answer all this, your bonding with your clients becomes much easier.
2. Builds a good rapport between you and your clients
The great thing about phone calls is the ability to capture and frame the client's attention towards your product. Rain Group states, 27% of sellers say cold calling is extremely effective.

With constant oral communication, you tend to create a good rapport between you and the clients which in turn increases your chances of lead conversion.

Chron states:

''Customers naturally gravitate toward pleasant experiences, maintaining rapport with customers can help boot sales. More importantly, good rapport with potential customers can help ease the negotiation process; customers who feel they have a solid relationship with vendors may feel more comfortable expressing their needs''.

Let's understand this with an example:

Sales Rep: Hello am I talking to Ms. Margaret?
Margaret: Yes, it is, how can I help you?
Sales Rep: Margaret, this is John calling from XYZ company and John your colleague told me on LinkedIn that your new venture is looking for a good lead generation tool that would match your small business requirements.
Margaret: Yes, that is true, do you have anything in mind?
Sales Rep: Thank you for asking because we actually do have something which would fit in your budget as well as give your business the opportunity to grow better.
Margaret: That sounds great.
Sales Rep: It sounds even better when we tell you in detail about our structure, why don't you give me your email id and a contact number so that we can reach out to you at the earliest alongside send you a brief about our service.
Margaret: Surely.

In the above example, it was the sales rep attitude that won him a potential sale.

As you saw, he managed to drive the excitement in his voice to make Margaret feel that his solution is the right fit for her business. He triggered the missing puzzle which Margaret didn't seem to see in her venture.

Hence this worked as a great way for the sales rep to establish a rapport with Margaret and allowed him to connect with her closely to solve her missing needs.
3. Finds your target audiences on a faster rate
When compared to emails and social media selling, phone calls too, reach a larger audience but in a more quicker manner.

With phone calls, you know have a status of which clients need to be contacted again and which have already been contacted. This saves your time waiting for the client's reverts and doesn't put a hindrance in your weekly goals.

For instance:

You are trying to contact Chandana Rama, the Marketing Head of a Software company. Due to her busy schedules, she rarely picks her calls. But when she does, she only speaks for a shorter span of time.

Since you are aware of this, you will cater to them immediately as well as try and fix another call appointment at their convenient time. By doing this, your not missing out on a potential lead like Ms. Chandana which most sales reps frequently do.

Linkedin states, 80% of sales are made by 20% of salespeople. The winners sell to the prospects the losers give up on.
4. Building and Framing long term relations
When you contact your clients half of them would be either busy or having a bad day and if your call interferes all this, you wouldn't be getting a good response in return.

This can't be stressed enough that phone calls can switch your angry clients to a more relaxed client within a shorter time duration.
Check also our : Leads Tool for automotive business
Let's understand this with an example:

Sales Rep: Hello, am I talking to Mr. Paul?
Paul: Yes it is, who is this?
Sales Rep: Hello, Mr. Paul, This is Mathew calling from ABS enterprise. We saw your recent comment on how you can filter good leads from the bad via LinkedIn and we thought that we might be able to help you in this.
Paul: Umm. I don't have much time in hand.
Sales Rep: I understand today is Tuesday and it's a lot of work to do, but you see I am not calling you like the usual calls you get, I am calling you for the purpose of making your Tuesdays much more easier.
Paul: Umm, alright please continue further.
Sales Rep: Thank you, Mr. Paul, we won't take much of your time, our company has a tool which helps to filter all your qualified leads instantly. The best part is, it happens during the initial process which saves you a lot of time as well as makes things faster for you at any time of the week.
Paul: Haha that's great.
Sales Rep: We understand Mr. Paul. Why don't we take this further over a detailed call? We can have a one to one question and answer frame and you will be able to come to a conclusion.
Paul: That sounds great to me. You can contact me on my number at XXXX or on my email id xxxx.
Sales Rep: Thank you, Mr. Paul, and don't worry about your stressful Tuesdays anymore.

What a brilliant response by Mathew. He understood that his client Paul was having a bad day.

Instead of simply selling his solution, he first worked to create a more comfortable Paul to converse with them. He assured him that he understood his issue and that's why he wants to help him.

Seeing this, Paul felt more relaxed and was able to shed out his frustration. This action, in turn, won Mathew Paul's trust and before they could even end the conversation, Mathew had formed a great relationship with him.

Mathew with just the power of one call was able to convince and win his client's trust.
5. Capturing leads instantly on arrival
When you have a warm lead visiting your website, you can only convert it into a potential lead if you reach out to them quickly.

For instance, when you spot a lead online visiting your website, you can immediately get in touch with them via phone calls. According to Hubspot, Sales pros who try to reach leads in one hour are 7x more likely to have meaningful conversations.

The leads that visit you could either be a warm lead or maybe just visiting and if you fail to cater to even one of them it could lead you into a huge loss. Being a salesperson yourself, you know how it feels when you miss out on a crucial lead.

When you have a tool that helps you to convert your leads quicker, why settle for a slower process?
6. Catching up on missed opportunities
You rarely get second chances in sales. If you do, consider yourself lucky.

There are times when you contact few clients and they don't pick up, this sparks you with an opportunity to revert to them again.

For instance, you contact the sales head of a particular company. The sales head refuses to continue further because he/she doesn't have time to speak at the moment. What do you do?

If you're thinking to move on, you need to hold that thought.

According to Baylor University, It takes 8 cold calls to reach a prospect. 72% of all sales calls aren't answered which means you still have a handful of chances to prepare yourself to crack a potential buyer.

And once you grasp a call with them, your chances of lead conversion increases.
7. For on spot lead assistance, calls are the better option
Yes, you heard that right.

Your client will require your support when they buy your solution. Hubspot's statistics proves, 51% want salespeople to respond in a timely manner to assist their needs when required.

Here is when phone calls come in handy. It's a quicker response medium and helps them take immediate actions with your support.

For instance:

Your clients will have information about you but they do need your assistance in many crucial stages of their buying processes such as:

Almost six in 10 buyers want to discuss pricing on the first call
More than half of prospects want to see how the product works on the first call.
19% of buyers want to connect with a salesperson during the awareness stage of their buying process when they're first learning about the product.
60% want to connect with sales during the consideration stage after they've researched the options and come up with a short list.
20% want to talk during the decision stage, once they're decided which product to buy.
As you can see, the clients prefer it better to discuss all these crucial factors on call rather than on any other platform because only via phone calls can they clear all their doubts immediately and get a clearer picture of the solution you are selling.

Plus point: Development of trust affects client purchasing decisions too.

So with the use of a phone, you sell better, develop trust as well as build profitable relationships.

As you now have all the ingredients required to understand why phone selling matters in 2020, it seems right to push you towards mastering this art in the right way.

22 Phone Selling Techniques which demand your attention in 2020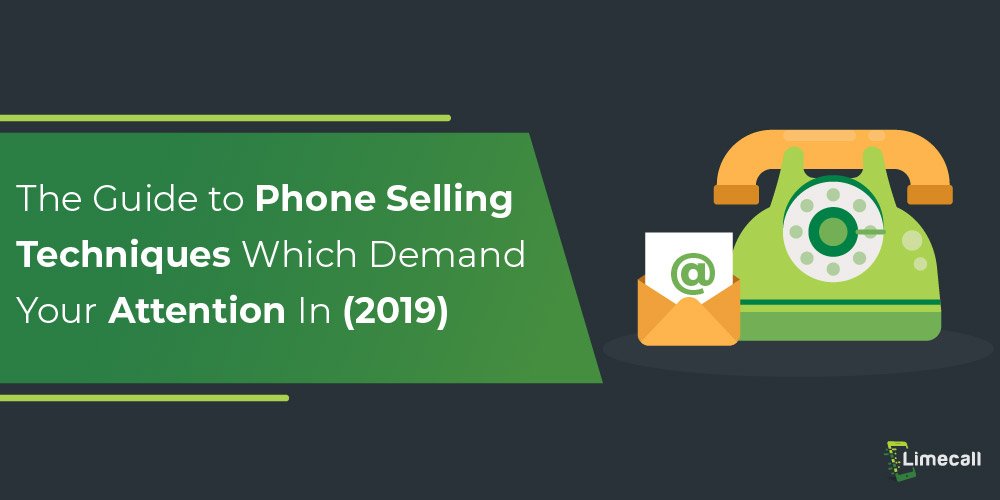 1 . Understand the client's pain points with 'empathy'
When you can solely understand what your client's pain points are, that is when you can actually make a sale.

Be empathetic towards your clients. It's not just about making a sale, you're helping them to find their ideal needs.

Instead of using phrases such as:

'I am calling to sell you a good solution'.
'My company has launched a new product, are you interested?'
'Our company has good products, we can serve you better.'
Use this:

'The latest trend in your industry demands this and we have a solution for you. This could help your lead count to grow much bigger'.
'Our solution can help you grow better in your industry which could be a good changing point for your business.'
'We want to help you grow better and that is why we are offering you a solution that will make a huge impact in your business''.
When you pick up the call to contact your clients, be humane. Don't trigger it as a point if selling, understand first what they need, what they require. Only when you can understand their true issues, will you be able to suggest and solve them better.

With empathy, you can easily step into your client's shoes to understand what they are actually seeking and where you can place your solution to help them better.

As Lynn Hunsaker, CEO of MarketingOperationsPartners.com and of ClearActionCX.com uses her wise words via her quora platform to describe the importance of empathy in customer service and innovation:

''I see the role of empathy as essential to ongoing successful innovation — by seeing things the way customers see them, you're certainly more likely to be on the right track to solving things they're grappling with, rather than introducing internal pet projects or unvalued product/service tweaks.''

For a detailed understanding of empathy, you can read this article from salesscripter.
2. Confidence
Confidence can convert your visitors into potential leads.

Via phone sales, your confidence will help you converse better with your clients.

Because when you're confident you are screaming volumes to your clients to trust you without any hesitation. A confident you is able to convince them that your solution will help them out and that they will be able to see the results.

You will be able to convince your clients to ponder upon your words. But, if your confidence falls low, you will project an uncertain side to them which isn't great.

Because when you're not confident, you reflect that in your tone. You give the impression that you yourself are not confident in what you're selling.

This develops a doubtful mind for your clients whether they should continue to engage with you or not.

Let's understand this with an example:

Sales Rep A

Sales Rep A communicates with his client over a call. He shares his clients with all the details required to understand his solution. But during the conversation, Sales Rep A suddenly sounds a bit low. He starts to stammer when the client asks more questions and freezes at the moment.

Hearing this, the client doubts whether Sales Rep A even knows what he is selling. Due to this, he ends the call saying, 'I'll call you later''.

Sales Rep B

Sales Rep B communicates with his client over the call. He shares his clients with all the details required to understand his solution. During the conversation, Sales Rep B creates excitement in his voice. This makes his client listen and learn more.

As Sales Rep B continues his conversation, his positivity in his solution reflected on his tone. The client realizes how genuinely Sales Rep B wants to help him and also observes that all the queries asked were answered in a positive and confident manner.

Due to this, the client's attention was drawn constantly and the action had won Sales Rep B another scheduled meeting.

All it took Sales Rep B was a pinch of confidence to get through the call.

As the example above reflected, for you to confident in selling, you first need to understand why are you even selling? You need to study your solution in such a way that tomorrow if any clients question minute details about your solution, you should have the answer at the tip of your tongue.

3. The more personalized your script is, the better you connect with your clients
Everyone is bored listening to the standardized sales pitch.
It's time for you to step out of your zone and create a friendly and more humane pitch.

The reason why you need to personalize your scripts is that you are not just selling a solution, your answering needs. You are catering to thousands of clients who have issues and each of those issues is different.

For instance, If you write a sales pitch about why a client should buy your furniture, will you be saying that same script for a client who is interested in buying a house?

In simpler terms, it is a huge mismatch.

Yes, you need to have a sales pitch, but don't use it as a dialogue sheet, use it in a way where it can guide you towards the right flow of making a sale.

Let's understand this with an example (Source: Hubspot):

Salesperson: "Hello, [Prospect name]. My name is Michael Halper and I help hiring managers like you reduce the time it takes to interview, hire, and onboard new talent in 50% less time than the industry average. How many new hires do you have planned for the year?"

Prospect: "Well, my department has the budget for seven new hires in 2020."

Salesperson: "What's your biggest pain point in the hiring process right now?"

Prospect: "I've got a million other things going on, and finding qualified candidates has been a challenge. We need to get these positions filled, but I'm having a hard time making it a priority with everything else on my plate."

Salesperson: "I hear that a lot. I'd love to set up a 10-minute call to learn more about your goals this year and share how Recruiters International might be able to help. What about this Thursday?"

Prospect: "Um, sure. I think I've got an 11:00 open."
A study conducted by lead heroes claimed, 25% of all contacts will listen to a sales pro's pitch which means if your going to read your pitch like a robot, don't be surprised hearing a no from your clients.
4. A positive you delivers a positive sale
When you sound nervous or get caught away from the phone conversations with your clients, it shows.

For instance, when you're nervous you tend to stammer or be lost, or if your dull while communicating, the way you read your sales pitch will sound very less interesting.

It's important that you bring a positive side to your communication.

Many clients would be in a bad mood or are having a bad day, your positivity could trigger them to be more relaxed and communicate with your better.

It doesn't take much to be positive. Maybe an energetic hello or a more casual and happy tone can form tiny steps to keep your clients engaged in a conversation with you for long.

Recommendation: Be motivated before you dial the number. Read success stories or motivational lines which will pump you to accomplish your sales goals.
5. A good rapport ensures smoother selling processes
Your clients will shut the phone the minute your first sentence starts with a sale.

It is significant for you to understand that bonding with your clients will help you to sell your solutions much more easily.

With a good rapport, you win their trust and they speak to you openly about the issues they are facing, which in turn helps you to place your solutions and sell them better.

For instance, try avoiding the following lines:

We have a new product that has these benefits.
Has the call caught you at the wrong time?
It is a busy day for you today and understanding that, give me just two minutes of your time.
Instead, switch to these:

Understanding that it is a stressful morning for you, we want to give you something which can make your work life easier.
Yes, lead generation is a tiresome process and being able to get even one lead is a big thing. and that is exactly why we want to help you out.
The reason for my interference between your work is because we heard that you're looking for an xyz solution and we have that with us at the moment.
6. Open your ears to clients needs and requirements
As a salesperson, the way to win your sales numbers is to listen to what your clients have to say without any interruption.

The more you hear them speak, the more you learn about them and the better you're able to sell to them.

Let's understand this with an example:

Sales Rep: Hello, Am I speaking with Thomas?
Thomas: Yes, How can I help you?
Sales Rep: Hello Thomas, this is Sam. I hear that your looking to increase leads, our live chat services can help you increase better.
Thomas: I am already using a live chat tool so I don't need your solution.
Sales Rep: I understand Thomas, but why don't you try it out, we have an offer on it?
Thomas: No thank you.

Did you find the mistake?

Sam was so busy to sell his solution that he failed to understand what Thomas actually needed. If he would have heard what Thomas was going through with his live chat tool, then Sam would have sold his solution much easier by filling in the gaps.

Listening to your clients will help you to create a good impression as it will showcase how much you value their needs and are willing to help them out. Hubspot rightly justifies this, what do buyers want from sales pros? 69% say, "Listen to my needs."

7. Research for better clarity of information
Before you even begin your phone calls, it is important that you have all the information about your client in hand.

This pre-arrangement will help you to prepare the right questions to ask your clients when you are listening and learning about their needs.

Conduct your research in this way:

What are your clients seeking?
Why are they in need of your solution?
What does their business do?
How are they attending to their customers?
How can your solution help them to grow better?
What makes your solution better than the competitors?
When does your solution show results?
How can your solution fit in your client's sales process?
How is your solution making your clients life easier?
Recommendation: Begin your research via LinkedIn because it is a business platform where you can spot many B2B business holders there.

When you search for your clients, you can view their information like this: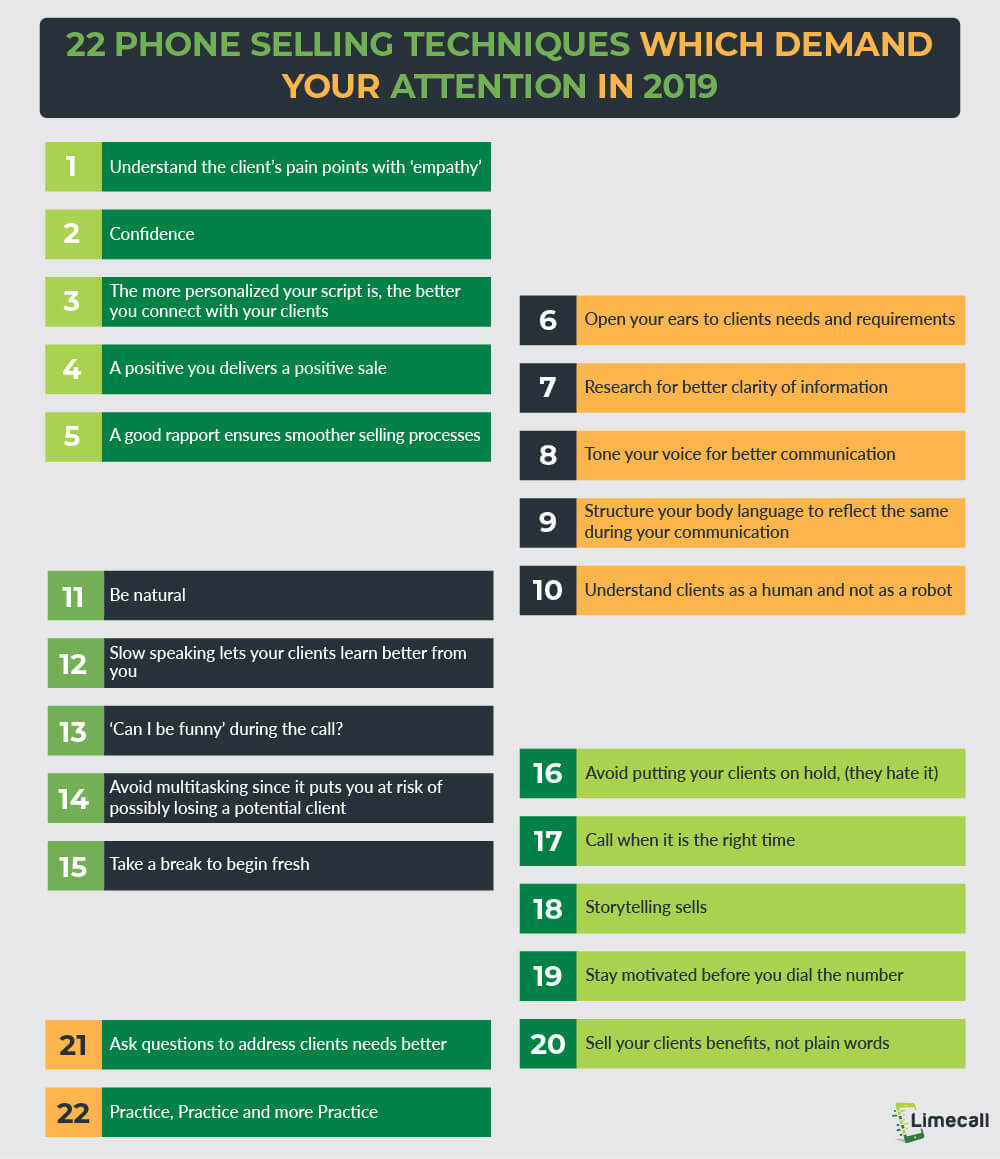 8. Tone your voice for better communication
If you're contacting a client for the first time, always remember that the way your tone communicates with them matters.

For instance:

You're having a bad day and at the moment you are in a very bad mood. You pick up the phone to contact your prospects. In order to hide your anger, you speak in a very loud tone. When you continue to communicate, the client has already sensed that something has happened to you.

The next step the client would do is to just cut the phone. The reason?

Why should they hear someone who is selling to them in a tone which sounds very cold?
Remember you are selling a solution to a person who has needs.

Your tone will determine whether your client should even continue the call or not.

Your tone could also make it evident to your clients about the difference between you wanting to help them or you treating this call as a normal sales phone routine.

Let's understand this with examples:

If you speak loudly, it could show that you are not ready to listen.
If you speak slowly, it could show how uninterested you are.
If you speak with empathy, it could show how enthusiastic you are to speak and learn about them.
Recommendation: When you're doing phone selling, stand up. It gives you energy and passion to assert and explain yourself better.
9. Structure your body language to reflect the same during your communication
It is better if you straighten your body language before you contact your client, as it reflects the way you speak with them.

This point is best explained with the examples listed below:

When you smile, it reflects a more warm and friendly tone.
When you're distracted, it shows a lack of attention tone.
When you're nervous, your hesitation and clueless behavior reflect in the tone.
When you stand up and talk, it reflects a more attentive tone.
When you walk around, it reflects a more active and energetic tone.
When you use your hands to talk, it helps you to explain better via your tone.
Recommendation: Stand up, put a nice picture around you and eat well. Keep yourself hydrated. It really affects your body language.

You have just a few seconds to convince your client to retain a conversation with you for the next minute. Don't eliminate such an opportunity by missing out on a few basic pointers.
Check also our : Saas Callback
10. Understand clients as a human and not as a robot
Clients today, still prefer human conversations.

To prove this point, MarcWayshak, a sales strategist, mentions in his online video:

''In today's world of selling, salespeople are distracted with things like social media, email and all the other technologies of the day. The phone is still the best prospecting tool out there''.

As mentioned earlier if you're going to sound like a robot when you read your pitches, you will give out the impression that you lack empathy and are merely contacting them to just sell your solution.

Eliminate this issue by having a more conversational tone when interacting with your client.

Let the below examples explain to you the difference:

Robot: Hi, How may I help you?
Client: I am looking to understand the callback software you have.
Robot: Okay, please choose the below questions to be answered.

Human: Hello, Ms. Paul, how may I help you today?
Client: Hi, I am looking to understand your callback software.
Human: That sounds great, before we get into the details why don't you tell me the reason why you need our software so that we can help you better?
Client: Oh yes, I am looking for lead generation purposes mostly.
Human: Ah lead generation is a tough one but our software can ease it all out for you.
Client: Great.
Human: Okay then, let's get started.
The difference between the two is obvious. We are growing digital, but at the end of the day, when a client wants to make a decision, they will always take the advice of a human.
11. Be natural
You don't have to copy someone else's sales pitch or pretend to have an accent when communicating with your clients.

Why do sales reps even do that?

Well, the answer differs. Some may want to be like how their peers communicate or they believe that it adds a sense of professionalism.

None of that matters.

You might copy your peer's sales pitch to communicate with your clients, but how confident are you that it will work?

You might use heavy jargons while communicating with your clients, but are you confident that your client will be able to understand you?

It is important for you to realize that you have the ability to sell things and that is why you're here. Communicate in the tone and manner that you would do when you interact with your colleagues.

Just how normal you are when you communicate with your peers, do the same with your clients.

Recommendation: Use simple language while talking. Avoid heavy words that your client may not be aware of.
12. Slow speaking lets your clients learn better from you
Your clients need to be able to understand what you're trying to tell them.

Avoid using unnecessary words that are difficult to understand.

Your communication should be crisp and to the point.

As mentioned above that you need to understand what your client's needs are, the same way your client needs to understand what your solution is about. When you speak slowly, they are able to grasp better attention towards what you're conveying to them.

As Susan Ward explains in her article:

''When you speak too quickly, you literally "blow away" your listener. He can't mentally keep up with you and will quickly stop trying. While a small part of your message may get through, most won't. When you speak too slowly, your listener has too much time for processing, and the mind either locks on how irritatingly slowly you're speaking or wanders off to more interesting things.''

Recommendation: Try recording yourself and listening to it. Don't do it once or twice. Try it 10-15 recordings and put a little bit of effort each time.

13. 'Can I be funny' during the call?
You mean can you add humour to your sales calls?

It's alright to make your communication with your client less serious. A pinch of humour could strengthen your bond better and would help them to be more free and open with you.

As vengreso states:

''When performed well, using humor in sales can break the ice, provide comedic relief, and serve as a launching pad for further sales conversations.''

But sometimes humour doesn't work like you've planned. Think of it this way, how many times have you laughed when the sales rep on the other side of the call cracks a joke to you?
Caution: Be careful when using humor. It could go down bad.

14. Avoid multitasking since it puts you at risk of possibly losing a potential client
When you're getting ready to call the client, ensure that you are away from all disturbances. Focus only on the call and give it the utmost importance.

When you begin to dodge the call and your other work, you will not be giving your full attention to the client which could result in a loss of a crucial lead.

For instance:

You are on a call right now and your colleague has asked you to send him an email. Your attention here gets lost because on one side your handling a call and on the other, you are sending an email.

When you're sending the email, your mind immediately shifts your attention towards that work hence you lose out a few factors that your client would have mentioned to you during the call.

This could work as a major downfall since it could reflect you as a less interested sales rep.

Above all, clients love to be treated with utmost importance and if you do this, there are chances that they may disapprove of you.

As close states:

''The benefits of being 100% focused on a call? You'll be sharper, you'll be able to catch all the little clues, read between the lines, and have a better sense of timing. You'll be fully engaged and on top of your game. You'll feel better and be more successful.''

Recommendation: Close all the browser tabs except where you have the customer data. Avoid using social networks.

15. Take a break to begin fresh
You make almost 20 to 30 calls a day, it's exhausting listening to the comments, feedback, and rejections.

Take a break when required to kick start your mode again. When you're on a break, you are able to loosen yourself and think clearly.

This works as a good booster to push you before you begin to make your sales calls.
16. Avoid putting your clients on hold, (they hate it)
If you put your clients on hold in between the conversation, you will lose the flow you worked so hard to retain.

On the other hand, your clients would lose out the impact you've created during the conversation.

If in case you have to put them on hold, make sure it is no more than 20 or 30 seconds.

If in case you the hold time has to be extended more, then apologize to your client and request them that you will call them within a certain time frame.

Doing this creates an impression of how much you value and respect their time.

Picture this before you think of putting your client on hold:

Whenever you call the customer care, how do you feel when they make you hear that waiting caller tune or even when you have a small issue, remember the time you've waited just to solve it when actually it should have just taken less than a minute.
17. Call when it is the right time
According to Baylor University, The most effective time to cold-call is from 10 am–2 pm. Least effective? After 5 pm. There are many other surveys which also state that Monday and Friday are the least preferred time to make calls.

To make it easy try conducting researches to understand what are the times you can increase conversion rates better.

You can also ask your peers to help you out since they have more experience in your field.

They will be able to share their experiences and also give you insights on how you can do the same.
18. Storytelling sells
Your clients are speaking to you for the first time and in order to develop their trust towards your solution, let them through your existing client's success stories.

When you know that another person is benefiting from a solution, you will instantly want to try it out and learn more about it. This applies to your clients as well.

The best example to explain here is online reviews:

When we are looking to buy a new product or to make a switch in one, we would always check the review page to know its ratings and what the other customers have to say on it.

The reason you do this is because it becomes easier for you to analyze and choose the right and effective product for you.

When you apply this same to your clients as well, they are under the impression that someone else has trusted you and you have exceeded their expectations. This triggers them to at least consider your solution.
19. Stay motivated before you dial the number
The fear of being rejected will always remain in your mind but not let that overpower your calling processes.

Be relaxed when you're about to make the call.

In case if you're nervous try talking to your peers or read success stories to motivate and push you further.

To improve your confidence, try the below:

Understand the purpose of what you're doing.
Don't have expectations.
Treat your call as a genuine way of you helping your clients.
Breathe.
Try conducting the call in an alone or quieter place.
Be yourself.
This is how sales works. Sometimes you get leads and sometimes you fail to capture them. That doesn't define that you are a bad sales rep. Don't let all these negative thoughts to make a space in your brain.

The more patient, calm and motivated you are, the better lead conversion takes place by you.
20. Sell your clients benefits, not plain words
No client will like to hear more about your solution when they don't see any benefit for them.
And that is exactly why when you have to listen to your clients closely without interrupting or stopping them.

For instance during your conversation as a sales rep say things such as:

'Your issue with lead generation is difficult to get the right leads and that's why I believe that our solution can make an impact in your numbers'.
'Retaining clients is a huge deal and so we have a tool which will make this much easier for you to do'.
In order to understand assist your clients needs better, ask the following questions:

Why has such a need developed?
What are you expecting from the solution I am selling?
What ways are you looking at for me to assist your needs better?
21. Ask questions to address clients needs better
This doesn't mean that you keep asking random questions.

It is important for you to research your client's needs and form questions which could you a clearer insight into what they are seeking.

For instance, ask questions such as:

What your business dives into mostly?
What are the goals you're setting?
What are you expecting from our solution?
Why did the need develop for you to seek such a solution?
How do you picture your sales conversions to be?
What plans do you have in mind for your companies growth?
Recommendation: The more clear you are with your client's needs, the better you sell them your solution.

Ask relevant questions that will help you in planning your solution strategies for them.
22. Practice, Practice and more Practice
Only the determined can master the technique of phone sales.

In order to develop such progress, you will need to be open to growth and convert all your negative feedback into a positive one.

Think of it in this way, the people who are successful today didn't reach such heights immediately. It was their failure in every step that helped them to tackle it and grow further.

Follow the two pointers during your next sales process:

If your clients refused to talk to you, find out what happened. Was it your sales pitch or the way your tone was?
If half your calls didn't convert, find out what went wrong. Speak with your peers, research online on how you can improvise.
In sales, not all your leads will convert. That doesn't mean that you give up and sulk over it. The sales market keeps changing and it is important for you to grasp the changes and be flexible towards it.

The Bottom Line
The sales market will continue to fluctuate with its trend but what will always remain is the way you choose to communicate with your clients.

As we have reached the end, we would love to hear from you on which technique impressed you the most and which are the ones you are already incorporating in your sales process?

But before we move ahead, let's have a quick summarization of what we've covered on this topic:

How do you define 'phone selling' in 2020?
Advantages of phone selling techniques in the current sales market.
22 Phone Selling Techniques which demand your attention in 2020
Which phone selling technique are you planning to implement first? Or do you have some more to add to our list? Tweet us @limecallapp
Check our Limecall Pricing Now!