Aircall has had a major impact on the B2B sector, with approximately 8500+ companies incorporating the system. But the Cloud-based call support system does not become affordable for all. Emerging companies in the B2B sector cannot afford the Aircall services and need alternatives to Aircall.
A business call support system is essential for increased productivity and sales of a company. Aircall has been a preferred solution for major B2B sector companies. It is proven to be a key factor in the growth of a business that adopted Aircall as its cloud-based call support system.
Aircall being a cloud-based call support system makes phone support easy to manage. It provides easy accessibility and becomes a collaborative platform for businesses. It gives the option for companies to sync their contacts among different phone lines and add contacts during a call.
One of the Aircall customers had reviews stating reasons behind alternatives to Aircall, "One of the worst purchasing decisions I have made as a business owner and one of my biggest regrets, we basically spent £1,000 on a system which we discovered after a few days didn't work as advertised. We tried working with their support team to resolve the issues but there was nothing they could do to fix their mobile apps, and we could not afford to continue using a service that was negatively impacting our ability to serve our customers every day."
Another consumer reported, " I haven't been able to get the product to a position where I can roll it out to my team and they have ignored my support tickets despite me following up almost daily for weeks now. I am paying for multiple licenses which I can't use because of a number of issues which Aircall will not resolve or address."
An affordable yet easy-to-use call support system is required for companies to manage their calls on a greater scale. Businesses need to manage calls and get call center analytics to increase customer support, and Aircall alternatives are in demand for companies working under a budget.
Here we look at major alternatives to Aircall that become affordable and easy to use by businesses to increase sales and services.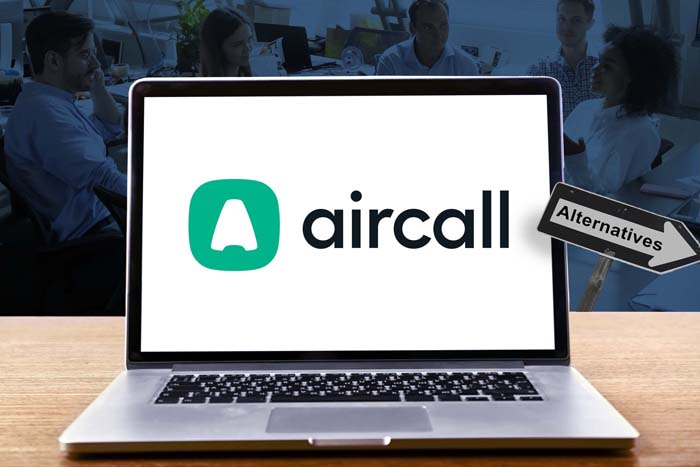 What is Aircall?
Aircall is a cloud-based call support system that integrates contacts and enhances call center services. The company started in France and a total of 100 companies integrating this system for their businesses.
Aircall had basic features that included call forwarding to all lines of the support team till anyone answered. Aircall enhanced its features and increased accessibility to potential companies in the B2B sectors with each integration.
Roles of Aircall in a B2B company
Aircall gained massive popularity in the B2B sector and now is involved with businesses in 84 countries worldwide.
It is known to enhance the call centre setup and boost productive output by support and sales teams.
Aircall lets you build IVR menus that help organize the workflow of a business.
With the shared inbox, teams of a company can collaborate, assign tasks and report feedback with ease.
The live activity feed gives an insight into the call centre performance report. This helps companies detect any unwanted complications that hamper customer satisfaction.
Aircall helps B2B companies to integrate CRM with a helpdesk that provides a centralized activity to be monitored.
Aircall allows dynamic switch capability by working with multiple carriers that enhance call quality, eliminating any bugs.
Features of Aircall
Aircall is software that has features in different categories that provide an all-around support system. Before checking out the alternatives to Aircall, it's important to know about the features of Aircall.
Some basic features are:
Phone System Features
Toll-free numbers: Aircall helps generate toll-free local numbers with ease. The number generation can be irrespective of the local or country code the company functions in.
International Numbers: Aircall generates international numbers for companies in more than 100 countries that help the company increase its reach across borders.
Business Hours: The Business Hour feature helps analyze the availability of company numbers to be contacted and works during the business hours when the company operates its services.
Voicemail: The Voicemail feature by Aircall helps companies create customized voice mails for their phone lines that enrich customer experience.
Call Conferencing: The VoIP call conferencing feature by Aircall helps collaborate with a total of 5 people on a call through call conferencing. This makes communication easier and effective.
Interactive Voice Response (IVR): The Interactive Voice Response by Aircall is an effective feature that navigates the customer to the designated team for service.
Extensions: Extensions are a 3 digit quick dial pin only for individual company colleagues of a particular team.
Blacklist numbers: Aircall can blacklist spam numbers and bot callers to increase business calls and avoid interruptions.
Virtual Call Centre: Aircall keeps a tab of all the important numbers and users, and compiles them in one single place for convenience.
Collaborations
Warm Transfer: In Aircall Collaborations, Warm Transfer is used by colleagues and teammates to communicate before initiating a call transfer.
Shared Contacts: Aircall enables companies to share saved contacts with respective teams to keep track of the conversation.
Shared Call Inbox: Aircall helps companies keep track of customer conversations and queries that require follow-ups and analyze previous conversations.
Call Commenting and Assignment: Aircall enables teammates to assign Calls to one another with a comment that gets the call information on the colleague's to-do list.
Call Centre Features
Real-Time Modifications: Aircall enables easy adjustments in the call center system settings that help add new numbers and users into the company's directory.
Call Queuing: Call queuing gives the option for a caller to stay on hold till one of the company's representatives can answer the call on time.
Parallel Calls: Aircall enables Call center service staff to keep the ongoing conversation on hold and initiate another conversation simultaneously,
Unlimited Concurrent Calls: Aircall enables multiple calls to take place simultaneously on the same number.
Ring Groups: Ring group helps in routing calls based on location, language, or query to the concerned team easily.
Queue Call-back: Aircall gives callers the option to receive a reply at a letter time and disconnect a call on hold.
Time-Based Routing: Aircall helps in setting up individual working hours to ensure employee availability during customer calls.
Skill Based Routing: Aircall helps route customer calls to the designated team based on skill, language, or other technical aspects.
Call Recording: Aircall records customer calls for keeping a record for further inspection of details, monitor call quality, and enhance call center services.
Pause-Resume Recording: Aircall helps pause call recordings of customers to keep the sensitive information of the callers and the conversation secure.
Productivity
Desktop Notifications: Aircall provides notifications on the desktop regarding incoming calls, missed calls, and more.
Ring on Speakers: Aircall increases the sound of incoming calls to eliminate any missed calls.
Forward to Phone: Aircall gives the option for employees to transfer calls onto their phones when unable to access office essentials.
Custom Filters: Aircall helps organize and sort the calls through categories to get relevant information.
Click to Dial: Aircall helps launch and generate calls into the Aircall app in just one click.
Tags: Aircall helps tag calls to teammates for easier follow-ups providing the context of the call.
Power Dialer: The power dialer helps add contacts from web pages, and increases call rate effectively.
CRM Integrations: Aircall helps in integrating the CRM with the Help Desk tools to increase convenience.
Business Phone App for Mobile: All the Aircall features become available in the official app making business conversation easier.
After-Call Work: Aircall helps organize the next call with teammates by assigning tasks and tags accordingly.
SMS Business Text Messaging: Aircall helps send calls and receive messages among the company contacts with personalized conversations.
Analytics
Call Centre Analytics: Aircall helps give a detailed analysis of the call centre report, including missed calls, call rates and other parameters.
Live Feed: Aircalls help keep a live track of the progress and helps organize activities to enhance productivity.
Call Monitoring: Call monitoring helps keep a check on employee training and helps increase call quality over time.
Call Whispering: Aircall helps colleague conversations during an ongoing call to help provide advice and relevant information to the caller.
Integration Features
Computer Telephony Integration (CTI): Aircall's CTI helps organise the workflow and increase team productivity.
Webhooks and API: Aircall helps in connecting the phone tools with tools and customize workflow.
Contact Synchronization: Aircall helps networking and increase contacts through CRM, Google Apps, and more.
One-Click Set-Up: The Aircall admin dashboard helps manage all settings and activate integrations.
Insight Cards: Aircall helps in gathering relevant data regarding a call from different apps.
Why do you need alternatives to Aircall?
While Aircall is popular for many reasons, there is a need for alternatives to Aircall by many companies and businesses in the B2B sector. One of the main reasons is the pricing. Many new modern businesses require software to manage calls and increase productivity at the workplace. But the need for these services comes with a price that stays well under the company's budget.
Aircall offers users a starting price of $30/month for each user and a professional package consisting of advanced solutions for $50/ month for each user. There are many alternatives to Aircall that provide almost the same services with enhanced team chat, video conferencing, and much more at a competitive price than the former. This helps companies work under a budget with services that aid better management in call centers and gain visibility.
Alternatives to Aircall
Some of the most popular Aircall alternatives are:
Aircall Alternative: Grasshopper
Grasshopper is a great alternative to Aircall and provides a business line that can be added to your line. With packages smaller and customizable, Grasshopper becomes a call management software that comes under a company's budget and works according to their needs.
Grasshopper offers a range of pricing options depending on the company's requirements. The solo plan is ideal for entrepreneurs in need of call management services and gives all features with a single number starting at $26 per month.
Partner plan helps businesses and start-ups with lesser workforce and includes all features plus 3 extra numbers with 6 extensions starting at $44 per month.
A small-Business plan is made especially for small businesses with all features and 5 extra numbers and unlimited extensions at a starting price of $80 per month.
Features:
WiFi Calling- Grasshopper enables making calls with the help of a WiFi connection. VoIP can be used linked to WiFi for making business calls.
Number Porting- Grasshopper enables the transfer of existing business numbers into its software, eliminating the need for call diversion.
Voicemail Transcription- Grasshopper helps in sending voicemail messages directly to your inbox. This helps in individually analyzing the context of each and saves time on referencing with a faster process.
Get more information about Grasshopper on their official website.
Aircall Alternative: Nextiva
Nextiva is an ideal cloud-based call management system that aids in better call management and workflow organization for different companies. With a range of features and customizable phone systems, Nextiva becomes a preferred option by many businesses.
Nextiva helps in workflow automation, virtual meetings, IVR, and much more at reliable packages. The Essential Plan includes all the essential features that Nextiva provides, like voice calling, Contact Integration, and more at just $17.95 /month for each user.
The professional plan includes all the essential features with added advantages like unlimited business texting/conference calling for a team of a maximum of 40 people at a starting price of $21.95/month for each user.
Enterprise plan gives added features like voice analytics, extended integration with CMS, and more at a $31.95/month starting rate for each user. This package becomes ideal for a company with multiple teams and departments to manage the workflow efficiently.
The Ultimate Plan is for large corporate organizations and businesses with multiple branches. This package included extended features like customer service, sales management, and automated surveys at a starting price of $52.95/month for each user.
Features:
Call Pop- Nextiva helps give notifications for incoming calls on your screen to enable quicker response time. The Call Pop features help in viewing interaction history, account value, and more after a call.
Voice Analytics- Nextiva helps gather information about VoIP calls and helps track metrics and manage call/hold time, answer speed, and much more.
Built-in CRM- Nextiva Built-in CRM helps track sales and retain customers by managing call history and call score that helps analyze customer experience.
Call queue- Call queue helps organise the flow of calls and helps manage call response for each call effectively in case of an increase in the number of incoming calls.
For more information on Nextiva, visit their official site here.
Aircall Alternative: Dialpad
Dialpad is a business phone system designed to increase team coordination by allowing work operations from anywhere with an internet connection. Dialpad helps in having conversations in real-time and increases work output.
Dialpad offers a range of plans based on business needs. The standard plan has all features, including custom voicemail greeting, unlimited calling, voicemail transcription at a reasonable price of $15/ month for each user with a 14-day free trial option.
Pro plan includes extended features like local number support in more than 50 countries with Salesforce Integration and 24/7 support at a starting price of $25/ month for each user with a 14 day free trial period.
Enterprise plan is for larger organizations and comes with added features like Okta Integrations and more. Enterprise plans are customizable, and prices differ according to individual needs.
Features:
Integrations- Dialpad helps in integrating VoIP data with CRM and meeting schedules.
Voice Intelligence- Dialpad helps generate automatic to-do lists, give deeper analytics and insights, and helps in call documentation.
Custom Device- Dialpad helps integrate services into custom devices for adding business communication tools to laptops, phones, and more.
Get more information about Dialpad and its features from their official website.
Aircall Alternative: Limecall

Limecall is considered an effective alternative to Aircall as it helps generate more sales and qualified leads by ensuring real-time communication for customer needs. Limecall is known to provide a minimum of 15% conversion rates to clients after integration. The call-back widget helps in converting 3 times more website visitors.
What makes Limecall the Best Aircall Alternative?
Limecall helps in integrating platforms like Google Tag Manager, HubSpot, WordPress, and more. With a workflow that enables capturing leads 244/7, Limecall reduces the lead response time. The Live Call-back feature provides a 28-second call-back for customers to contact again.
Unlike Aircall, Limecall provides free International calls and a free performance report. With 24/7 customer support, Limecall ensures 99.9% uptime. Limecall protects customer privacy with a high-level security interface. Limecall is popular for Call tracking and analytics for an increase in productivity at the workplace.
Limecall comes with 3 plans for users to select from. The free plan gives exclusive access to limited features free of cost. The plan includes 10 calls per month, Call automation, Lead generation, live calls, reports on leads captured, and response time reports.
The Pro plan includes additional features like 100 calls per month with unlimited domains and 5 call operators and call routing. With 120 SMS facilities per month, users get the option to personalize the message and access APIs and integrations for a starting price of $29/month for each user.
The advanced plan includes access to all features with added 300 calls and a 360 SMS per month limit with 10 call operators and widget installation at a $49/month starting price for each user.
Consumers of Limecall had a certain set of reviews that were in favor of the calling system.
One of the consumers claimed, "Limecall widget helped us to improve leads generation from our website as we didn't need to invest in advertising we saved money"
Another customer explained "It helped us not only to increase the conversion rate from our website and get more valuable leads but also helped our sales team to improve their performance. Since the implementation, we noted a significant increase in the efficacy of our sales team. No more missed calls or unhappy clients waiting for their call to be answered."
Features of Limecall
Call-Back Requests- Callers get a 28-second option for a call back with a representative.
Call Routing- Routes the calls to the designated team with an increase in response time.
Call forwarding/transferring- It helps teams and colleagues transfer calls among one another based on customer needs.
Call Recording- Helps in recording a call to maintain customer history to generate feedback.
Call Analytics- Helps in understanding the customer needs with call analytics to document response.
Call Masking- Helps in connecting the company campaigns and increases security, preventing revenue leakage.
Call Staking- Helps in receiving multiple calls with the added advantage of custom messages.
Conference Call Analytics- Helps in accessing user data and analyzing details of conference calls.
Inbuilt CRM- Helps in keeping track of call history and importing contacts.
IVR- Helps in gaining visibility and increasing interaction with callers.
Lead Generation- Helps in converting traffic into sales and generating more leads.
Conclusion
With many alternatives to Aircall in the market, software for call management depends on an individual company's goals and requirements. Call management becomes essential for organizations of all sizes, and it is important to choose a service that helps all teams deliver optimum results to customers.
But while considering a call management system, there are a few things that a company needs to take into consideration before opting for the preferred choice.
Selecting a system that provides CRM Integration. This helps in maintaining customer records and call feedback.
An IVR feature helps manage the call queue and get customers connected with the right team to solve issues with a quick response time.
One-click Integration that helps in syncing contacts and other communication tools to devices without manual updating.