When it comes to managing your growing business, you need software that goes above and beyond the capabilities of Excel spreadsheets. A customer relationship management (CRM) system becomes an essential tool, letting you handle everything you need from one location.
CRM software creates efficiency in your day to day operations by monitoring how you interact with your customers, manage tasks, and make key data easily accessible.
A recent study by customer thermometer revealed that 68 percent of your customers leave due to the perceived interference.
CRM systems aren't just about tracking and maintaining contact information. While many businesses think of CRM software as a sales tool, many systems now offer much more.
Although most CRM systems include all the basics, you can go beyond this by tapping into additional integrated features.
For example, a CRM with integrated marketing lets you segment your customer base, send email campaigns and monitor their engagement. An integrated customer service app means you can manage your customer support from the CRM and record everything back to the customer record.
What are different types of CRM software?
CRM software can come with a wide variety of features, as demonstrated above.
Different types of CRM software will lean towards certain areas of functional focus, so knowing your own unique business needs will help determine which one is the best for you. The following are common types of CRM software:
Analytical CRM
Analytical CRM software tends to appeal to companies that want to dig into data visualization and analytics.
This type of software focuses on tracking customer retention rates, pipeline cycle timelines, revenue and sales data.
These platforms go beyond simple contact management and provide sales forecasting and advanced metric analysis for the data-hungry among us.
Operational CRM
Operational CRM solutions are business-management oriented, with marketing and sales automation at the forefront.
These CRM platforms emphasize contact management, lead scoring, lead management, and campaign tracking, giving a handy boost to companies that want to boost operational efficiency.
Collaborative CRM
Collaborative CRM solutions are all about making customers happy. They seek to improve customer retention and satisfaction rates by streamlining the flow of information between teams.
This type of platform emphasizes data-sharing between marketing, sales, customer service, and even vendors and external stakeholders, to unify communication and personalize customer interactions.
The benefits of CRM software
CRM software gathers all customer data into one place and allows businesses to drive growth and profits. According to Gartner, the industry of CRM has the potential to reach $80 billion by 2025. Among other things, it makes it easier for companies to:
Improve efficiency – Having all your business data in one place makes for better workflow, easier team collaboration, and better project management.
Have more transparency – Everyone in your organization gains visibility on your business processes, fostering more clarity, and better teamwork.
Retain customers – By relying on a single source of truth, everyone can work with greater confidence, assuring better customer relationships in the long run.
Increase sales – Streamlining the sales process, building a pipeline, automating tasks, and analyzing your sales data will lead to increased sales and sales productivity.
Which tools can integrate with sales CRM software?
When bringing a new CRM system into your workflow, it doesn't make sense to start from scratch. That's why choosing a CRM tool that can easily integrate with your existing software systems is a must.
CRM integration seamlessly connects your CRM and other third-party applications you may already be using. Integrating will reduce needless clicking back and forth between applications, saving your pointer finger and mouse unnecessary exercise.
Every CRM program will have slightly different interfaces and learning curves, but all should integrate smoothly with any apps your business is currently using. Use them to replace scattered systems with all-in-one, centralized communication.
The following tools can commonly integrate with CRM software:
Email
Integrating email into your CRM is a nifty boon to your communication and scheduling. Cloud-based CRM programs with mobile apps make it even easier to send and read emails from anywhere.
Calendars
Most CRM systems can easily connect with digital calendars such as Google or Outlook so you never miss an appointment. Two-way integration means you can create events in either platform, and they'll sync up instantly.
Communication software
As common as tools like Slack and Zoom have become in 2021, it only makes sense that a CRM platform would integrate with these applications.
Chat with clients and team members within your CRM system without the irritating hassle of keeping two dozen browser windows open.
Document creators
Professional document-creation applications such as PandaDoc allow the painless creation of proposals, quotes, contracts, and invoices.
When you integrate with a CRM, it'll take saved client data and auto-populate documents. It can even send them off for quick (and legally binding) electronic signatures.
Social media
In 2021, CRM apps can easily integrate with social media accounts on platforms such as Facebook, Twitter, Instagram, and LinkedIn. They even can automate posting across channels, for clear and consistent branding.
Accounting software
Save time on data entry and never worry about accuracy again when you integrate accounting software such as QuickBooks, Xero, or Freshbooks into your CRM system. Easily access information about invoices, client transactions, and vendor data whenever you need it.
How do you choose the right CRM platform for your business?
Choosing the best CRM for your company isn't an easy task. Sure, you want a long list of features, excellent integration, clean mobile options, and lots of cloud capacity. But keep in mind that once you decide on a CRM system, your team will have to learn how to use it.
Before buying, know your CRM requirements for your brand and business, and make sure you understand your team's technological know-how.
Choosing the right Customer Relationship Management software can drastically improve your team's productivity, but that's only if the CRM software itself is easy to use. Substituting one headache for another isn't going to please anyone, so doing your research is key.
Cost is another factor that companies must consider when choosing a CRM platform. Make sure you not only determine your budget but understand the true CRM implementation cost of whatever software you've settled on.
As you would before making any business decision, it's best to compare the top contenders in the field and consider which one is best for you and your team's workflow.
When is a good time to implement a CRM system?
If you're searching for information about CRM solutions, you've likely recognized that your business may benefit from one.
Even if your company is still relatively small, CRM for small businesses can boost productivity and help you to scale faster, without becoming overwhelmed.
At a certain point, keeping track of customers, sales, and loads of more or less relevant data simply gets too complicated. If your teams are drowning in spreadsheets, lists of email addresses, and poorly organized email templates, CRM software might be calling your name.
CRM software will help centralize your customer information, and provide you with vital insights into key business performance metrics that are simply not accessible anywhere else.
Hubspot CRM
Hubspot CRM offers a free version with decent CRM functionality to get you started. Be forewarned that the free plan entails a lot of add-on features that need upgrading once you become a more advanced user. Limits are in place for things like the number of contacts and other critical feature sets for scaling your sales and marketing efforts.
When it comes to user experience, Hubspot wins, hands-down. As an extremely powerful and intuitive tool, it manages its complexity with flying colours, and backs that up with a super-responsive, fantastic support team to boot.
You just have to be of the mindset that yes, you can test out much of Hubspot for free at a lower price point, but this tool is a sales and marketing machine that will eventually justify its cost, provided you do things the right way and have proper business processes.
Mautic
Do you live and breathe open source, or want to protect against vendor lock-in effects like rising prices? Mautic may be an interesting choice for you, especially if your website is running on Drupal, or you wish to do a Drupal CRM integration, as it was acquired by Acquia.
It may not be the best choice right out of the box unless you have a bit of that DIY and technical culture built into your organization. The user experience won't be quite as slick as Hubspot, and we're not 100% sure just yet what the acquisition by Acquia means for Mautic, but it may be worth a look for certain organizations nonetheless who desire an open-source CRM.
Close.io
Sometimes you don't want to "pollute" your defacto CRM with sales prospects, i.e. contacts that are cold leads who you have never contacted before and who have never contacted you, or who you are in the process of "warming up" through outbound sales efforts. They don't have any business being in your de facto CRM if your job as a sales team is to nurture them, qualify them, etc. They may never talk to you and come in through a marketing funnel instead, but in your organization that may not count as a commission-qualifying path for the prospect to take.
Close.io is a good CRM for managing and automating standard sales activities like outbound email cadences, but also things like a text message (SMS) outreach, phone calls, predictive dialers, pipelines, and sales reporting. It is a full-featured tool for sales reps, providing sales automation, opportunity management, follow-up reminders, and other tools that salespeople love.
Freshworks CRM (formerly FreshSales)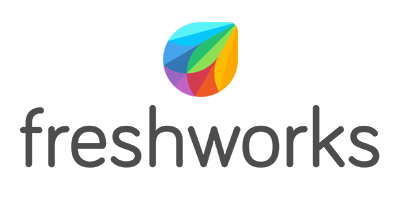 Freshworks CRM is an interesting solution in that it leads with its customer support software, Freshdesk, putting quality customer interactions and support at the forefront, then tacking on the CRM component with Freshworks, as well as chat, IT management services, a cloud-based phone system, and a recruiting and onboarding management solution. Rather than focusing on CRM, Freshworks appears to be a set of management tools for the entire organization, which is an interesting prospect indeed for certain companies.
monday.com
monday.com CRM software will allow you to manage the customer data, interactions, and processes the way you want. It will keep all the data protected. It will allow you to capture the leads online through an integrated contact form. Leads can also be inserted automatically that were captured on other forms. monday.com will allow you to import the leads from various tools.
This CRM software will allow you to build and customize the dashboard as per your requirements for gaining insights. It will provide a clear overview of sales, processes, performance, etc. It will allow you to automate repetitive tasks. It has features for setting automatic reminders, due date notifications and assigning new tasks to teammates automatically.
Pipedrive
Pipedrive is a sales-focused CRM that uses AI to automate repetitive tasks and manage leads and sales. They currently support over 90,000 customers and over $24 billion in deals have passed through their platform. You can track leads and sales from forms, chatbots, and more on a 24/7 basis. It can organize your pipeline and create custom stages by rep or team member. Besides, you can use Pipedrive from your mobile device and integrate your smartphone with other sales apps to increase sales.
Zoho CRM
Zoho is another proven CRM for small and midsize businesses. For that matter, it works for just about any size business with its web-based and client prioritized solutions. Zoho enables you to attract and retain clients, send personal invitations, and operate your customer support at scale. With the help of social media integration, it also stands out as a well-rounded source for client management.
Zoho has a wide range of capabilities: from its social media integration to its automated business processes, it gives users multiple avenues to attack client management in the most comfortable way possible. You can also streamline notifications across multiple channels and respond to customers in real-time.
Zendesk
Originally a customer support tool, Zendesk has morphed into a full-blown CRM. Zendesk is a big company with lots of resources, and they've made an enterprise-grade tool that puts your customers first. I would say this tool is the opposite of Pipedrive. While Pipedrive is very sales-oriented, Zendesk is much more customer support-oriented.
Zendesk makes it easy to create, customize and use any number of knowledge bases. You can create them for specific departments, for your customer service agents, and even for your customers themselves. Here, it's easy to use the contact database and support tool in one.
Scoro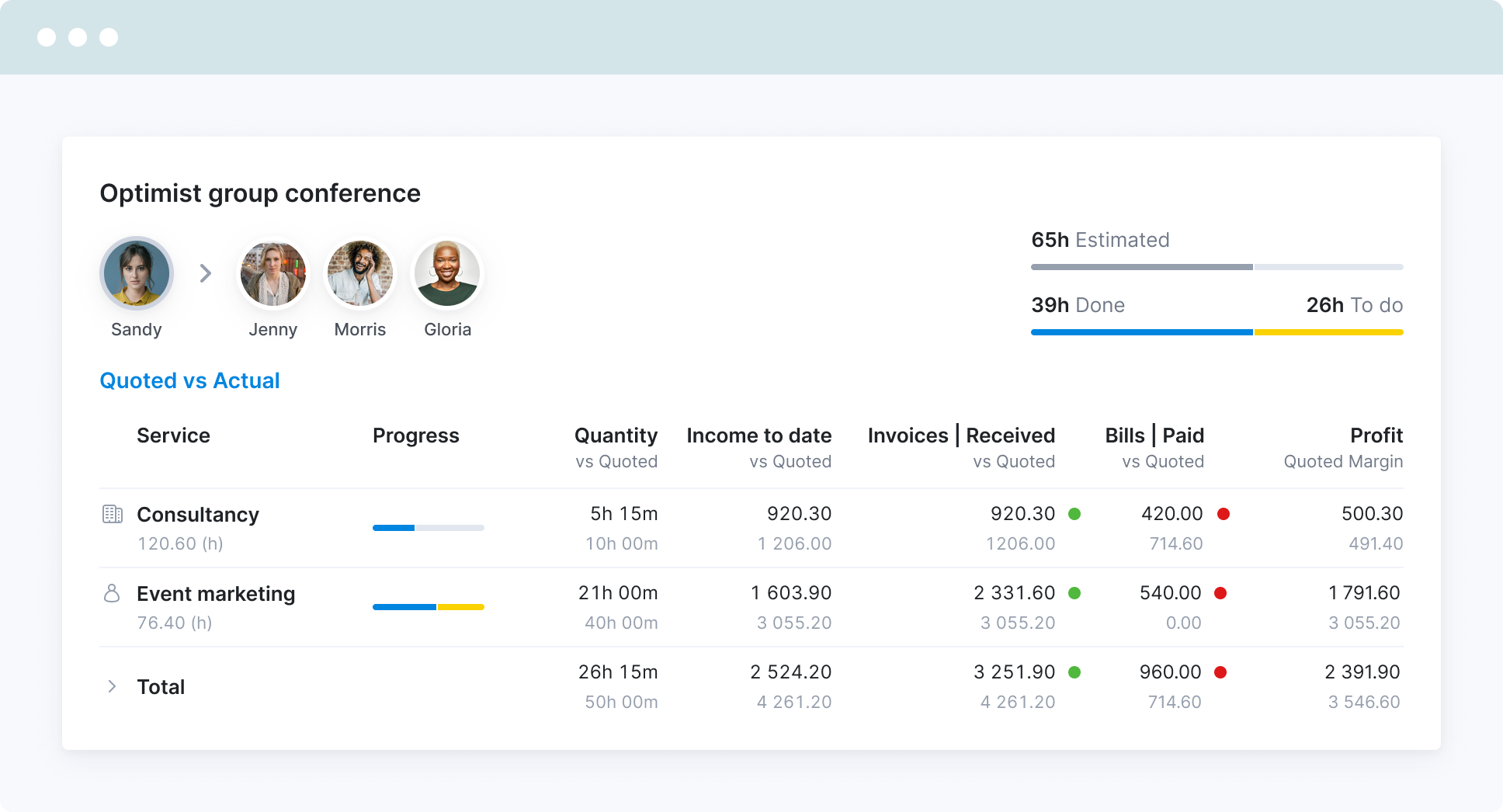 Scoro CRM software helps to coordinate your sales process and improve your team's performance with a complete set of features, including sales pipeline management, project & task management, collaboration, billing, and reporting. Scoro saves more than 50% of the time you're currently spending on reporting, meetings, and double data entry.
Here you can manage your leads in a pipeline view and easily drag-and-drop them from one stage to the next. Also, you can get an instant overview of each client, including contact details, quotes, communication history, linked projects, etc.
Nimble
Nimble combines the strength of a traditional CRM with contact management, social media, sales intelligence, and marketing automation to deliver relationship insights to help professionals build better work relationships in a multi-channel world.
The software integrates productivity apps to gather user contacts, communications, calendars, and collaborations in one platform and draws data from popular social media channels including Facebook, LinkedIn, and Twitter.
Less Annoying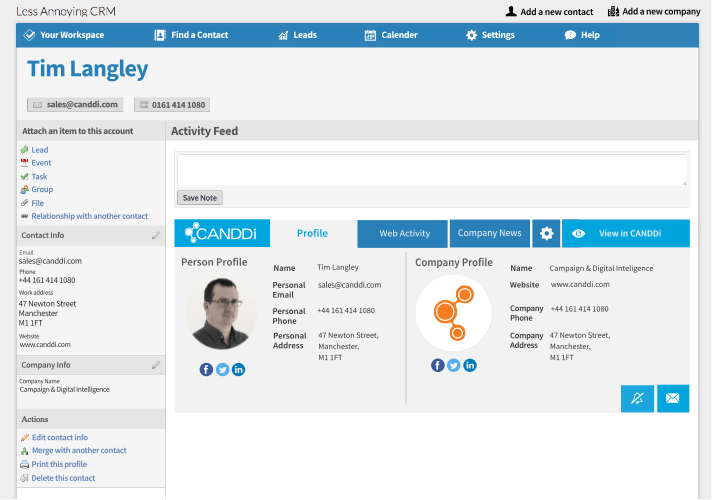 If you came here wondering "what is a CRM system?" Less Annoying might be the sales CRM platform for you. Based on its name alone, it's clear Less Annoying's key selling feature is its simplicity, making it a solid choice for small businesses taking their first leap into the world of CRM.
While it may lack the long list of features of other CRM system options, Less Annoying prides itself on making sure your business doesn't pay for more features than it needs.
Really Simple Systems CRM
Really Simple Systems CRM software includes everything you need to manage your sales and marketing in an all-in-one system. The CRM is primarily designed for small and medium-sized businesses operating B2B. It's easy to set up, and it only takes minutes to learn, while not compromising on quality.
Conclusion
We hope that by now you have gotten a clear picture of what are the best CRM tools. So, what are you waiting for? Start managing your customer relations and other organizational activities securely by choosing one of these powerful CRM tools.