Communication is a key factor when it comes to having a successful business. Whether you have a service or a product that you sell, people want to make real contact with those they buy something from.
Not only do you keep in touch with your customers, but you also build strong relationships with them. As a result, they are more likely to return and buy from you again.
As you can see, keeping in touch with the customers can help you build a loyal community.

Real-time marketing has brought the most important innovations, and never before has it been so extremely important to keep in touch with your leads in real-time.
Instead of people waiting for your response and feedback for days, you can now maintain their interest and give them what they need immediately.
By using live chats, callback platforms, and similar, you are preventing your potential customers from forgetting about you and getting your message buried in their email inboxes.
Because it is extremely difficult to maintain all segments of your business at the same time, there are various tools available to help you, and one of them is Aircall.
However, if this tool does not meet your expectations, there are Aircall alternatives & competitors some of which will surely suit you.
Advantages & disadvantages of Aircall
Aircall is a phone system designed for small and medium businesses that allow them to keep in touch with potential customers.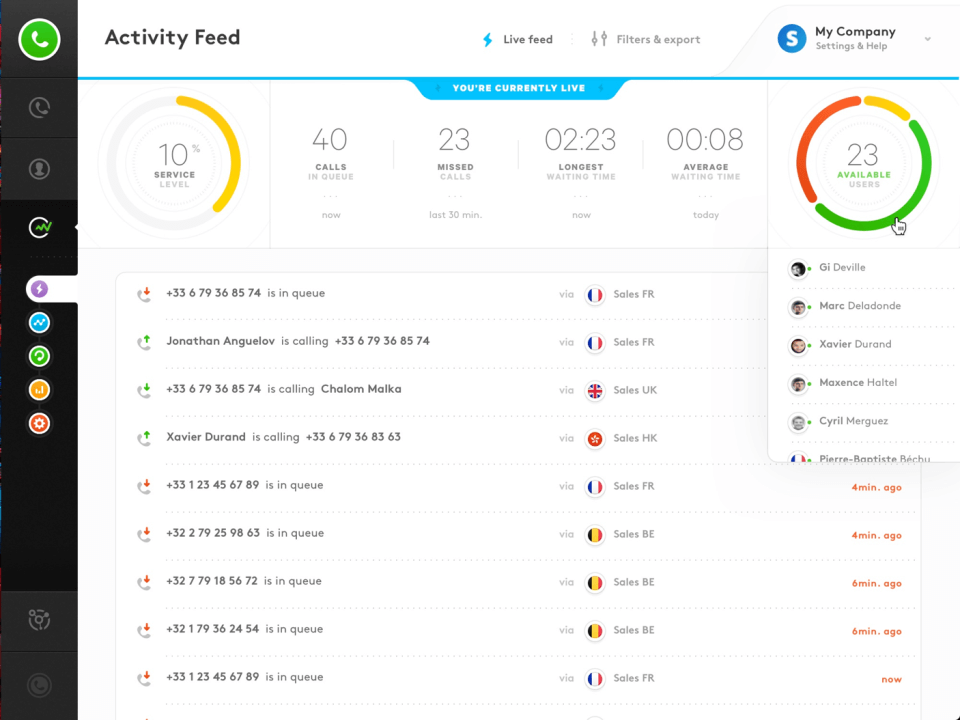 Source: Capterra
What are the advantages of Aircall?
It has a very easy setup. You do not have to use hardware. It is a simple solution that allows you to communicate with people from all over the world.
It integrates with many applications and platforms, so you can integrate with your CRM or HubSpot, Zendesk, or Salesforce. Some of the new integrations are with Magento, Copper, and JobAdder.
You can organize your workflows, collaborate with your team, assign follow-ups, and get more productivity.
Aircall lets you see who is free to call, who is currently talking, and how long a certain customer is waiting.

The sound quality during the call is quite good.
Your calls can be received directly into Aircall, and if you want you can forward them to any phone number you choose.
This phone system has many call centre features such as:
Call monitoring
Call routing
Call queuing
Call recording
After-call work
Analytics
Business hours
Blacklist numbers
There is a PowerDialer that helps you appoint more meetings with your leads, and close more deals in less time.
What are the disadvantages?
One of the positive sides when it comes to Aircall is that the team behind this tool is constantly updating it. However, because of this, extremely strong internet connection is required, otherwise, there is an interruption.
On the other hand, over-updating an application can be frustrating.
Installation of Aircall can be quite slow, so you won't be able to save yourself some time with this segment.
Aircall happens to freeze, so the computer needs to be restarted for everything to work properly again.
There may be problems when trying to connect to Aircall from your computer and mobile phone simultaneously.
Sound notifications don't always work well.
If you are a freelancer or you need it for individual needs, this application is not intended for you since it requires a minimum of 3 users.
You can't register if you use Gmail or Yahoo domain for your email address.
Aircall is not optimized for mobile devices.
Customer support should be much better. It does not solve every problem that arises.
Sometimes the tool restarts or gets slow which affects the user experience.
Compared to the other Aircall alternatives & competitors, it is one of the more expensive tools.
Pricing: The paid plans start from $30 per user monthly. But, it needs to be a minimum of three users.
Given the downsides, you might want to try one of the following Aircall alternatives & competitors.
If you want to provide a user-friendly experience, find the right solution for your business.
Converting website visitors into buyers is hard work. However, the tool that helps greatly is Limecall.
Limecall is a callback software that allows you to communicate with your leads in real-time.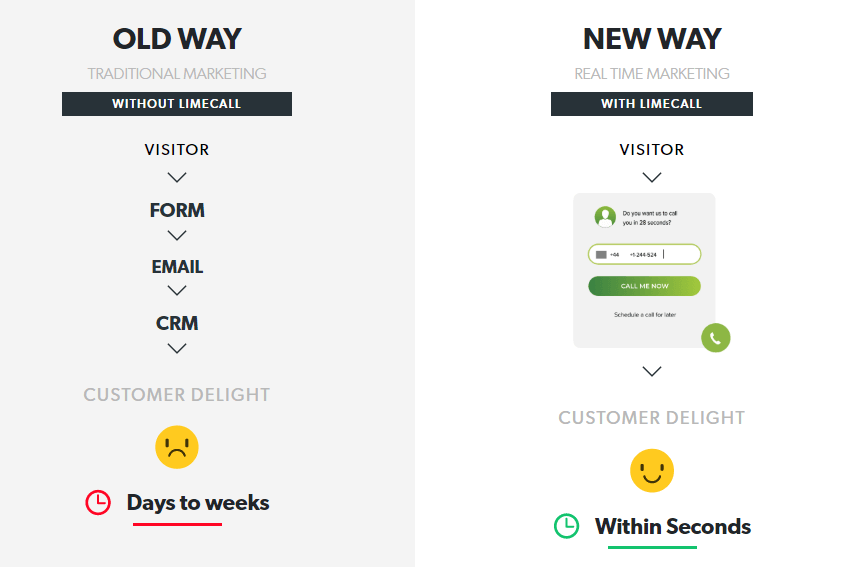 Limecall feature overview
Ease of use: It has a really easy setup, so you will only need a few minutes to implement it on your website.
Instead of using different contact forms and numerous follow-ups, you can connect with your customers instantly and provide them with the information they seek.
Limecall's special feature is a callback widget.
A simple but effective tool that makes it easy for visitors to connect with sales reps.
The callback widget looks like this: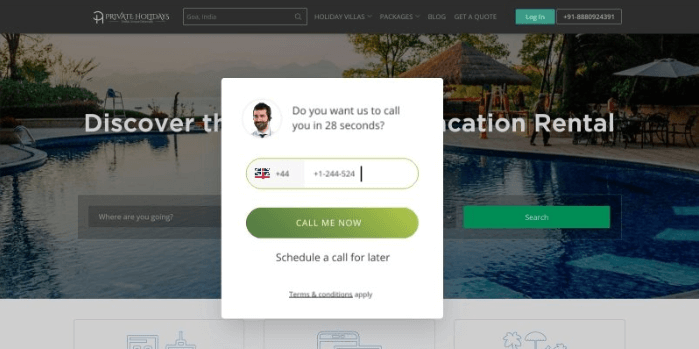 When a website visitor wants to contact you, a window with the question: "Do you want us to call you in 28 seconds?" opens.
The visitor is only expected to type in his or her phone number, and in less than half a minute he or she gets the opportunity to speak with a sales rep who will solve any potential problem or concern and answer any questions.
The great thing about this is that it prevents leads from losing interest or maybe forgetting what they needed at that moment.
If this is not the right moment for your leads to have a conversation, they can schedule a call at another time, and that way you avoid losing a potential client from your sales funnel.
Your visitors can call you from any timezone in the world.
Analytics: Target group data collection is extremely important for any business.
After the call, sales reps receive lead information, and the calls remain recorded on the Limecall dashboard.
You can synchronize the collected data with your CRM (Customer Relationship Management) or with other platforms you use.
Limecall offers integrations with tools relevant to your business.
Customer support: You can contact customer support at any time and they will help you with any issue you have.
With their help, it will be even easier for you to take full advantage of this callback platform.
Pricing: There is a free Starter pack with up to 20 calls per month, a widget installation on one domain, and two call operators. Pro plan costs $35 per month with 100 calls via Limecall, 5 call operators, and a callback widget that can be installed on an unlimited number of domains.
There is an Advanced Package, also, with even more features. If you want to make a plan of your choice, you can customize it with the support of the Limecall team.
Offered features:
Callback widget
Call recording
SMS follow-up
Lead analytics
International numbers
Blacklist
Call routing to team members
2-way integration sync
API access
Visitor information
Why is Limecall a great Aircall alternative?
Limecall is very easy to use tool that can bring many benefits to your business. There are several reasons why Limecall is one of the best Aircall alternatives & competitors:
It is a great tool if you run an automotive, SaaS, travel, real estate, or any other business.
It integrates with HubSpot, Zapier, Google Tag Manager, WordPress, Intercom.
The special widget helps you to communicate with your leads more quickly and effectively.
Limecall converts up to 3 times more website visitors thanks to a special widget.
It reduces lead response time.
You are able to capture leads 24/7.
Using Limecall allows visitors to leave feedback after the call.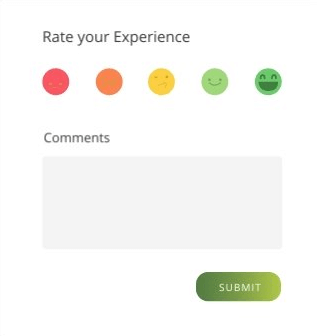 The feedback allows you to have direct insight into what your target group thinks about your business.
If you follow their suggestions, your customers will see that, and your business will thrive even more.
2. Zoho Desk
Zoho Desk is a call centre software that helps you to communicate with your customers through email, live chat, phone, SMS, or social media channels.
It is designed for businesses of all sizes.
Using Zoho Desk allows your users to get in touch with you in a way that suits them best.
You can create successful and reliable customer support for your target group.
The two-way Zoho CRM integration will give you information about the caller, so you will know their purchase history, upcoming calls, and similar data.
This means that even before the call itself, you will have an insight into what you can expect from the person you are talking to. This makes it easier to prepare for the conversation.
As you speak with a potential customer, the support team captures details from the call itself. You have the opportunity to get to know your customers even better, which will give you the opportunity to create a great user experience.
As the calls can be numerous, it is impossible to remember what a particular caller said earlier or what his or her problem was.
Instead of wasting both yours and his time encouraging him to explain everything again, Zoho Desk will help you keep all of your previous caller information in one place.
This tool tracks all the previous conversations, as well as who were the agents that participated in them.
You are also able to see all the tickets raised from social media channels, live chats, web forms, email, and similar, and all this information is visible to you in one single tab.
You can customize dashboards and reports, and track all the metrics that are important to you.

Offered features:
Multichannel Help Desk
Help Desk Customization
Zia
Self-service
Agent Productivity
Process Automation
Pricing: There is a free plan of three free agents, email ticketing, private knowledge base, customer support, and more. Paid plans start at $13 per agent monthly.
Some major packages with more options are Professional and Enterprise. Every plan has a free trial and you can compare them to choose which one suits you the best.
Why is Zoho Desk a good Aircall alternative?
Zoho Desk provides an opportunity for three users to use it for free.
This multichannel customer service allows you to manage all your communication from different channels using only one tool.
Zoho Desk supports both inbound and outbound call centres.
It redirects callers to agents that are best suited to a particular problem.
This tool includes Team Chat and Team Feed features, to allow the entire team to function smoothly. You can leave private messages to any department.
Missed calls are converted into tickets. So, if you miss any call, you will know who you should answer next. This way you will avoid leaving your customers unanswered and your business without a potential buyer.
Built-in reports will show you how long it took for a particular sales rep to respond and find a solution.
Zoho Desk telephony partners are RingCentral, Amazon Web Services, Accordia, and more.
3. Zendesk
Zendesk is a help desk software that contains a call centre solution.
It is aimed at startups as well as large companies looking to maintain communication with their potential customers and elevate their business to an even higher level.
With Zendesk, you can see full customer history. Every call can be recorded, saving you time when it comes to remembering the details of the conversation.
You can use Zendesk Talk, or integrate Zendesk with your call centre.
With a caller control, you can put a caller on hold while you are searching for the right information, or making a call with another agent.
With Zendesk it can be much easier for you to prepare for a conversation.
When you receive a call, you will have the opportunity to immediately see who the caller is and whether he or she has any recent tickets.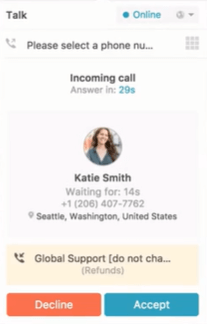 This will help you find out why they are calling and how you can help them best.
For short and simple questions you can communicate with the visitors via text messages. This feature also includes reporting and full customer history.
The Zendesk call centre has an IVR (Interactive Voice Response) system that allows you to connect the caller to the appropriate agent or department that will direct them.
Also, for the most frequently asked questions, you can record answers to save time.
You can organize the tickets by priority, urgency, and topics.
The interface can be customized according to your needs.
Pricing: There is a Lite package that is totally free, but it is limited to 1 number only. Paid plans start from $19 per agent monthly. Depending on the package, the options it includes also vary.
Check also our : Leads Tool for Automotive Business
For packages like Enterprise and Partner Edition, you can contact customer support and make an agreement with them to find the option that is best for your business.
Offered features:
Voicemail
Customized greetings
Inbound and outbound callings
Call recording
Call control
Automatic ticket creation
Call blocking
Caller ID
Caller history
IVR systems
Call queues
Why is Zendesk a reasonable Aircall alternative?
Zendesk has real-time dashboards that include wait time, hold time, and other important data so you can track all the information you need.
Managers can listen to a conversation between an agent and a customer which is ongoing.
Check our Callback software for real estate
Unlike Aircall, Zendesk offers a call scripting.
As one of its biggest strengths, Zendesk points out that you can focus on conversations completely and absolutely as everything else is done by its many features.
It has great customer support that will help your team to work and collaborate without any problems.
There is a flexible IVR software.
Zendesk is also one of the cheapest Aircall alternatives & competitors and there are no minimum user restrictions.
The bottom line
The abundance of communication tools on the market shows that the importance of customer communication has long been recognized as a priority in a business.
But, it is not enough to allow leads to 'just' contact you. This communication needs to be raised to the highest possible level.
People will not be able to connect with you unless they feel that you are really there for them.
Only good quality communication can help you build truly strong customer relationships.
That is why it is important to have insight into their behaviour, interests, and previous conversations.
These Aircall alternatives & competitors let you run your business in an even easier way than you could ever imagine.
And most important of all is to be present in real-time.
Generating leads that you can later convert to customers is not only done during your business hours, but it must be a continuous, never-ending cycle.
That's why Limecall is one of the world's best customer communication platforms.
If you no longer want to lose potential customers but to provide them with information in the exact moment they need it, it's time to try out this callback software.
That is the only way to keep their interest and raise sales.
Limecall with a great callback software features and Saas Callback will be collecting leads 24/7 for you, and you will soon be able to see how your business develops rapidly. Check Limecall Pricing Now!
Use the innovations to your advantage.