Answering people's various questions is something that really takes up a lot of time. Especially, you need to be aware that your leads do not want to get a response in a couple of hours or days, but as soon as possible.
Generally, the human mind does not like ambiguity, so you can make an extremely bad impression if you leave people without answers.
Statistics show that 77% of customers rated speed to resolution as the best indicator of good service.
Many companies invest huge amounts of money in advertisements, and when they make potential clients interested, they forget the importance of timely and relevant answers.
Work on customer support must be constant because only great service and quality can affect constant progress.
Exploring the tools available to help you communicate with your customers is also an important part of creating a good business strategy.
As you already know, CallHippo is one of the most popular tools for improving communication. It certainly has its pros and cons.
If you are not fully satisfied with what it can do for you, below you will find out what are 3 CallHippo alternatives that can make your business reach even greater potential.
Advantages & disadvantages of CallHippo
CallHippo is a popular phone system that combines virtual telephone and workflow automation.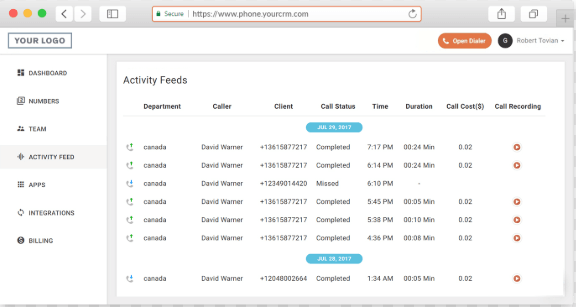 What are the advantages of CallHippo?
CallHippo allows you to make calls with more than 190 countries, and you can buy numbers from more than 50 different countries.
You can choose your working hours and enable voicemail that will 'welcome' your customers when you are not online.
CallHippo allows you to work with your team more easily. Each team member can get their own number. When they are not online, the call to their number can be diverted to a mobile phone which can prevent them from not reaching someone in an emergency.
This tool does not oblige you to download it to your computer but can be used directly from their official website.
A mobile app is also available, so you can use it undisturbed on the go.
If you are not immediately sure how much credit you will need, you can add credit according to your needs, whenever you want.
Customer support is ready to help and provide adequate solutions to potential problems.
This virtual phone system has integrations with many platforms such as Zoho, Zendesk, HubSpot, Slack, Intercom, Zapier, and more.
Check also our leads tool for automotive business
What are the disadvantages of CallHippo?
Analytical reports are not a strong side when it comes to the CallHippo phone system.
If you want to have a more detailed view of the results and data, it will not be possible with this tool.
There is a lack of features that usually help the business to create a stronger user experience.
When you want to customize some of the available setups, it takes more time than it should and it is actually not so easy to do.
It is not very simple to make a cancellation.
Sometimes it takes longer to resolve certain errors, which can affect the quality of the service itself.
Pricing: Basic package that includes two users is free. When it comes to paid plans, if you choose an annual subscription, it will be free for three months.
There are Bronze, Silver, and Platinum packages starting at $10 per month. The Platinum plan includes all options from the previous packages plus additional options such as multilingual IVR and 3-way calling.
Look at the next 3 CallHippo alternatives and see which one suits you the best.
1. Limecall – For Website Lead Generation + Everything What Callhippo offers
If you want to find the right solution to grow your business communication to the next level, this callback software can be the perfect solution for you.
The innovations in the digital world are increasing. Whether we talk about the whole sales cycle or just one of its parts, it's callback software features important to keep up with them and with the news.
Realtime marketing has brought with it a huge commitment when it comes to any type of business. It means, as the name implies, providing the customers with all the necessary answers in real-time.
Do not let this seem irrelevant to you, or to think that it is only important that you answer, whenever that might be. The competition today is huge when it comes to both B2C niches and B2B niches.
If your potential customer thinks that you have forgotten about him, he will very easily go straight to your competitor who has already managed to build effective customer support.
Check also our : Callback Apps for Travel Agency
When you realize how many benefits this "commitment" can actually bring to your business, it will all be much easier for you.
By recognizing the potential of real-time communication, Limecall has created an integrated callback widget that prevents your website visitors from losing interest by waiting for a response.
The callback widget looks like this: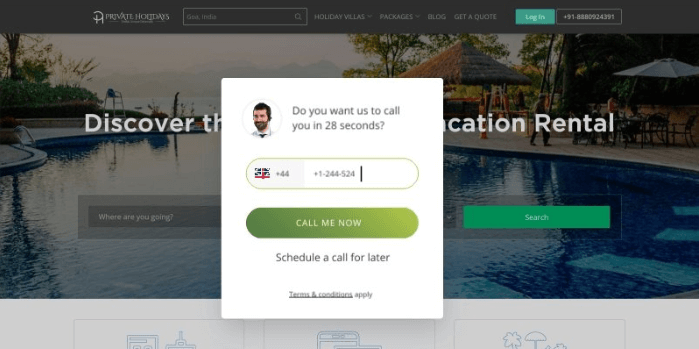 Within 28 seconds, your leads have the ability to find out everything that they are interested in and to get the right instructions.
You will be connected with the hottest leads that will bring you more profits.
This quick reaction creates extremely positive impressions because, in this way, you will have the opportunity to present yourself as a professional and organized seller of products or services.
As soon as the visitor clicks on the "Call me now" button, he or she gets connected with the agent from the sales team.
You have a great opportunity to show your customers the speed and willingness you use to respond to their inquiries, and you should put an effort to create that perfect customer experience.
After the call, your leads can express their honest opinions and suggestions by leaving feedback.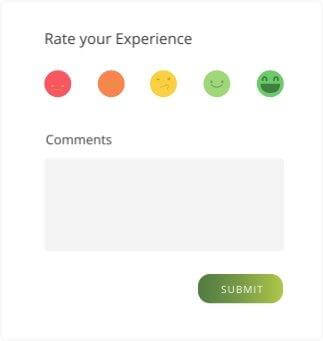 In this way, you can further deepen the communication you have made, and get the most out of their experience which will help you determine the direction of your business.
By analyzing the calls made, you will gain an insight into the behaviour of your users.
And, besides everything, your visitors can call you from anywhere in the world, from any time zone.
Limecall feature overview
Ease of use: Implementing Limecall takes only a few minutes and it is very easy.
Customer support: Just as the tool itself promotes the need for reliable customer support, so are the members behind it ready to assist with any query, or to give you some advice.
Offered features: In addition to callback widgets, there are also features that will help you create a user-friendly experience. Some of them are:
Customer feedback
Lead analytics
Scheduling calls
Call recording
Capturing leads 24/7
24/7 Customer support
Blacklist
Global calls
Widget customization
SMS follow-up
Integrations: You can make your job easier and increase productivity with the help of different integrations.
Sync Limecall with your CRM or other platforms such as Google Tag Manager, HubSpot, WordPress, and more.
Pricing: Every plan has a 14-day free trial. There is also a Starter package, and it does not cost anything.
Paid plans start at $35 per month. But, if you choose an annual subscription, the price is $29 per month which means you will save 25%.
Why is Limecall one of the best CallHippo alternatives?
There are several reasons why Limecall deserves your attention.
It has great lead analytics that will help you understand your users' behaviour.
It has the possibility of leaving feedback which is a great way to find out what your customers need, and how to give that to them.
This platform generates the most qualified leads even when you sleep, so you will not miss anything.
Your visitors can choose the time for you to contact them that suits them the best.
To avoid spam calls, you can blacklist them and save yourself time.
Paid plans offer callback widget installation on an unlimited number of domains.
Recorded calls let you know the exact time when something was going on, and allow you to keep track of everything you need.
Limecall is getting more and more users every day because this tool combines simplicity and functionality. It helps you use real-time marketing to grow your business.
2. RingCentral
RingCentral is another phone system that includes a video for conferencing, team meetings, pho, and messaging.
This CallHippo alternative is intended for all types of companies regardless of niche, size, and number of employees. It offers solutions for small businesses as well as for an enterprise.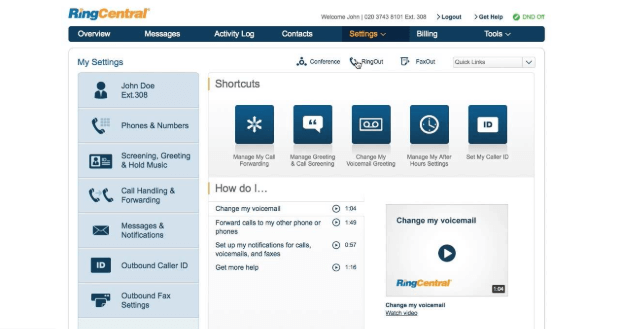 In order to use RingCentral, you only need an Internet connection.
You can install it on any device you use, be it phone, tablet, or desktop. You don't need any technical knowledge, and it only takes a few minutes to set it up.
This tool is easy to use and you can adjust it according to your needs.
There is a large number of phone numbers available and from this database, you can choose the one that you want.
You can collaborate with your team and boost productivity by sharing information, tasks, and updates within your business. You can easily add users.
RingCentral offers the ability to connect multiple office locations in one system.
All calls are sorted by date, time, and phone number, so you can easily search whatever you need.
You can download and save all your calls and messages.
Even over the phone, you can forward the received faxes easily to whomever you need to in a matter of seconds.
It offers integrations with Google Docs, Box, Dropbox, and Salesforce.
Offered features:
Telephony
Messaging
SMS
Online faxing
Video conferencing
Variety of available numbers
Cloud PBX
Inbound contact centre
Contact support 24/7
Pricing: RingCentral offers a free trial for each paid package as part of its offer. If you subscribe annually, you can get discounts of up to 33%.
There are several different packages, starting from the ones that cost $19 per month. More expensive packages, Premium and Ulitmate, feature automatic call recording, more users, and integrations with Zendesk, Desk, and Salesforce.
Why is RingCentral a great CallHippo alternative?
RingCentral is an all-in-one communication solution for different businesses. Here are some of the main reasons why it is a great CallHippo alternative:
It has integrations with important platforms for your business.
It is created as a combination of different modes of communication such as video and audio calls and messages.
It works on all types of devices.
It is very easy to implement and use.
There is customer support available at all times to help you with any potential problems.
It offers online resources in the form of videos and guides to better navigate the platform.
The numerous features affect the quality of communication with potential customers, as well as within the team itself.
3. Freshcaller
Freshcaller is a phone system and a call centre software.
It has local and toll-free phone numbers for more than 40 countries.
It is designed as a tool that helps businesses in different niches, and it is ideal for startups and companies with smaller teams.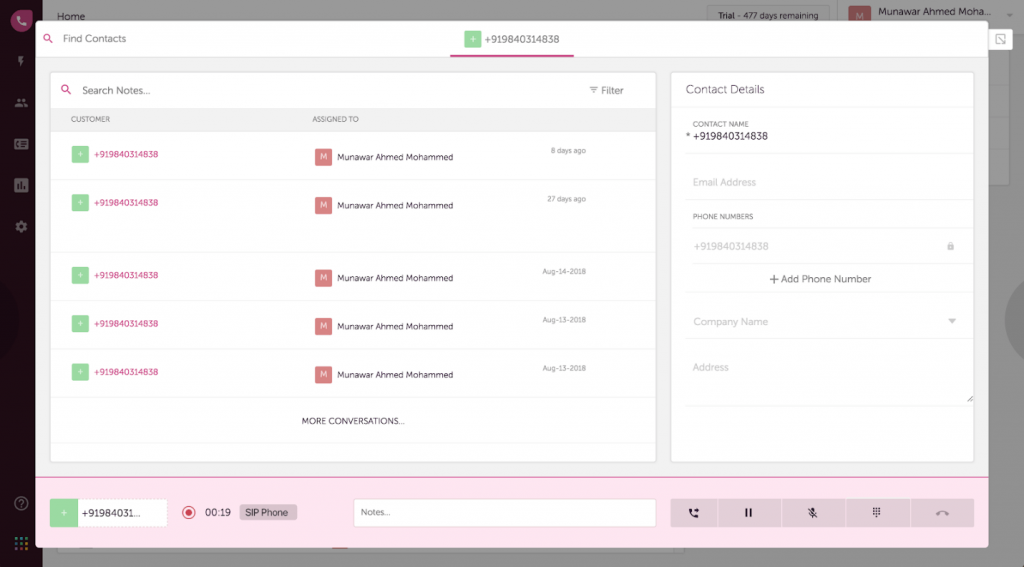 Freshcaller does not require hardware or downloads.
It allows you to record your conversations with potential customers if you wish.
You can easily migrate your phone numbers to Freshcaller without having to notify the customers.
When you want to make or receive calls, you can mask your existing number with another number.
Freshcaller has the option to customize voicemail messages so that you could still be there for your leads even when you are not available.
You can easily route calls to the right members of your team who can help and inform your customers best.
A mobile application is also available which enables you to do your work on the go.
Check our : Saas Callback also
Freshcaller automatically notifies callers of their position in the queue so that they could know for how long they would have to wait until someone on the team answers their call.
There is a real-time dashboard where you can keep track of all the events at any time.
It offers integrations with Freshsales, Freshdesk, and Freshservices.
Offered features:
Port-In numbers
Call masking
Toll-free phone numbers
International phone numbers
Voicemail
Multi-level IVR
Holiday routing
Holiday calendar
Custom greetings
Call blocking
SIP connections
Pricing: Freshcaller has a free trial so you can see if it is the right option for you. There is also a Sprout which is a free plan intended for the freelancers and startups.
When it comes to paid plans, the annual subscription allows you to save up to 20%. Otherwise paid plans start from $19 monthly per agent.
Why is Freshcaller a great CallHippo alternative?
There are several reasons why Freshcaller is one of the greatest CallHippo alternatives:
You are able to see your entire call history with costs and calls' recordings.
There are call metrics that will show you important data so that you can understand the behaviour of your customers much better.
It will show you all the information on every incoming call, as well as whether or not they have had any interactions with your business before.
One phone number can be shared among multiple tool users, so calls can be accepted from anywhere in the world and from any phone.
You can divert calls to those agents who are best suited for a particular problem or issue.
Notifications that notify you of incoming calls are enabled directly on the desktop, even when you are not on the application itself.
It has features to help you get organized for incoming calls during holiday periods.
The bottom line
People do not like to spend their time on hold, so it is important that you minimize the time it takes for them to get your answer.
A quick response will affect the quality of your service, and that will inevitably be noticed.
Shortening the duration of the sales cycle will result in an increase in revenue as well as a great time-saving.
Check also our : Callback apps for real estate and Callback apps for travel agency
When you save your customers some time, you automatically save some for yourself too.
By creating a treatment like this, you will come across positive reactions and secure future relationships full of trust.
Satisfied customers will always come back because they know you put them first, which is very important in today's world of business.
In order to prevent your leads from going straight to your competitors, communication must be something you pay very close attention to.
By using modern communication tools, you are showing that your business is growing as the time passes and that you are diligently monitoring innovations.
At the same time simple, yet extremely powerful tool like Limecall an Callback Software with a great callback software features and Saas Callback can be a great choice for you and the right path to achieving your highest goals. Check Limecall Pricing Now!
Try out all the options offered by this callback platform and you will see how much benefits it can bring to your business.

Get started right away and let your business thrive to the fullest!