There are many factors that can affect the real estate industry. In order to stay up-to-date, you need to keep up with the innovations and the market situation.
The digital age is changing all segments of business in different industries, and so is the case with the real estate industry. Although it may seem that these changes are occurring at lightning speed, it is necessary to make a pause and find out what kind of benefits these changes can bring.
So today, there are many real estate tools & software that can make managing your business much easier for you. There are tools for a variety of purposes, such as:
lead generation
video-emails
live chats
virtual staging
expanse tracking
You can use many of them to take your business to a much higher level and get more conversions.
Real estate is a huge and complex industry. There are many things that come before an agent offers a house or land to a potential buyer. And for everything to work flawlessly, good organization is needed.
Check our : Callback apps for real estate
That is why you need to use everything you can to grow your business and to create a great buyer-experience. It is not only important to make a sale, but also to maintain strong relationships with already existing customers who will be coming back to you or who will recommend you to others.
If you feel like there are too many different tools and you don't know where to start with your research, keep reading because in the continuation of this article you will find out what are the 15 best real estate tools & software we have singled out for you.
1. Limecall (Callback software)
Real estate industry has a complex sales cycle. But, that doesn't mean that you can't do everything to make it simpler and more successful.
If you want to generate more qualified leads and convert them into your buyers, Limecall can help you a lot with that.
Limecall is a callback software that provides information to your website visitors in real-time.
You certainly don't want to leave your visitors unanswered. The team behind a successful business must ensure quality customer support.
If someone wants to find out more about your real estate selling offers, you should give them the right information as soon as possible. Otherwise, there's a good chance that they will cross over to your competitors.
Limecall has an innovative callback widget. When a website visitor wants to ask a question, the widget appears as a window with a simple question: "Do you want us to call you in 28 seconds?".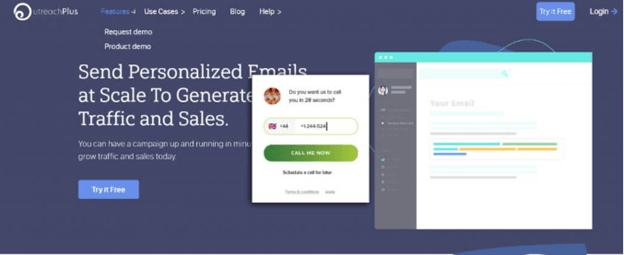 People don't expect such a rapid reaction and you will surprise them with your organization, professionalism and willingness to help.
Offered features:
Callback widget
Collecting leads 24/7
Scheduled calls
Precise analytics
Use a Limecall callback software to maintain the interest of your website visitors and give them the answers they seek. Make great and powerful connections between your real estate business and qualified leads.
Pricing: Limecall offers different packages. There is a Starter pack that is absolutely free and has up to 20 calls per month. Pro plan costs $35 per month and includes 100 calls via Limecall, widget installation on unlimited domains and more. The Advanced package is bigger and costs $75 per month. If you want to make a custom solution for your business, there is an option for the Enterprise package.
2. Real Scout (Lead nurturing tool)
Real Scout is a simple tool that can greatly assist agents and brokers in their work.
Lead nurturing is a business segment that is extremely important and that should not be overlooked.
This tool records the criteria selected by your leads and sends them the appropriate emails based on them. Real Scout differentiates over 400 different criteria, and emails sent to leads look just as if you sent them.
The criteria are not only reflected in the square footage, but users can click on items such as luxury bathrooms, natural light, high ceilings, and many others.
Fits Small Business says that Real Scout combines Multiple Listing Service (MLS) data with an agent-branded home search that can help increase client engagement and conversions.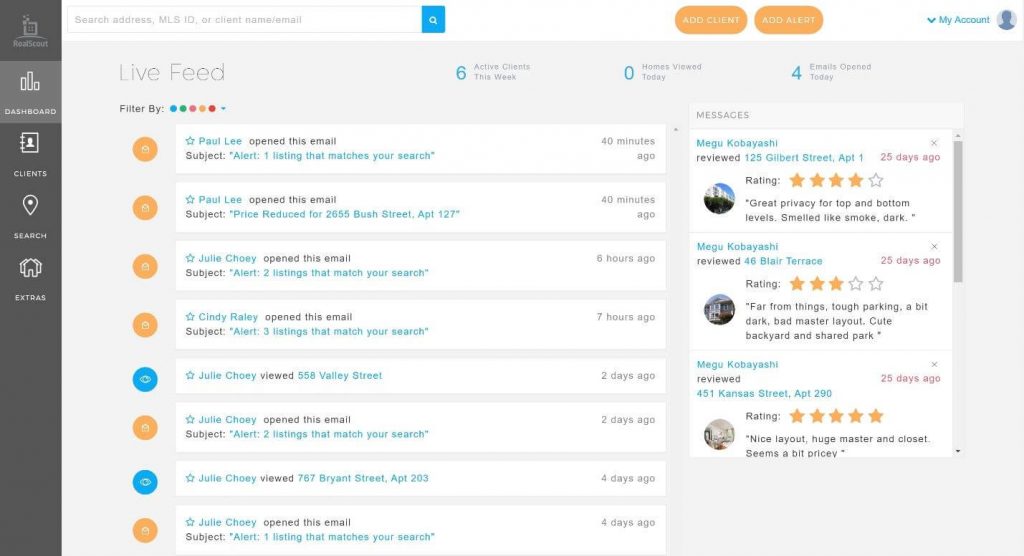 Source: Climblabs
Real Scout zealously monitors technology innovations and implements them in the real estate field in order to make certain progress.
Check our: Callback apps for travel agency
This tool helps you make your potential buyers better acquainted with your service. By nurturing them, you create a user-friendly experience. When your users are satisfied, you can expect higher conversions.
Offered features:
Safe browsing
Listing alerts in emails
Comparison of properties
Collecting data
Integration with other platforms
Optimization for all devices
Real Scout email alerts have 17x higher CTR (Click-to-Rate) than average.
Pricing: You can start a 14 free-trial period for Agent & Teams package, and after that, it costs $39 per month. For Brokerage package, you can ask for a demo, and the price is $499 per month. They even offer live coaching sessions.
3. Lemtalk (Live chat tool)
Lemtalk is used by numerous real estate agencies, many of which are part of the Berkshire Hathaway group. So far, over 150 clients have chosen this tool for introducing live chat, and it only takes a few minutes to install it.
Live chat is a great opportunity to generate more leads. You will be able to answer any queries that come to your website.
Lemtalk allows you to receive tickets from different places such as Live Chat, SMS, Email, Facebook, and others, directly into the Slack channel. Live chat tool is completely integrated into Slack.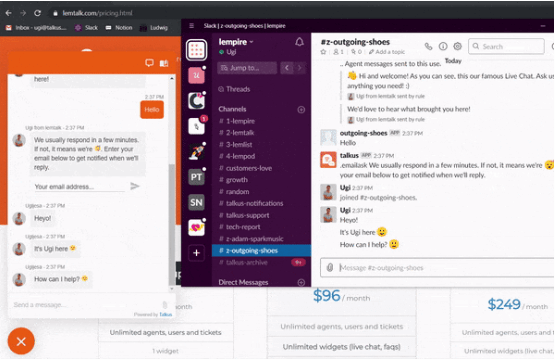 This will help you create much better customer support and to generate a higher number of leads which will then be much easier to convert into real buyers.
You can create automatic messages that are triggered by users' behaviour.
Another option offered by Lemtalk is the Frequently Asked Questions (FAQ), which will certainly mean a lot to your website visitors to resolve certain concerns. In addition, you will leave the impression of a professional who knows what his visitors are interested in, and who is listening to their questions.
Offered features:
Slack integration
Slack live chat
Emails in Slack
SMS in Slack
Facebook integration
FAQ
Multilingual live chat
Using Lemtalk will save you a lot of time since you don't have to constantly check every application because everything is in one place.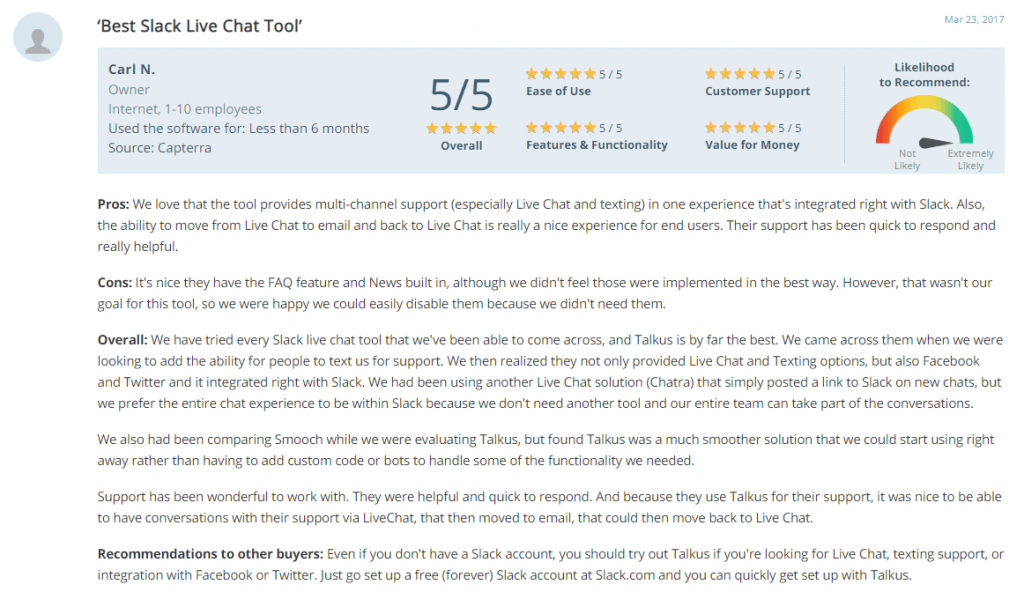 Pricing: This tool offers a 14-day free trial period for every package. Paid plans start at $48 per month, and there are three different packages: Startup plan, Super Hero plan, and Agency plan. Each package offers unlimited agents, users, and tickets, and other features depend on the plan you choose.
4. Showing Suite (Showing real estate app)
Showing Suite is a part of Showing Time.
When it comes to any business, what always seems to be missing is time. One way to save a lot of time is through automation.
Any process that allows this should be automated.
Showing Suite is a real estate tool that helps with automation and organization.
When agents need to schedule an open house, they should organize contacts and all kinds of notes.
If you want to integrate and automate showing schedules, feedbacks from buyers, videos, pictures, important information, and similar, Showing Suits will do this for you when it comes to each and every listing.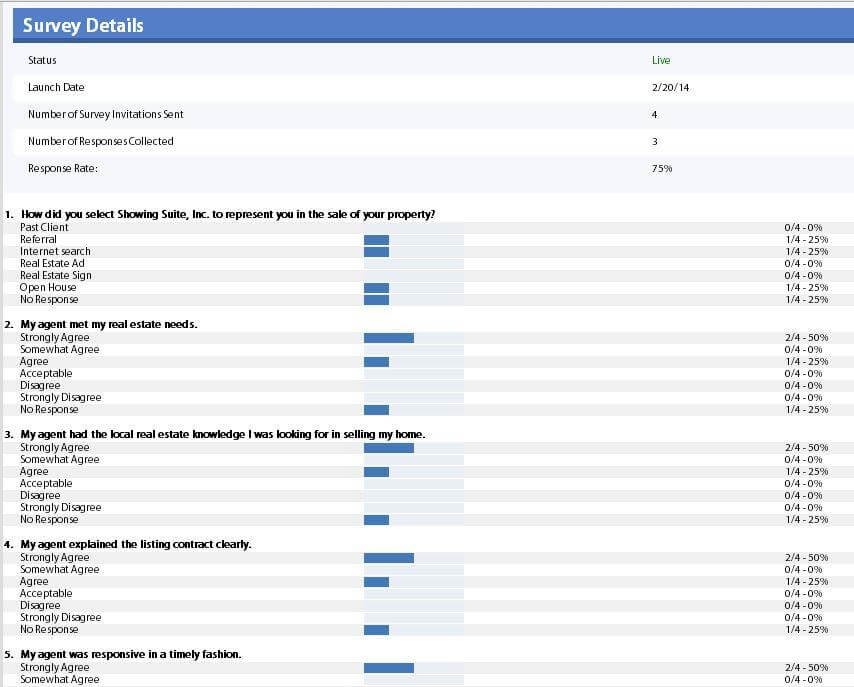 It is an all-in-one app that will keep everything in one place for you.
More than 800k Agents use Showing Suite for their jobs.
Offered features:
Home Feedback
Home Followup
Showing Sync
Showing Calendar
Foreclosure Feedbacks
TEXT2SHOW
Showing Note
integrated Showing Suite bundle
It is a real estate solution for agents and buyers. Instead of using a bunch of different apps, this app combines all important information into one.
Pricing: Showing Suite offers a free-trial period to try out and see if their services are right for you. Paid plans start at $ 24 per month. There are Ultimate packages and Pay as you go packages. Also, there is an Enterprise plan where you can arrange with them what suits your business the best.
5. BombBomb (Video email tool)
BombBomb is a great way to take your emails up to the next level.
Oberlo mentions that 54% of consumers want to see more video content from a brand or business that they support.
When you know what users want, you know what you have to do.
This tool helps you to generate more leads and to get more replies to your emails.

Instead of classic messages, all you have to do is turn on the camera, record a video, and contact your potential customer directly.
Although it may be embarrassing at first, everyone relaxes in front of the camera after a while, and this stops being a problem.
Video emails will raise your communication with users to a higher level. You will build a much stronger connection with your leads. Besides all that, conversion rates will increase.
BombBomb made a survey and these are the results:


These results show how important face-to-face communication is. You can use video-emails to make the first contact, keep in touch with old clients, make an appointment, and similar. The purposes are numerous and the results speak for themselves.
This makes it much easier to stay in touch with your target group.
BombBomb offers automated previews so people can already assume what it is about. Also, it will be easier for you to make them interested.
Thanks to this tool you will know when someone opens an email, clicks play on the video, and similar, so you can reach back. It tracks everything concerning your real estate business.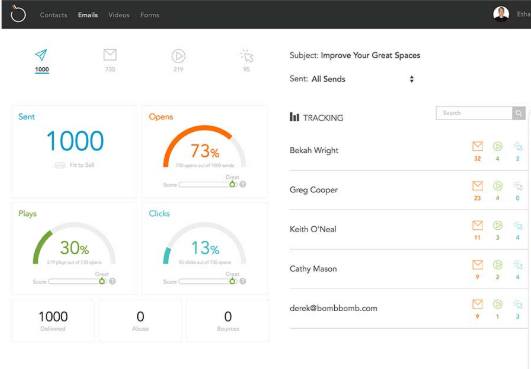 Offered features:
Video
Tracking
Scheduling
Canned Responses
Reminders
Email Marketing Platform
With canned responses, you can save a great amount of time. Re-use already made answers for the same questions from different potential buyers.
BombBomb integrates with other platforms, too. One of them is the Zillow Group.

Pricing: They offer a 14-day free trial with no credit card required so you can cancel it whenever you want. There are different paid plans starting with the Individual plan which costs $ 39 per month. Other plans are Individual Plus and Prompt with more benefits.
One of the real estate software & tools worth mentioning is the Zillow Premier Agent. It is a part of Zillow unpaid services.
The purpose of this software is to connect agents and sellers with potential buyers. With the help of resources, it helps you to achieve long lasting cooperation with clients.
Zillow is the largest real estate network on the Internet. It has more than 160 million visitors per month.
You can insert new listings from your MLS (Multiple Listing Service). When a potential buyer finds your listing on Zillow or Trulia, it is much more likely that they will make a purchase. This platform already has the well-deserved trust of the visitors.
Zillow Premier Agent helps agents and sellers find their leads faster, easier and more effectively. It connects you with buyers in less than 90 seconds.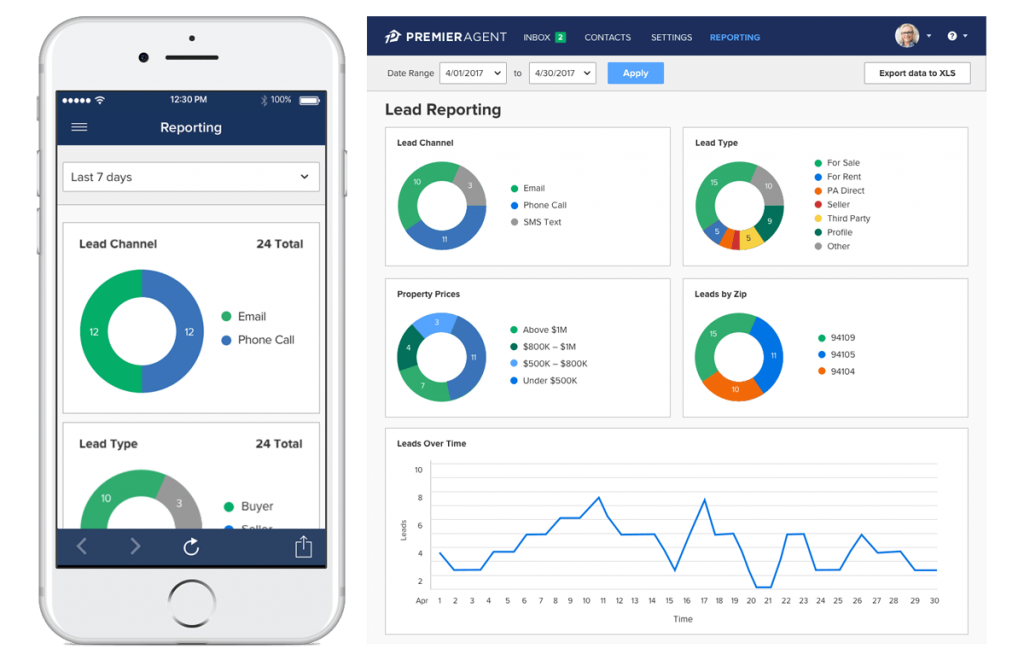 Offered features:
Lead pipeline management
Zillow Premier Agent Concierge
Zillow Premier Agent Direct
Mobile app
Optimization for all devices
Team management
Advertising
The Zillow Premier Agent offers the ability to advertise on other agents' listings. All you need to do is select the ZIP codes within which you want to advertise, and determine what your budget is.
They offer training in the form of courses, webinars, and events.
Pricing: Zillow Premier Agent does not offer a free trial, but you can create a free account as an agent and get started. Prices are not displayed on the website, but they vary and depend on the features you want. You can contact them to find out the prices of their offers, and agree with them on what works best for you.
7. Grasshopper (Virtual phone extensions tool)
Virtual phone extensions help you connect the caller to the right person to provide the right information.
As Grasshopper explains, with informational extensions, you can share information when customers call ("press 1 for our business hours and location"). Or simply direct customers to the right department or person ("press 2 for sales, 3 for support").
When you run a large real estate agency and you want it to look more professional, these extensions for separate departments will help you with that. This tool is another great tool for better organization.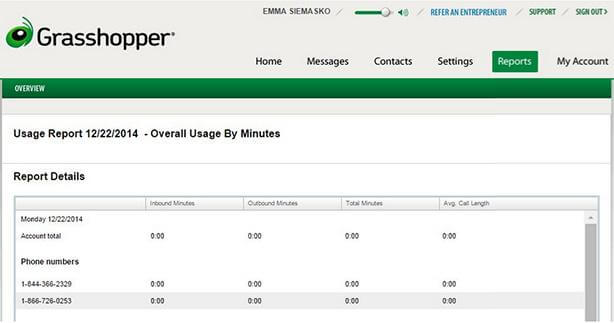 This is a great tool for the well-functioning of the teams, as well as developing companies.
Your employees can customize their extensions using their own voicemail.
Grasshopper also allows you to create reports so you could keep track of what is going on.
Offered features:
Voicemail
Voicemail transcription
Custom greetings
Virtual fax
Business texting
VoIP calling
WiFi calling
Business phone number
With this virtual phone extensions tool you can have more calls at once, forward calls, control incoming calls, transfer calls, and more.
Pricing: You can first try this tool for free to see how it works. By opting for one of the paid packages and choosing an annual membership, you can save more than 10%. There are Solo, Partner, and Small Business Plan. Prices start at $ 26 per month and up. Plans vary depending on how many phone numbers and extensions you need. The Small Business Plan offers an unlimited number of extensions.
8. Real Geeks (Customer relationship management software)
Real Geeks is an all-in-one real estate & marketing solution.
This software captures leads based on their property research. With it, you can more easily track leads and already existing clients.
It also helps you create Facebook ads that will drive more visits to your website. The Facebook marketing tool within the Real Geeks software tracks contact information from leads using their profiles.
You can generate new leads, nurture them, and convert them into real buyers and lasting clients.
Thanks to the automated email drip system, this software allows you to send automated email campaigns that are based on the behaviour of your clients.
You can customize the templates to suit your preferences.
If you want to integrate Real Geeks with other platforms you are using, you can do it very easily.
Using quality CRM such as Real Geeks you will be able to visualize the buyer-journey much easier.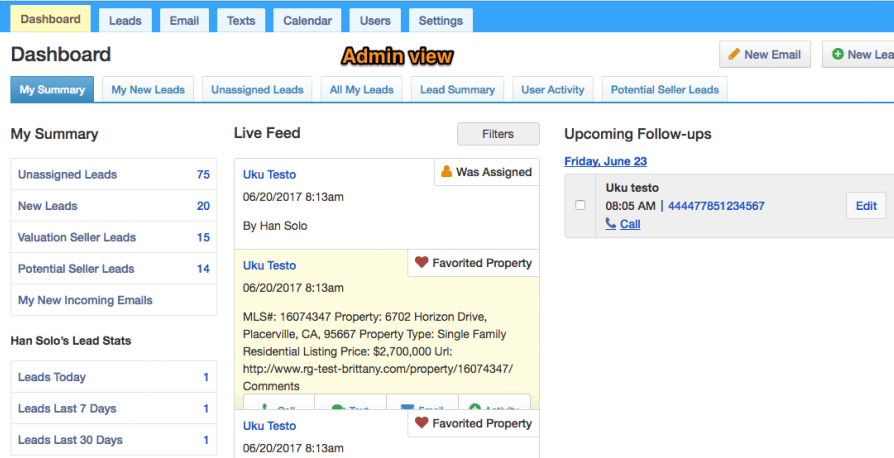 One of the offered features is a personalized mobile app that deserves special attention. As they explain on their website, it's a user-facing mobile app that integrates directly with your local board's MLS® system so leads can search properties on your website, and receive push notifications of property updates instantly.
Offered features:
IDX real estate websites
Lead CRM manager
Property valuation tool
Facebook marketing tool
SMS autoresponder
Facebook marketing service
Market reports
Real Geeks is definitely a complex real estate software that can do a lot for your business.
Pricing: Paid plans start at $300 per month, and the marketing budget is charged separately.
9. LionDesk (Real estate customer relationship management)
LionDesk offers intelligent solutions for sellers and teams.
Instead of using multiple applications and tools, this software offers you the ability to track both emails and phone calls. Thanks to adequate filters, you will know who's next in line you should contact instead of searching and wasting time.
Thanks to the reports you can follow all the events. You will have insight into your best campaigns, open email rates, clicks, and similar.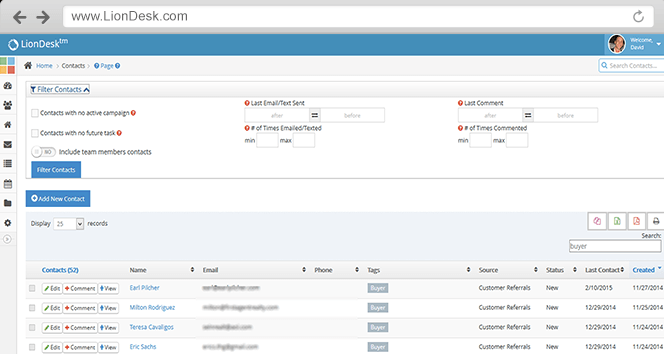 Property Plan includes already existing tools such as Closing Plan, Listing Presentations, and more. They will provide you with much better organization, and you can make your own plans according to your needs.
With LionDesk, upload your documents so that when you have a meeting with a client it is already all in one place and ready for you to start the presentation.
Depending on who is doing what in your team, you can transfer them those clients who need help in a particular area.
Because it has the ability to integrate with other platforms, you can handle your leads all at once from Zillow, IDX websites, Realtor.com, and others.
There is an option to purchase a sign rider of your choice that you can place where you want and add your personal LionDesk texting phone number so your leads can easily reach you.
Offered features:
Video email
Video texting
Text 2 Sell
Power dialer
3rd party lead imports
Facebook ads direct
Broker functions
Drip campaigns
Deal & pipeline management
Task management
Click to call
Autoresponders
Direct mail
LionDesk offers many features to make your business easier and to take it to the next level. The goal is to organize and to track all the results.

Pricing: First, you can get a 30-day free trial period. When it comes to paid plans, there are Pro and Pro Plus plans. The price for the first one is $ 25 per month, and the second is $ 49 per month. As in most cases, it depends on the plan you choose what features you will get. Also, there is an Enterprise option for large teams. When the time comes, contact the LionDesk team to find and arrange a deal that suits your needs the best.
10. AreaPulse (Market Data Real Estate Software)
AreaPulse is a platform that collects market data and sends highly detailed reports to clients.
In principle, this software replaces the sending of Excel tables. Instead of ordinary spreadsheets, these are visually interesting reports that contribute to your company identity. Even making them requires minimal effort.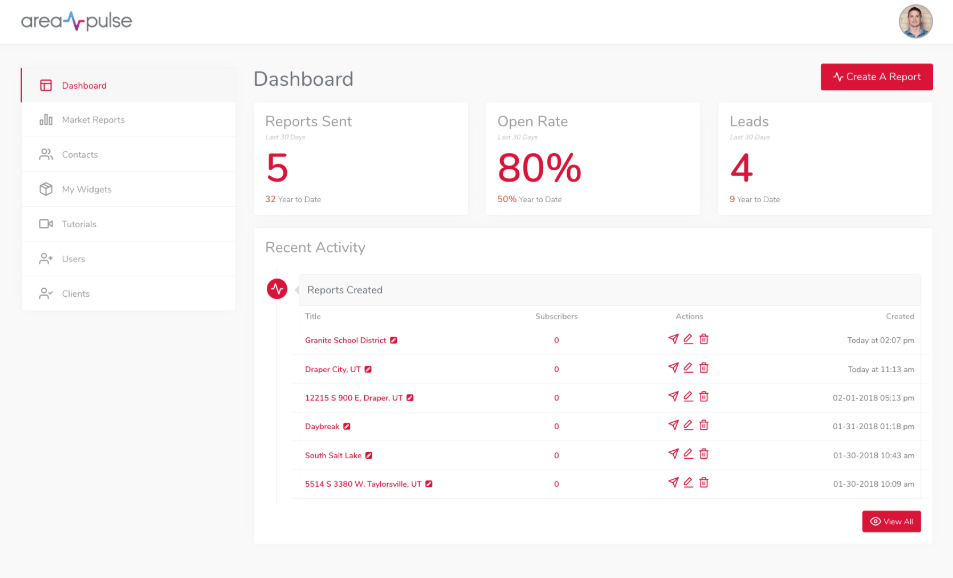 Because reports are very simple, it will be extremely easy for your clients to read and understand them.
AreaPulse notifies your potential customers of real-time offers. These are deals that may be of interest to them and that may be important to them. There are monthly updates about their neighbourhood or other places where they would like to live.
You can share your market reports on Facebook or Twitter and get more qualified leads.
Market reports can be created with a person's address or city ZIP code or any other area that they are interested in.
Offered features:
Real-time reports
Creative and visually appealing reports
Home inventory
Personal branding
Use this software to reach more potential buyers within your real estate business.
Pricing: AreaPulse offers a 30-day free trial period. Paid plans depend on the number of users, ranging from the cheapest package that involves one user to the most expensive one that involves 25 users. Prices start at $ 49 per month.
11. Everlance (Automatic mileage tracker)
With Everlance you can track your mileage. Given that the real estate industry requires a lot of movement from one place to another, this application can be very helpful.
Using GPS, it tracks how many miles have been travelled and for what time. This way, you can track how much your employees spend, and have an insight into costs.
You can determine if certain routes are designed to meet business or personal needs.
You may choose if you would rather have Excel or PDF reports.
This is a great option that lets you keep track of how much money goes into transportation.
It tracks every mile on a daily basis.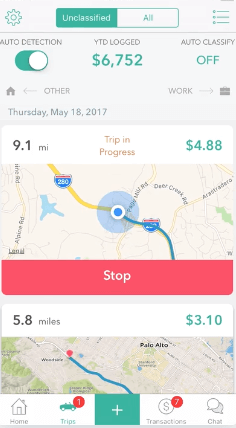 You will be able to see if any of your employees are making certain "oversights", or you will know exactly what budget you should provide for this purpose.
It only takes a few minutes to install this application. You can customize your mileage reimbursement program to suit your needs.
You can sync your bank & credit cards so you can track your expenses.
Whether you want to track yourself or your employees, you can do it with Everlance. This tool is intended for both self-employed and companies.
Offered features:
Automatic mileage tracker
Automotive transactions
Unlimited receipt upload
Syncing card and bank cards
Premium and dedicated support
PDF and Excel reports
IRS compliant reports
If you want to have an insight into this type of costs and to know exactly how much money you need to provide for transportation, this app is the right choice for you.
Pricing: Everlance offers a basic free plan. It also has a Premium plan with a price of $ 5 per month. There is also a plan for teams that is designed according to the agreement.
12. Placester (IDX real estate website builder)
Real estate tools & software are here to make dealing with your business much easier and to save you some time.
If you don't want to spend a lot of time building a website, Placester is the right choice for you.
The websites you build with this website builder are mobile-friendly.
The modern design and the choice of templates will attract more visitors. You can customize landing pages as you wish.
With features, you have the ability to attract and generate more leads which will become your customers.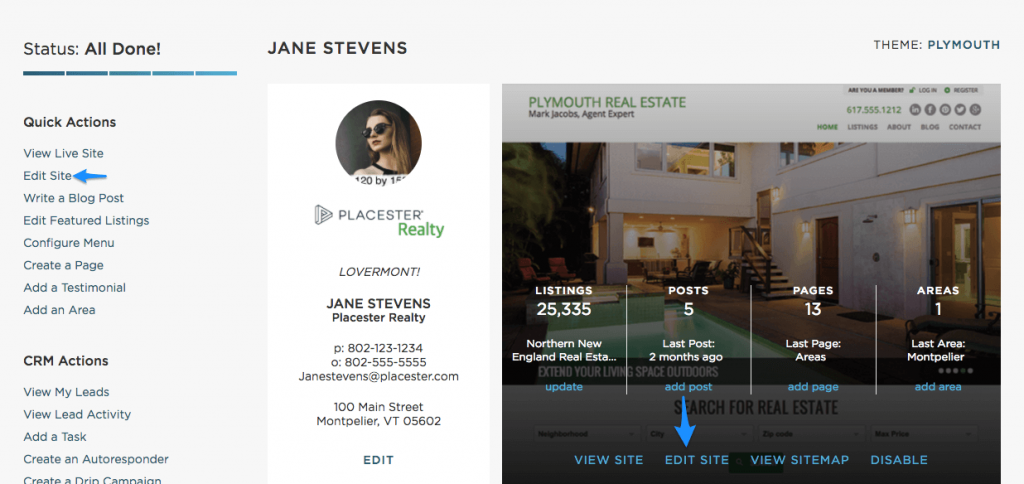 There is also a dynamic map search.
Before deciding to use Placester, you can schedule a demo with the team that stands behind this website builder. They will guide you through everything you need and advise you on how to get the most out of Placester.
Offered features:
IDX integration
Themes
Content library
Forms for lead capturing
MLS search
If you want to stand out from the competition and win over as many customers as possible, your website needs to look professional and to function flawlessly.
Website is your presentation. The poorly done website sends a bad message if it looks like it was neglected. Even if you have the most capable people in your real estate agency, you will automatically create an unfavourable impression.
So take the opportunity to make a good first impression, and create engaging landing pages.
Pricing: Whatever plan you choose, you can request a demo first. Currently, there are two plans: Agent Pro for $ 99 per month and Broker Pro for $ 199 per month. Setup is charged separately.
13. Buffer (Social media scheduling tool)
Whatever business you are dealing with, before starting an online presentation you need to determine what Internet channels your business should be present on.
Social networks are extremely popular today, which can be deduced from the number of users and their daily activities.
Although social networks are not for every type of business, the real estate industry is the one that can get many benefits from them. With a carefully selected audience, you can reach a large number of potential customers.
Also, it is very important that you constantly remind people of your presence so that they could find out about you at all.
On social networks, you can inform people about your offers, news within your business, but also generally about news from your niche, encourage and maintain communication, collect feedback.
Feedbacks from followers and already existing customers can be extremely important to your business. Use them as guidelines in which segments you need to step up when it comes to your business.
Given that there are a lot of social networks today, a lot of time goes into maintaining accounts on them. Regular announcements are required in order to maintain the activity and interest of your followers.
Creating interesting and valuable content already takes a lot of time, but the most important thing is how many benefits it can bring. On the other hand, everything you can automate and do to save time needs automation.
In order not to avoid posting regularly, use scheduling tools such as Buffer.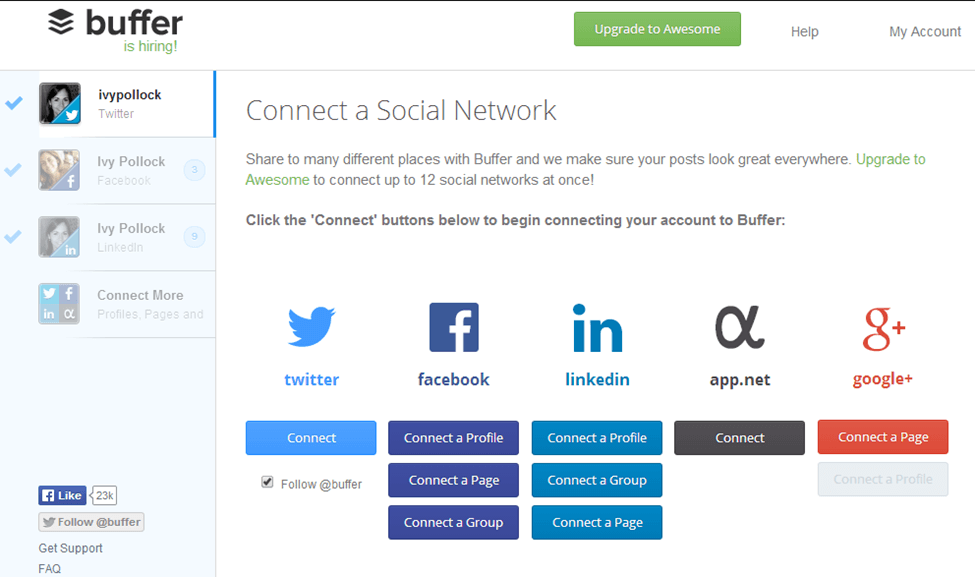 Buffer allows you to create a calendar of announcements so that they are always posted on time. That time is actually the time when your followers are most active on social networks.
This tool helps you realize what time is best for posting, but also what type of content your audience is best responding to.
With just one dashboard, you can plan and publish posts on multiple social media accounts.
Offered features:
Post scheduling
Analytics
Content management
Automated publishing
Multi-account managing
With just a few clicks, Buffer saves you a huge amount of time that you can spend on other tasks that are unable to be automated.


Pricing: Buffer offers a 14-day free trial. There are different packages classified in three categories: Publish, Reply and Analyze. There are many options so you can choose the one that works best for you. Prices start at $ 15 per month and then they go up. This tool is intended for both those who are just starting out and those who already have large teams.
14. Parkbench (Geo-centric platform)
Parkbench is a real estate platform that informs agents and brokers about news from the real estate world with the goal of attracting potential clients.
By sponsoring your local Parkbench.com website, you can become a real estate leader in your area. On this platform, residents from your neighbourhood can stay informed about all the news, promotions, and free coupons related to the local area.
Parkbench websites are known as the leading source of local information.
Using this platform will make you more popular among website users. In addition, you will build a relationship of trust with your neighbours who will know from that moment whom to turn to when it comes to real estate.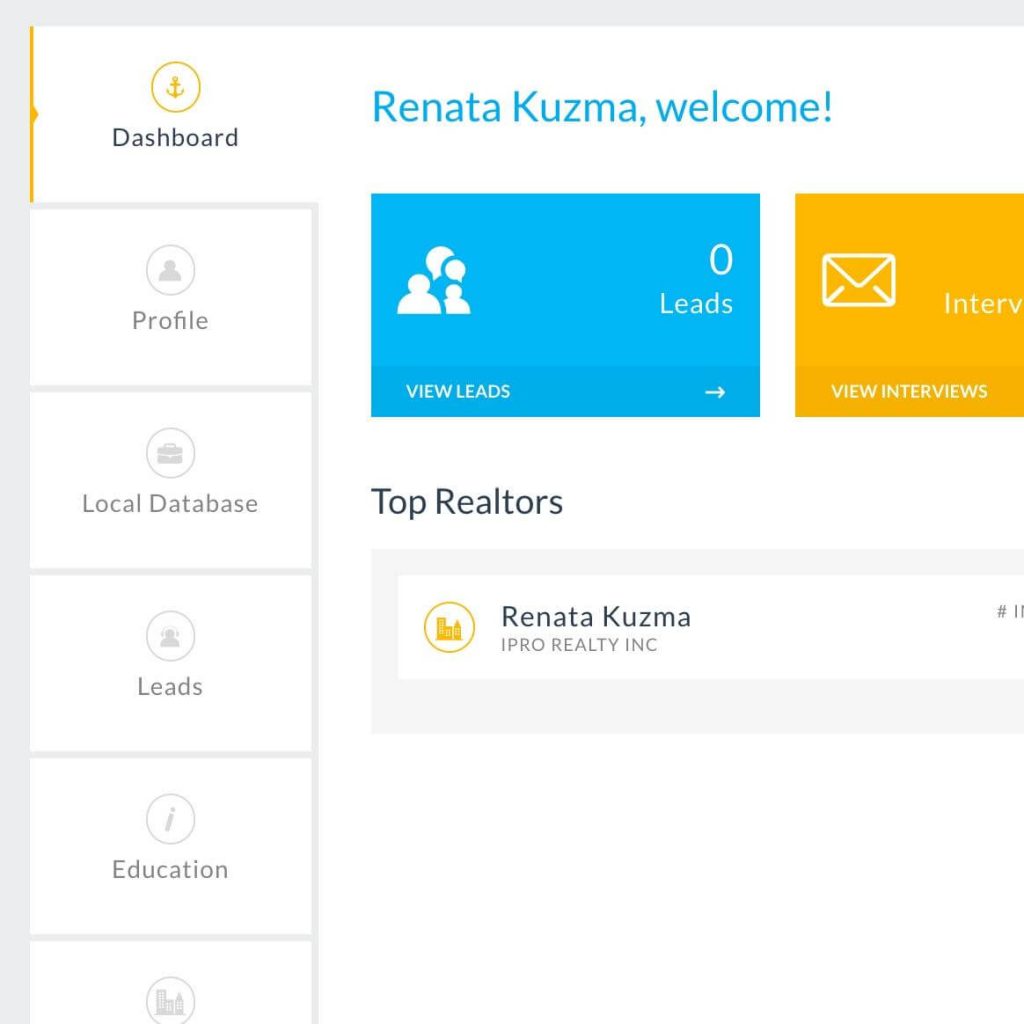 You can build a community that will be of utmost importance to your business.
Parkbench also offers the opportunity of mentioning you in its newsletter. This way you will reach an even bigger number of people.
There are also live coaching sessions. With them, you will learn how to create an engaging local website with content that interests your visitors.
Behind Parkbench stands an educated team who is there to help you whenever needed.
Offered features:
Real-time local news and deals
Real estate listings
Local websites
Educated support team
You can create your own free Parkbench account and promote your business.
The Parkbench mission is to connect real estate agents with their neighbourhoods.
Pricing: No prices are posted on the website because Parkbench has customized prices depending on your needs. To find out how much budget should be allocated for this platform, contact their support team who, in agreement with you, will find the best option for your business. You can also ask them anything that interests you if you are not sure how something works.
15. VRX Staging (Virtual staging software)
When selling a particular property or land, you want to be sure that you are going to be able to attract as many interested potential buyers as possible. What they will see first is most often a picture. To intrigue them, the pictures must look as good as possible.
Of course, this does not mean that they should look unrealistic. You don't want to disappoint potential customers and lose their trust.
The pictures are actually a presentation of a particular property that should attract people to come and see it live. However, sometimes these pictures just don't turn outright. That can be affected by a number of factors, and the most common are weather conditions and inadequate light.
This is exactly what VRX Staging can help you with. Not only can you make the pictures look better, but you can also add furniture to a specific room. When they see a furnished room, people can more easily perceive it as a potential home because it will automatically appear warmer and more harmonious to them.

You can also consult a team of VRX Staging software for free.
In the additional comments feed, you can describe if you already have a specific idea of how you want a particular space in the image to look like. You just need to explain in detail what you have in mind in order to get the style you want.
After you submit a photo or more of them, the next day you will get them sorted and ready to be uploaded to your website.
For each picture, you have the option of one free edit if you want to change something else.
VRX Staging also accepts pictures that you have taken on your own, but they always recommend that, if you are not adept at taking pictures, hire a professional to make the pictures look their best.
Offered features:
Virtual staging
Edits
Furniture removal or adding
Virtual twilight, bluer sky, greener grass
Colour changes
Use this software to get the highest quality photos and to get the most out of your visual presentation.
Pricing: Cost per photo for virtual staging is $ 35. It is important to note that this applies to individual photography. So, if you submit multiple pictures of the same room, each picture taken will be charged $ 35. The furniture removal costs $ 55. Other services range between $ 15 and $ 20 per photo. Also, actions are often active, so currently the option for Bluer sky or Greener grass costs $ 5.
The bottom line
There are many real estate software & tools on the market. Their purpose is to facilitate as many business segments as possible in order to save time and achieve more sales.
Even if you are not interested enough in a particular segment and you always find it difficult to reach out and fix it, using these tools will certainly make that much easier.
This list of 15 best real estate software and tools should serve as a guide for what types of tools you may come across.
Many of the real estate tools and software listed above are constantly improving their services and keeping pace with technological innovations.
Internet capabilities and digital skills have given a new dimension to many businesses, and it is the same thing when it comes to the real estate industry.
Whether you are self-employed or you run a business with a large number of people, the organization is extremely important.
Many of these tools will help you save time, and you can never have enough of it in the business world.
Try real estate tools & software from our list, and find the ones that suit you the best.
Do your best to keep up to date with innovations so you don't miss out on anything that can make dealing with your business much easier for you.
Whether it is generating leads in different ways, advertising or visual presentation, nothing should be neglected if you want to run a successful business. All these parts form one complex sales cycle.
Explore, try out, and use these tools to reach your maximum potential and to become enormously successful in your real estate business.