A keyboard to type, a calculator to calculate, and a phone to communicate – imagine how life would be without these tools!
We, humans, have been relying on tools from primitive times, and to be honest, nothing much has changed except our tastes and preferences.
In the 21st century, however, our choice of tools has greatly evolved.
We are no more thrilled about a sharp ax or a great bow and arrow — but some cool sales prospecting tools may excite us.
Don't fret if you have no idea about what sales prospecting is – we've all been there!
To be honest, the concept of sales has changed a lot over the years, and it is still changing – every day.
According to the reports, 44% of salespeople give up on a lead after a single follow-up
Fronetics says 50% of sales go to the sales rep who responds first
Only 2% of cold calls actually result in a follow-up appointment
What is Sales Prospecting?
Sales Prospecting seems quite an easy concept if viewed from a business or sales perspective and helps to bridge the gap between a prospect and a lead. The term "prospecting", however, takes you through the procedure of looking out for potential customers and clients to grow the business.
But it's not t-h-a-t easy to grow a business – several factors contribute majorly to the company's sales.
To generate a genuine sale – the prospect, that is, the potential customer needs to be converted to a lead. As soon as the prospect becomes a lead, sales are directed to your product or service.
It is with the help of the ideal sales prospecting tools that a prospect can be easily converted to a lead, led by exclusive marketing strategies.
Why is sales prospecting important?
Building a service or a product can be easy but selling it might be not. To sell a product, at least 75% of your prospects need to convert into leads. However, it is quite a strenuous procedure and nearly impossible to find the customers who are in ideal need of your product.
But with the right sales prospecting procedure and tools, it becomes easy to identify the individuals as leads. Such a sales strategy also helps you save time instead of nurturing a prospect who doesn't take interest in your products and services.
Here are some more reasons behind the importance of sales prospecting.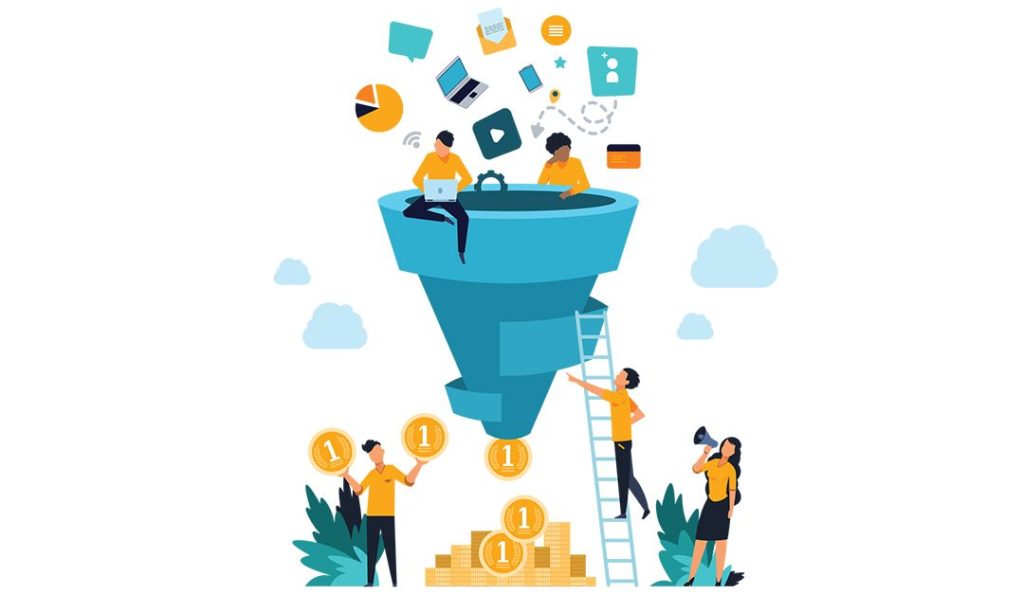 Helps to fill the Pipeline
Just like a plant depends on water to grow, similarly, your business depends on qualified sales prospecting for growth.
To ensure uniform growth, it is important to fill in the sales pipeline, that is, lining up the goals, setting up the process, and marking the targets.
Though filling the pipeline doesn't directly benefit the business, it makes things easy for the sales team to work with. Moreover, following a pipeline, also helps to recognize the ideal customers and convert them to successful leads.
Improves Productivity
Well, it is important to set a goal or keep a target to improve the productivity of the team. The prospects set for the team, help them get a feeling of achievement once they reach a milestone.
Moreover, the sales prospecting procedure also brings forth the strengths and weaknesses of your team and optimizes their efforts and efficiencies over time.
Gives Competitive Insights
There are several strategies that a sales team works with, but how would you know which one is a success and which one is not?
Well, building an ideal sales prospect allows you to track your strategies and gives you competitive insights.
Whether the customers you are targeting are ideal for your sales funnel, and whether these prospects will ever convert into a lead, can be jotted down with the help of an ideal sales prospecting procedure.
Factors to Consider While Choosing the Best Sales Prospecting Tool of 2021
Everybody out there can thrive in the sales industry, given the right sales tools. But how to settle for the right one? Here are some factors to consider for the best sales prospecting tool of 2021:
Be Targeted In Your Approach
While prospecting, having a designated approach guarantees that you center around the possibilities that are well on the way to change over into income-creating clients.
The most ideal approach to focusing on the right possibilities is to fabricate an Ideal Customer Profile (ICP) for your item/administration.
To fabricate an ICP, you'll initially have to track down the normal boundaries among your current customers.
Assess:
Do they come from a particular niche segment of an industry?
What are their pain points?
What is the goal they want to achieve?
These are just the various questions you'll need to be asking yourself when determining the ICP.
Creating an ICP and targeting the right prospects not only saves you time but also improves your conversion rates and gives you predictable revenue to work with.
Consider the Tool's Purpose
There are various stages associated with prospecting, and you'll require various tools to address the difficulties that each stage presents. Some will help you dig for leads while others will make bookings a breeze.
Be Well Aware Of Your Goals
Before you go ahead to choose a sales prospecting tool, it is important to be aware of your goal. Pause, and think for a while about what your targets are, and assess the professional goals accordingly. It is only after you know what your goals are when you can decide which sales prospecting tool to choose.
Price of the tool
All that you do, from prospecting to bringing deals to a close, is to bring in cash. Furthermore, on the grounds that you buckle down for each dollar, we comprehend that you would prefer not to squander any of it on pointless tools or programs.
There are numerous reasons or even free sales prospecting tools that do the work – yet you additionally don't need to avoid paying a premium if it merits the speculation.
Check the Availability Of Sales Prospecting Tools
Based on your country, or your budget, you need to check the availability of the sales prospecting tools.
Sometimes the government tends to ban some tools in certain countries, while some might cost way too much, and thus completely out of your budget.
So, checking the availability before you go ahead is important.
Integration Flexibility
You most likely utilize a CRM or different sorts of programming every day, so why add another?
Having more than one tool implies opening numerous programs, matching up information, and refreshing data unendingly.
Undoubtedly, it would aid multi-tasking, and that too, just by using one tool.
Go Through the Reviews
Some sales prospecting tools might look quite promising but maybe they aren't so real.
You can only get the authentic report of the tools from the customers who have already used them.
Do not just fall for the good reviews but take a look at the bad ones as well to make sure you're making a good choice.
Service of the Support
While you're occupied with prospecting for the sales, you ought to have the option to depend on your tools.
In any case, there will be times that something doesn't work the manner in which it ought to. In those cases, it's extraordinary to have a helpline to the organization behind the instrument, so you can get help when you need it.
The complexity of User Interface
The general purpose of utilizing tools for deals is to make your work simpler, not harder.
It's normal for another program or application to expect to learn and adapt, however, if you end up battling to utilize it, you may be in an ideal situation with something different.
A decent prospecting tool ought to be instinctive, simple to utilize, and require less exertion contrasted with what you were doing previously.
For example, HubSpot and Salesforce have consistently rated the top CRM platforms. Though both do the same task, it is due to the difficulty in the functionality of the platform that Salesforce started lagging behind, and eventually – HubSpot replaced it majorly.
Tips for Better Sales Prospecting
Know About Your Prospect
No matter what strategy you prefer to employ to upgrade your sales, you cannot leave behind researching your prospect. There's absolutely no strategy or tools that can replace its importance in your sales prospecting procedure.
Nowadays, strategies like cold calling and cold emailing have become quite popular but yet, there's nothing more effective than quality research. However, it doesn't only end in research, and you further need to initiate a conversation that would give you a clear understanding of your prospects.
For example, look if the prospect fits according to your buyer persona, or have come to you through any mutual connections – it can help you develop a connection or build a rapport. Figure whether the prospects have any relevant pain points so that you can target your first contact message right, according to their needs.
With the internet and modern tools at your disposal, it's easy to find out information about your prospect.
Track the Numbers
Well, there is hardly anything more important than tracking your data/numbers.
For example, the movie studios track their box-office numbers, athletes track their game stats, politicians track their vote percentages – in the same manner, sales reps while prospecting, should track their numbers.
(And by numbers, we mean the responses, number of appointments, calls made, sales made, and emails sent.)
The purpose of following your numbers is to assist you with having an open evaluation of how good your performance is and secure a place at the top.
Realizing your numbers gives you the information to assess how you are getting along and in what regions you can make changes in accordance with improving your prospecting.
It guarantees that you keep focused and hit your business targets.
Have a Balanced Methodology
It is recommended not to put all your eggs in a single basket.
There are many sales reps who think twice before projecting and do not want to come out of their comfort zone.
Such reps hardly go for a variety while considering the prospecting techniques – and think it to be the best one – and that's where it all goes wrong.
But in the long run, it will prove to be less productive.
Maybe, relying on only one prospecting technique, and rejecting any new scopes of improvement can ultimately result in only getting "better" results; not the "best".
The prospecting methodology, however, needs to be balanced and while doing so – you need to take everything into account from industry to size and product into concern.
To infer the best results for the time invested, a sales individual needs to balance his/her prospecting methodology. There should be a mixture of phone calls, emails, social selling, networking, referrals, inbound leads, and face-to-face.
The time spent on each prospecting technique should be distributed relatively based on the different types of prospects they are handling – different techniques work for different types of prospects.
They differ based on various factors like size, industry, location, product, and so on.
Maintaining a balanced approach to prospecting is the most effective way to fill up your sales pipeline and ensure better returns.
Send relevant content to prospects
While we as a whole realize that content helps salesmen to bring possibilities down the sales funnel faster, what we may not know is what type of content to present the readers with.
To address this inquiry – consider what you're attempting to accomplish during the prospecting stage.
You need your potential purchaser either to focus and allow you an opportunity to meet or move to the following stage, isn't that so?
This implies that the content you send should address explicit circumstances and problem areas of that possibility.
Since let's be honest – no one will pay attention to you in the event that you're not going to discuss them. In this way, ensure you just offer content that is pertinent to your clients.
How to do Sales Prospecting?
Be Proactive and Consistent
It happens commonly for you to set sales prospecting aside for later when deals are moderate—at the same time, to reliably keep a full pipeline, deals should be a day-by-day action. On the web, chatbots offer an answer.
However, it's never enough to depend on your trust in instruments or advertising groups; you need to go out and discover leads yourself.
For example, how many cold calls should reps make a day? How many emails should they send?
By establishing a method and process, prospecting quickly becomes a habit and can help you avoid a lead or revenue shortage.
Understand your Best Buyer
The base of an inefficient B2B deals prospecting is an absence of comprehension.
If you don't comprehend your intended interest group — their inclinations, problem areas, and purchasing triggers—how will you end up making a positive choice for you?
To lay it out straight, without a profound comprehension of your intended audience, your sales endeavors will fizzle.
Despite the fact that buyer personas are regularly viewed as advertising an area, they're additionally basic to the prospecting cycle.
Organizations that surpass lead and income objectives are multiple times as liable to utilize personas for generating demand in contrast to the individuals who missed their lead and income objectives.
In the event that your deals and advertising sectors haven't effectively plunked down to make buyer personas, this ought to be the step number one.
Nurture Relationships
Even after you've perfected your sales pitch and contacted all the right people, you're still going to be rejected. And while rejection always hurts, don't give up on the prospects that tell you 'no'.
Instead, develop a prospecting strategy to nurture these prospects until they become ready to buy.
The key to building a lasting relationship with a prospect is to understand why they said 'no' in the first place.
Many times, 'no' really means 'not yet'.
Take the time to understand what the hesitation is or why your product isn't necessarily a good fit. Then, develop a nurture cadence to maintain your relationship with this prospect.
Aim to be helpful, rather than pushy.
Invest in the Right Technology
In an increasingly digital world, technology can make or break your sales organization—and maybe not in the way that you think.
Here's our take: Develop your strategy and invest in sales prospecting tools that support that strategy.
The reason for this is simple; if you buy tools and try to develop a strategy around them, the focus becomes the technology and not the process.
But, if you do your research and gather input from your team, modern sales tools can drastically improve your prospecting efforts.
Sales Prospecting Techniques
Cold Calling
Cold Calling is as yet an extremely compelling sales prospecting procedure in spite of the opposing cases. With individuals getting safe to customary advertising techniques and designated advertisements, cold calling slices through all the web and online media clamor. It gets you in direct contact with your possibility and you can get to the point with the deal.
With cold calling, there is quick criticism. You will know in a split second if your work was great or was it an exercise in futility which in the event that you can guide your focus toward the following possibility.
Furthermore, another motivation behind why cold calling is as yet a powerful strategy is that it's anything but an individual association among you and the possibility on the opposite end.
Conferences/Events
Meetings and occasions are a golden goose for a sales rep who comprehends and uses them to address their issues. Experienced reps go to these occasions and network and approach conversing with appropriate individuals and opening up channels with new organizations who match their client profile.
It's generally awkward, the vast majority detest doing it, and in this advanced age, individuals have gotten comfortable behind their screens having failed to remember how to associate with others. However, it's anything but an extraordinary method to meet new imminent customers.
This in-person prospecting procedure can end up being exceptionally useful on the off chance that you have an appropriate approach.
Consider what gatherings your target audience will in all probability join in and simply go to those.
Aside from conversing with these individuals, you can organize.
Go around giving out your business card and you could actually provoke somebody's curiosity in your item/administration.
Recall that all the talking you do here ought to be short and fresh. You're not pitching, so don't go for a speech about your item.
It is enticing to pitch at that moment to dazzle them yet oppose that inclination. You should simply get on your possibility's radar and check whether they're worth seeking after.
Social Selling
The importance and influence of social media in today's world cannot be stressed enough. Millions of people around the world use social media and businesses today have started using it to get in touch and understand their consumers better. And as a business tool, social media has become the vanguard of technological advances.
These social media platforms give you the ability to communicate and build relationships with your prospect easily. Through these social channels, you can identify and analyze your prospect's behavior, preferences, triggers, and pain points that can later help you cater to their needs and provide solutions to their problems.
Direct Mail
During a time where everything is being taken on the web; correspondence, shopping, schooling, amusement, and so forth; does sending a regular postal mail to somebody bode well? All things considered, you can simply call them or give them an email. All in all, why and how is regular postal mail prospecting still compelling?
Just like every other technique, if done right direct mail can prove to be a very effective prospecting method today. With all the rage about the internet and how all those channels are crowded, physical mail catches the eye easily – it stands out.
A letter or a postcard provides a personal touch that has a greater impact which then leads to a warmer experience during the sales process.
Direct mail is effective for highly targeted prospects. For such prospects you can tailor a personalized message for them, appeal to your prospect's specific needs and you'll get their attention.
You can also mix it up with attractive postcards, handwritten notes, or gifts like pens, mugs, Amazon gift cards, and so on.
Cold Emailing
Cold Emailing needs no introduction. A widely used prospecting technique today, cold emailing has proven to be highly efficient.
If leveraged properly, it can help you generate more leads with a high Return on Investment (ROI), Bypass gatekeepers when you're trying to reach higher-level C-Suite executives. Emails allow the recipient time to reply at their own time and will scale Cold emailing by saving a lot of time and effort.
'Less is more work for cold emailing. Choose a specific list (most preferably matching your buyer persona) of prospects, find their email address, and send personalized emails to them. This will ensure greater deliverability and increase the chance of a response.
Referrals
Referral prospecting is an underrated and underutilized prospecting technique. Sales reps often fail to land referrals because they simply don't ask for them. And to be fair, asking for referrals can be tricky.
There are many prerequisites and factors that one needs to consider before going around asking for referrals from their current clients. Your product must be beneficial to them, you must provide excellent service, and you must be professional in every way possible – be on the best possible terms with them.
However, It's worth the time and effort because referral prospects are often the hottest. Brokered by a client who knows you first-hand and trusts your product, their recommendation will carry some weight in the referred prospect's mind.
The prospecting time here is significantly reduced when it comes to referral prospecting, getting appointments is easier, the introductory small talk can be avoided or reduced, and closing the deal is easier since you have the referrer's support.
Top Sales Prospecting Tools in 2021
Voila Norbert
Norbert is extremely helpful when it comes to sales prospecting. All you need to do is – enter your prospect's first name, second name, and their business domain – and Norbert will find you the prospect in no time.
From recruiting to sales, and business – the service provided by Norbert aids every service one would require to prosper in the business world.
The platform has built up a massive database of B2B email addresses against which they check all requests. Besides, there are a number of integrations that are available on the platform to ensure an incredible business growth.
Helps to discover leads
Offers validated emails in real-time
Provides enrich contacts with right message
Reaches real people in no time
Automated email verification
Clearbit
To be successful in sales prospecting, you need to know your customers first, and Clearbit helps you go the extra mile in this.
Clearbit is the marketing data engine for customer interactions. We help businesses grow by providing tools that help them deeply understand their customers, identify future prospects, and highly personalize every single marketing and sales interaction.
The particular aids you for a deep understanding of your customers, identify future prospects and personalize every single marketing and sales interaction.
Offers real-time data
Immediate notifications to stay on track
Stay updated about the company attributes and industry
Specifically built for modern businesses
Keep all the informations at your fingertips
Email Hunter
Well, nobody has got the time to seek email ids – thus, such a tool always makes the job a lot easier. Henceforth, there is no better way to approach sales prospecting than by building an enriched email database.
The email hunter uses a large number of signals to find the proven or most probable email address of anyone in a fraction of second. As it uses our unique set of data, the platform can return a result even where other standard verification tools fail.
Makes connecting with prospects easier
Helps to build an enriched database
100+ million email addresses indexed
Uses effective search filters
Gets the job done faster
Headreach
Designed to aid sales marketing and data research, Headreach is an unique prospecting tool. With it's enriched database and easy to use interface, the tool can help you develop reliable prospecting relationships and target exceptional leads in no time.
With 12 different filters and exceptional extensions, the prospecting tool allows you to ensure quick and effortless searches. The best part, however, is that you do not even have to install additional extensions, just search in the application.
Accelerate lead generation
Ensures increase in revenue
Finds real emails
Various filters to choose from
Boosts ROI
LinkedIn Sales Navigator
For all the salespeople out there, LinkedIn Sales Navigator ensures flexible growth opportunities and aids assured establishment.
With LinkedIn Sales Navigator, you can focus on the right people and companies, stay up-to-date on what's happening with your accounts, and connect to new prospects even if you don't have their contact information.
The ability to search, add to lists, view LinkedIn profiles and do deep dives with filters makes the ROI stand out. The Navigator messaging is also a key tool as it allows for more robust messaging in a different channel.
Take your connections to the next level
Catch prospects through free in-mail marketing
Fetches business-focused leads
Tailored search results
Helps to identify prospects quickly
Limecall as one of the Best Sales Prospecting Tool
Limecall happens to be one of the best sales prospecting tools in the market – given its array of features and specifications. Given those, it becomes really easy to grip your prospects and target your leads. Here are some of Limecall's best features that make it stand out from others.
Call Scheduling – Schedule your calls to never miss out on a chance to get in touch with your prospects beforehand.
Custom Message – Adding a personal touch to your message can help you conquer your prospects' attention better.
Inbuilt CRM – With an inbuilt CRM system from Limecall, you get a chance to store all information and data about your prospects safely and securely.
Takeaway
Sales prospecting can be a challenging task loaded with dull errands, however by utilizing a portion of the devices above, we trust you'll have the option to build your proficiency, interface with more possibilities in less time, and close more deals than any other time recently.