Lead generation is one of the priorities in the real estate industry.
Finding the right buyers can be really challenging, but there are powerful real estate marketing tools that can facilitate this process greatly.
If you use these tools in the right way, you will be able to generate leads consistently and to close many more deals than you did previously.
Since the market is packed with many different tools and software, we wanted to make it easier for you to find the best one for you.
Real-time marketing means making yourself available to your leads, as the name implies, in real-time.
If visitors to your website have questions for you, they will surely want their answers as soon as possible.
Limecall is a callback software that requires only a few minutes to be installed on your website. The new integrated widget will provide you with the ability to generate leads consistently.
This special callback widget was created as a product with the intention of achieving better communication with visitors and creating stronger connections between a business and the potential user.
Namely, at the moment when the visitor wants to contact you, the following window appears: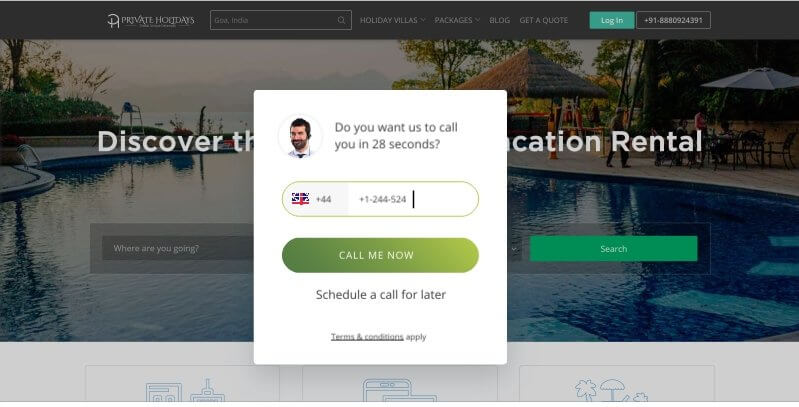 In less than half a minute, your leads are connected with some of the team members who are ready to provide them with all the answers they need and resolve their any concerns.
After the call, the visitor is offered the opportunity to leave a comment and rate his experience. Thanks to this, you get an insight into the opinions of your potential customers.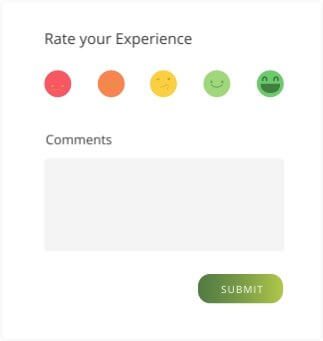 All leads data, as well as recorded calls, are collected and stored. They are located in the dashboard of your Limecall account so you can easily access everything whenever you want.
If you want, you can integrate all the data with your CRM or other software.
With Limecall, the journey to creating excellent and reliable customer support will be much easier.
Today, the sales process in any niche puts the customers first, so this real estate marketing tool will greatly help you when it comes to lead generation.
HomeSpotter is a real estate's relationship engine that helps real estate agents to create stronger relationships with their leads.
Over 450,000 agents use HomeSpotter for their real estate businesses.
Check our: Callback apps for travel agency
There are three products within this tool:
It is used to automate the advertisements you place on social networks and other channels. Due to the fact that advertisements are visually interesting with engaging copy, you will attract more qualified leads.
It is a system that allows you to promote your offers. It also includes email and follow up system.
Thanks to access to customer data, you can provide them with information that can be important to them, as well as keeping in touch with old customers.
Each of these products can be customized by agents, teams, MLSs, or brokers.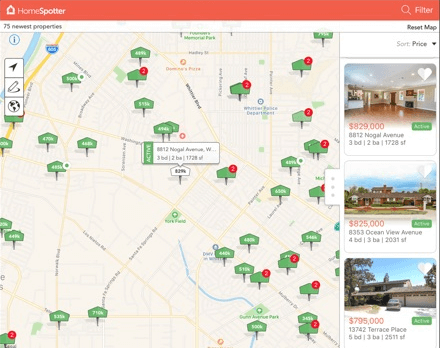 Source: Apple
With ShortStack, you can create landing pages and promotions that will engage more leads.
It also enables you to create contact forms that you can easily put on your landing page.
All forms are mobile-responsive, so you do not have to worry whether they are correctly displayed to those visitors who access the website from mobile devices.
You do not need any design or code skills, because this tool offers many templates. It includes a Style Panel that lets you customize your pages in a short period of time.
There are many options for choosing the right colours, fonts, backgrounds, and similar.
ShortStack is also a great option for sending automated emails. You can use it for autoresponders and follow-up emails.
You can save yourself some time for creating emails by choosing between different email templates.
And if you do not want to send them immediately, you can schedule emails for a specific date and time.
Check our: Callback apps for real estate
Many people forget about creating a Google My Business account, but it may be one of the most important real estate marketing tools.
It is not uncommon for buyers to search for realtors that are near them.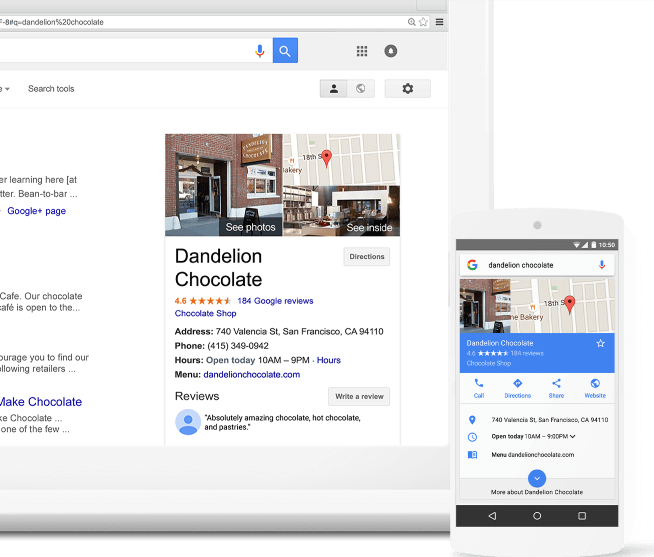 When you have a Google My Business account, your location, images, and working hours are displayed. You also have an option for reviews, so you can follow what your target group has to say about your business, and respond to their comments.
This simple tool will certainly make your business look more professional.
In addition, owning this account will also improve your SEO rankings in Google search.
Google Drive lets you save all relevant documents and files on the cloud.
You can easily organize different format types.
You can also save the content you plan to post to social networks and the website, but also to edit it whenever you want. You don't have to worry whether you clicked on the Save button as all changes are automatically saved.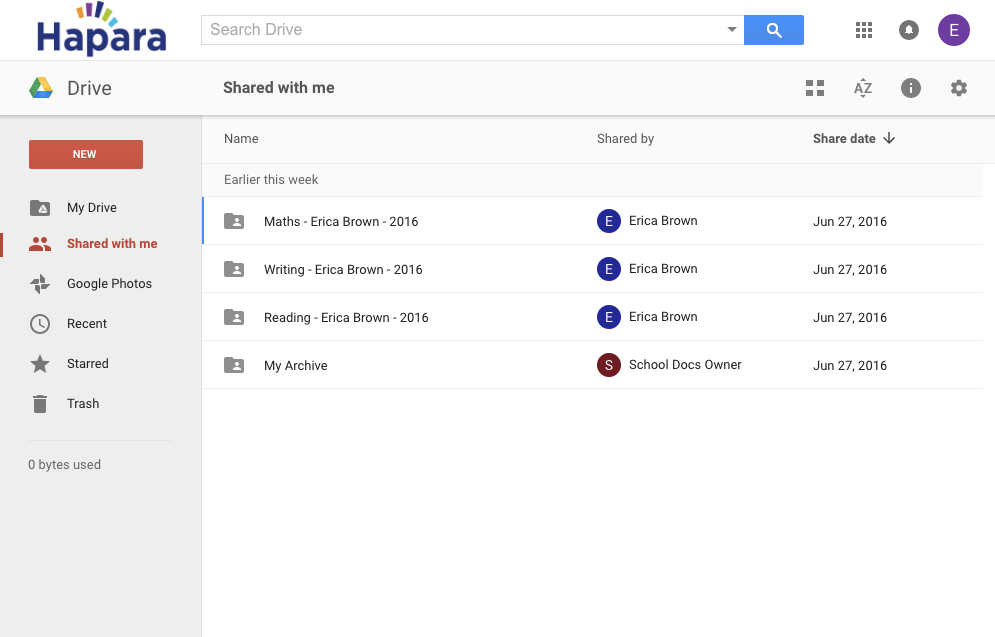 Source: Hapara
If you have a large team that you work with, you can use Team Drives so you can share documents with each other.
If you want to share specific content with clients, just send them an access link. This is a great way to build strong connections with a potential customer, as it enables you to have one-on-one contact.
Installing Google Analytics on your website will make it much easier for you to understand the behaviour of your visitors.
You can track which pages they visit the most, and how much time they usually spend on them.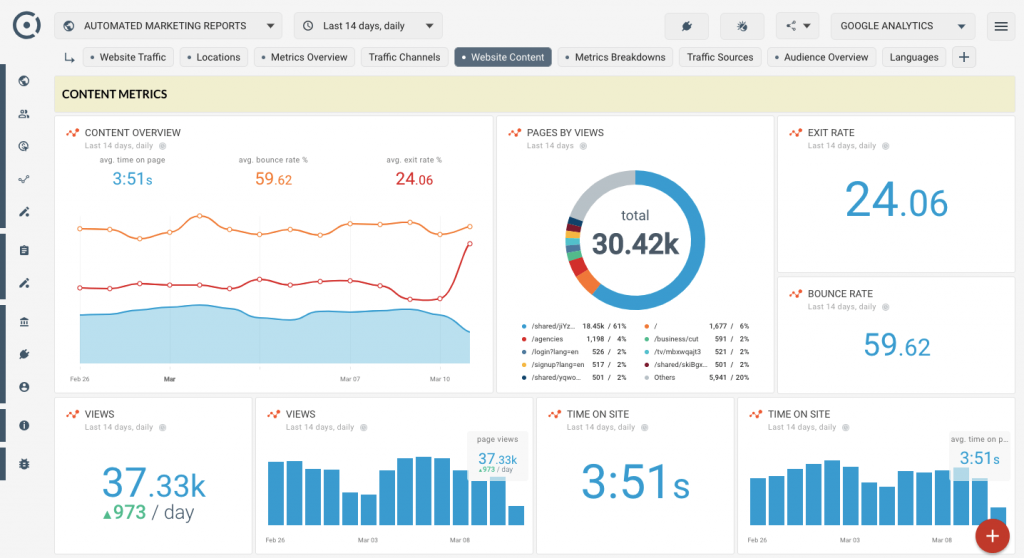 Source: Octoboard
With this tool, you will have an insight into what kind of content is most interesting to your target audience. This way you will know what type of content you should create the most.
Google Analytics compiles reports that contain valuable information for you. You are also able to create customized reports because of their drag and drop interface.
You will be able to find out the location, age, gender, and other valuable information about your visitors.
Data provided by Google Analytics actually represents guidelines that will help your lead generation be even more successful.
Email is still an important segment of any marketing strategy, and there is no indication that this will change any time soon.
Sending a newsletter with important news and offers will help maintain the interest of your potential customers.
One of the best email platforms is MailChimp.
It is an all-in-one email solution that is very easy to use and you can create your email campaigns in a couple of minutes.
MailChimp offers many features such as engaging templates, emails scheduler, email tracking, marketing tips and guides, and more.
It also has analytics that collects important data about your leads which will help you create even better campaigns.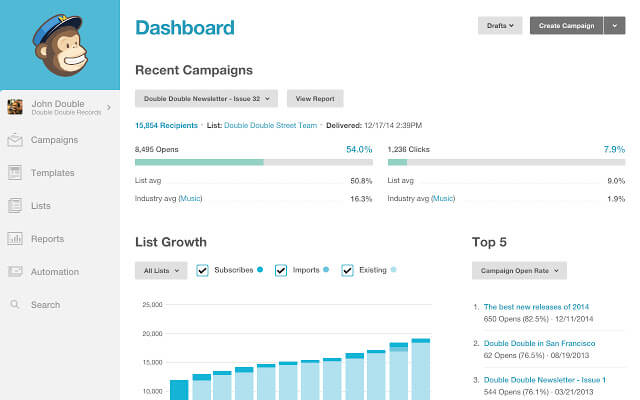 With ActiveCampaign you can send personalized emails and follow-ups which will save you a lot of time.
Personalized email messages are triggered based on your leads' behaviour.
All your customer data is well-organized, too.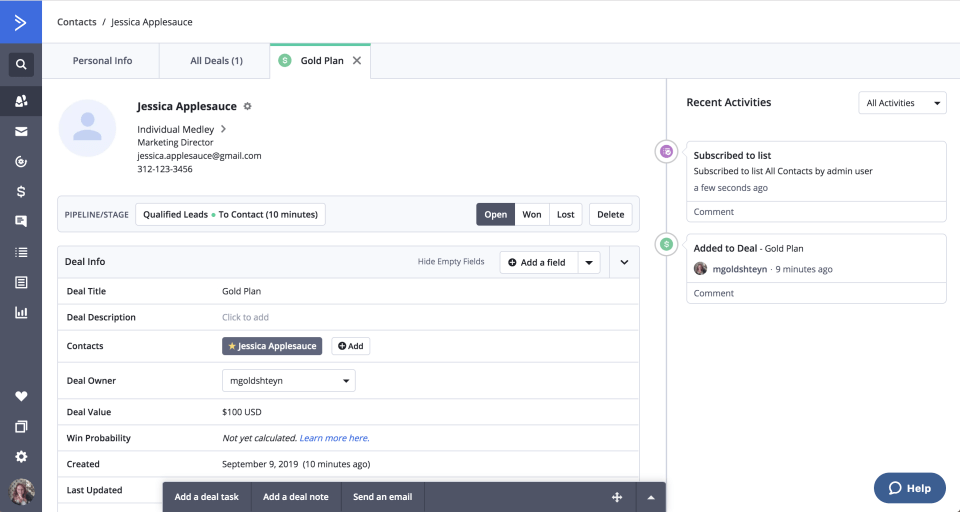 Source: Capterra
If you wish, you can link the Zapier platform with your CRM. Based on various prerequisites, you can create your own email campaigns.
You can send the right messages with sales offers or similar when your customers are most engaged.
Create automated goals so you can measure your results.
BombBomb is a video email platform.
Instead of sending classic emails, send videos that will make you stand out from the rest.
Video is an increasingly common type of content on social networks, and now you can use it to give email communication a new dimension.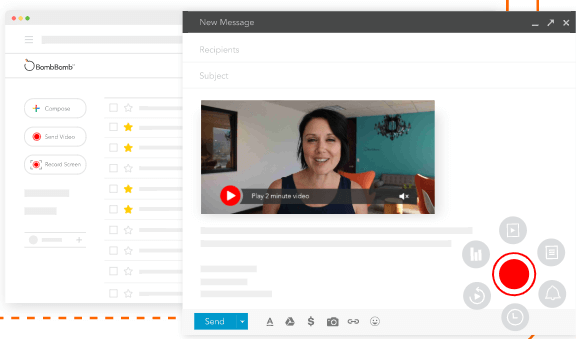 Given that most people still send classic text emails, video emails will surely capture the attention of your leads. This way, it will be much easier for them to remember you.
There are also other significant features:
Tracking
Scheduling
Reminders
Canned responses
Face-to-face contact, even through emails, will help you generate more qualified leads that will eventually become your customers.
Live chats are a great way to have real communication with your website visitors.
By implementing live chat, you give your visitors a feeling of being welcome.
One of the best live chat tools is lemtalk which will help you generate up to three times as many leads as before.
Thanks to lemtalk, all tickets from different places such as SMS, Email, Facebook, and others can be received directly into your Slack account as it is fully integrated into this platform.
For example, with lemtalk Facebook integration, you can reply to all Facebook messages from your Slack account.
This tool will also help you create FAQ pages that will surely improve your visitors' experience. They can easily find many answers they need, and you will reduce the number of customer support inquiries.
Lemtalk has been the choice of many real estate agencies so far, and most of them belong to the Berkshire Hathaway group.
The Parkbench platform helps you keep up with the latest real estate news.
In addition, by sponsoring your local Parkbench.com website, you can become the most successful agent or broker in your area.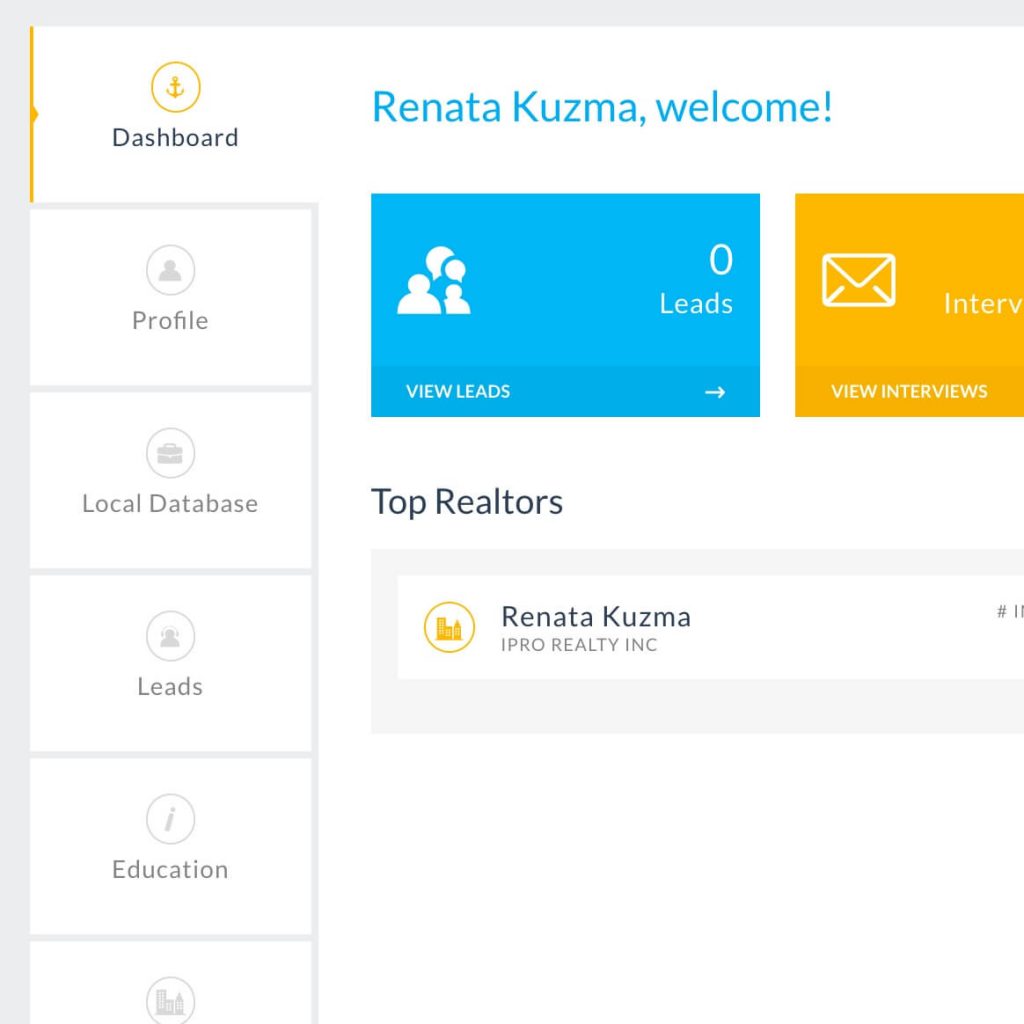 You can collect leads from your neighbourhood that will now know who to contact when they need services from your niche.
Another important point when it comes to one of the best real estate marketing tools is a promotion of your real estate business through the Parkbench newsletter.
This is an opportunity to build trustworthy relationships with your potential buyers.
With Magicplan installed, you only need to take your mobile device or tablet and this tool will scan any room you want. In a very short time, you can have a floor plan.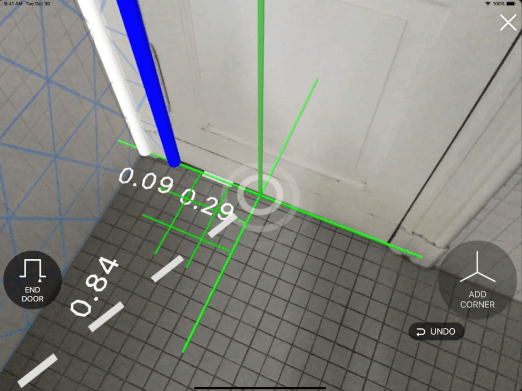 You can even create virtual tours that will surely delight your customers.
Instead of a bunch of vague information and paper elements, you now have everything stored on any type of device, and you can easily send a floor plan to your prospective buyer whenever you want.
You only need 30 seconds for a perfect and instant floor plan.
Also, you can create 3D models, which makes this app an all-in-one solution for real estate.
If you want to make powerful and engaging presentations, Prezi is the right choice for you.
It offers design templates as well as reusable presentations, so there is no need to make presentations from scratch.
You can easily customize your presentation with images, graphics, and charts.
A well-designed presentation will surely make a positive impression on your clients and help you generate more leads.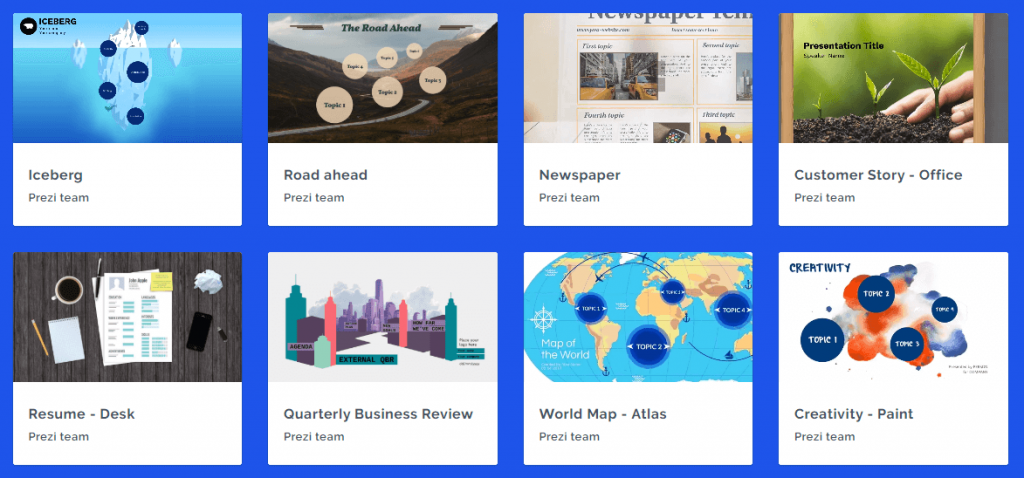 There are also presenter tools such as:
Presenter view – leave notes that will help you during your presentation
Live Prezi – use the link to share your presentation in real-time with anyone you want
Voice-over – record speech addressed to the audience when it is not possible for you to be physically present
With Prezi, you have the opportunity to present your offer to your clients in the best way possible.
Matterport is actually a tool with a 3D camera. You just need to capture any space you want and it will convert it into a virtual walkthrough.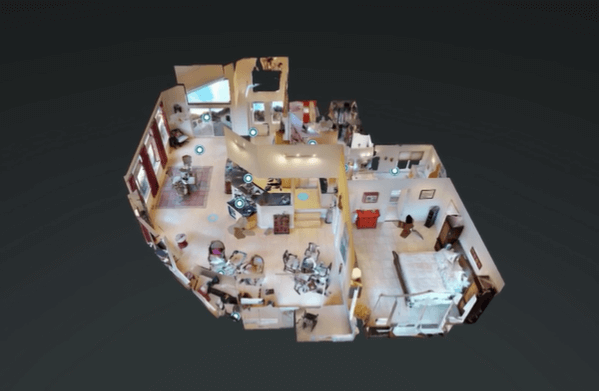 You can then share the finished 3D model with Google Street View or MLS listings.
In addition, you can capture high-quality 2D photos that you can share online or print.
Matterport provides 99% accuracy when it comes to creating a 3D model of a certain space.
It is a perfect option for engaging the presentation of the place you want to sell.
Canva is a very popular tool that can serve you really well when it comes to real estate business.
To design visually appealing content, you don't have to be a professional designer.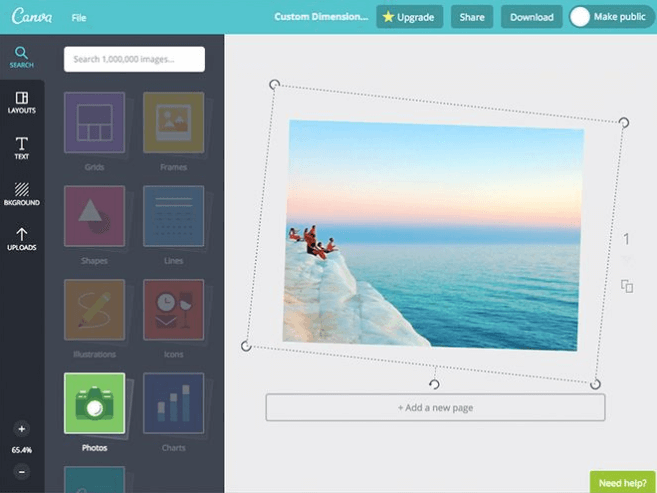 You can create images, flyers, postcards, and share them to your social media channels and your website.
There are many templates you can use, and while you are working, every change you make is saved automatically.
Promo is a tool for making videos and it has a category specialized in the real estate industry.
It has video clip collections that are made by the best designers. After you choose a certain video, you can customize it as you like.
You can add your listing photos, logo, and even use multiple video clips. There are also royalty-free music tracks that you can include into your videos.
You can then post the created content to YouTube, Facebook, Instagram, LinkedIn, and other social media platforms.
Video content is one of the most popular content formats today, and it will certainly interest your leads too.
Placester is an IDX website builder.
If you want to have a great designed real estate website, this is the right solution for you.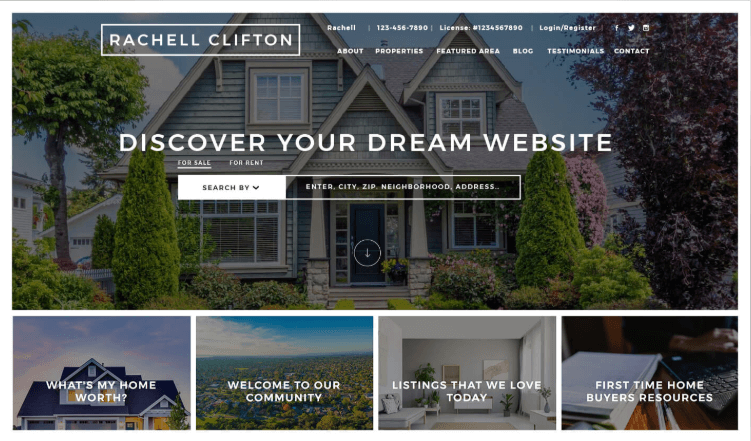 It is also SEO optimized for Google search.
There are many themes and a content library, so you can easily customize your pages and create a user-friendly experience.
Placester covers the search of 99% of MLS listings and it will help you find the most relevant images and property data.
Grasshopper is a virtual phone extension that allows you to receive multiple calls at once. You can also control incoming calls, forward them, or transfer them.
This way you create quality customer support that enables you to generate more leads.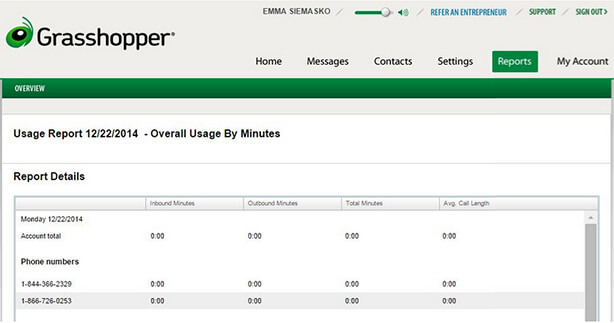 For a better understanding of the meaning of this tool, Grasshopper adds: with informational extensions, you can share information when customers call ("press 1 for our business hours and location"). Or simply direct customers to the right department or person ("press 2 for sales, 3 for support").
It is great for a more efficient organization, something your customers will surely realize.
With Hootsuite, you can manage different social media channels from one place.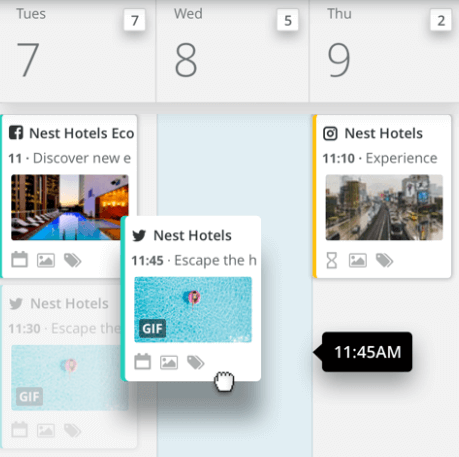 Posting regularly is important to keep your followers interested. If you don't have time, or if you sometimes forget to post content on time, Hootsuite will do it for you.
All you have to do is schedule announcements, and you no longer have to worry whether you have posted everything that you needed or not.
You can also track and analyze your results on social media. You can see the performance of your every post.
Buffer can become one of your favourite real estate marketing tools.
Social brand presence certainly raises brand awareness. Whether you use Facebook, Instagram, Twitter, or any other social network, you can schedule posts with Buffer instead of memorizing and posting each one individually.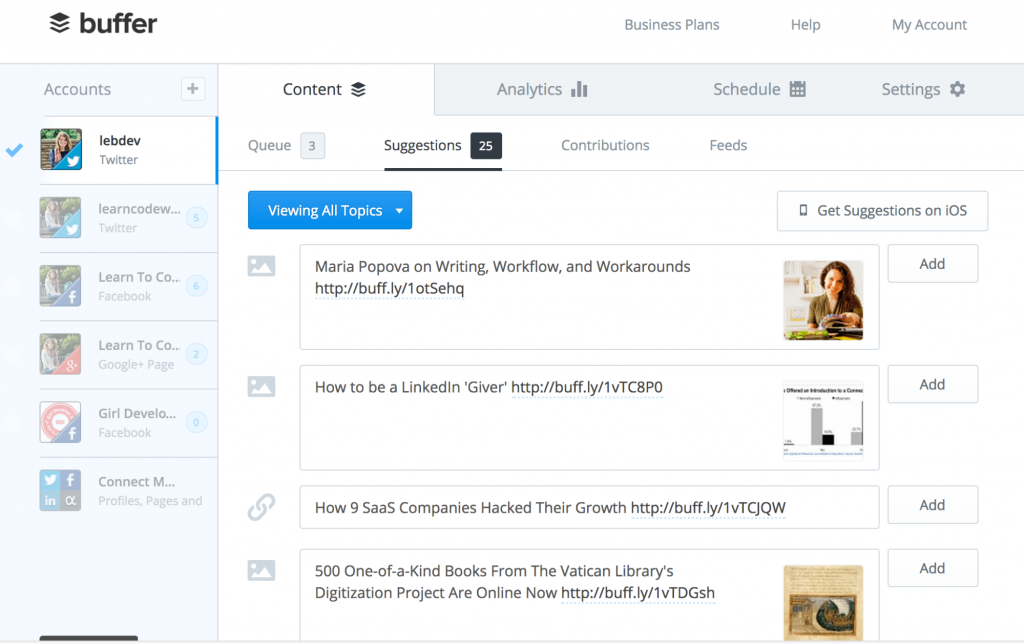 You can collaborate with the rest of your team to create valuable content for your target audience.
It will be much easier for your real estate business to draft posts, preview and schedule them at once.
The bottom line
Surely you have never heard anyone complain about having 'too many' customers. The goal in every business is to generate as many qualified leads as possible that will become loyal buyers.
In the real estate industry, the competition is high, but these real estate marketing tools can help you create a great advantage over others and grow your business.
If you want to generate leads consistently, 24/7, you must give them the opportunity to enter into communication with you. By using Limecall callback software features you can achieve this very easily.
In the real estate business, it is very important that you enable people to access the information in real-time.
Thanks to Limecall, you can become available and build strong relationships with your leads.
Use the best real estate marketing tools and be prepared for closing even more deals than you expect. Check our Callback apps for real estate Now!