Ever wondered how to increase sales and improve customer interaction over mails? To solve customer communication performance and increase revenue generation with effective marketing strategies, email marketing is an ideal solution. It provides exclusive templates and innovative marketing approaches that enhance business marketing and increase brand credibility across existing and new customers. Here we look at some of the best Email Marketing to use in current times and enhance your business performance.
What is Email Marketing?
Email marketing is a marketing strategy that involves using emails to send advertisements, request businesses, increase sales, attract customers, and plan various marketing strategies. It helps in building healthy customer relationships by improving communication strategies and inspecting various campaigns. Email marketing has become a highly effective digital marketing strategy that benefits both the business and the customers.
Email marketing is known to impact return on investments effectively and helps enhance the communication channel between consumers. Email is also known to be one of the best ways to make sales online with professionalism and hence holds extreme importance in the functioning of a business.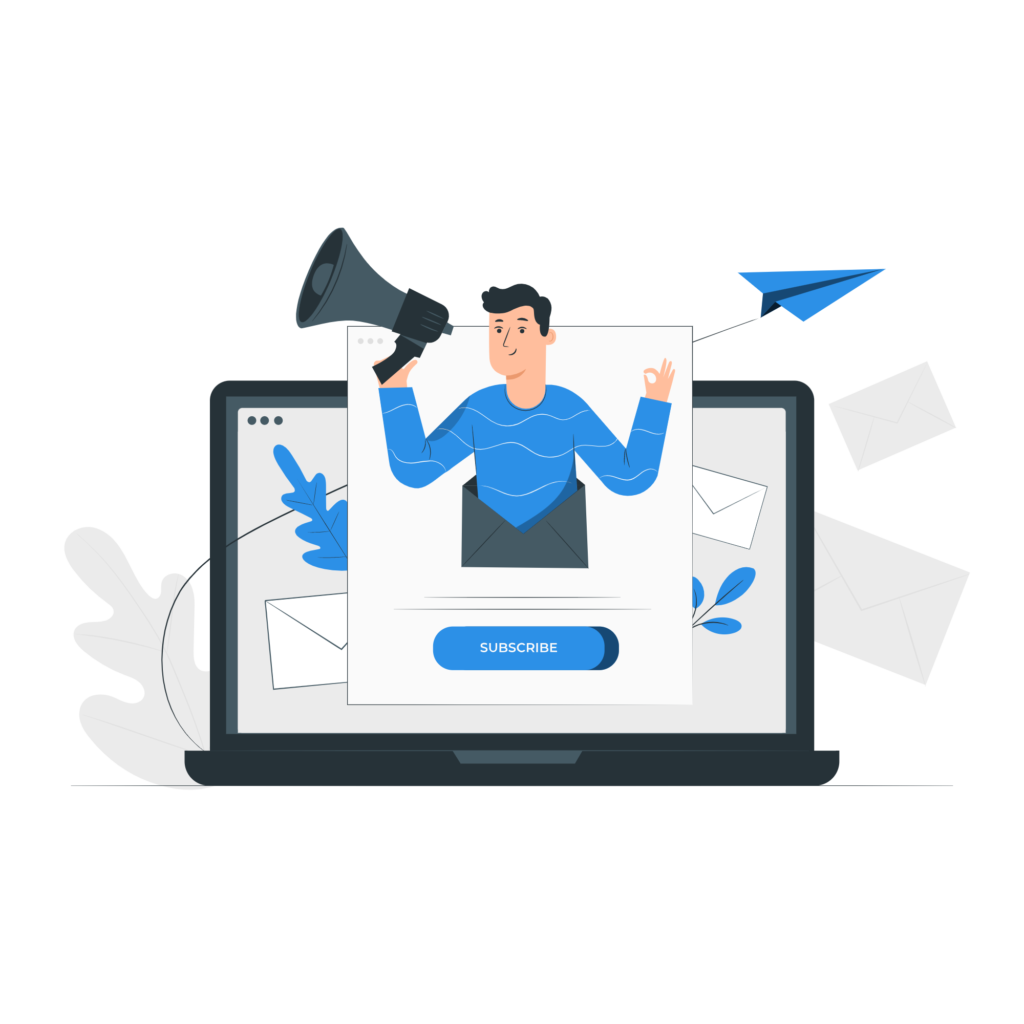 What are Email Marketing tools?
Email marketing tools offer businesses a variety of email templates that can be used to welcome new subscribers, notify existing customers about a sale or offers, or help with a general greeting. These tools help you build an email list and form newsletter sign-ups that help market your business quickly and effectively.
Email marketing tools come with a wide variety of unique features that help enhance the marketing services of a company. They are essential for businesses to connect with new audiences and help promote their brand to increase sales. It helps businesses sell their products, share the latest news and updates, improve cart abandonment rates, and express stories.
Why should you use Email Marketing?
Email marketing helps in enhancing the marketing strategy for any kind of business. Email marketing essentially helps businesses effectively manage email campaigns, send text messages to clients, and marketing automation saves time and effort. Email marketing tools also help send mass emails or bulk emails that help effectively communicate with your customers and reach out to new audiences.
Challenges faced while marketing via emails
There are several challenges that businesses need to face while marketing their brand through emails. Some of them include:
Integrating email data with other data systems requires specific data integration tools that help optimize the content of your emails.
Deliverability rate becomes a major concern in email marketing as not every message sent is redirected to an inbox. This hampers businesses from acquiring and maintaining accurate information about their clients.
Retaining subscribers or clients over email can be a problem for businesses to maintain their marketing message, leading customers to unsubscribe or list their emails as spam.
The poor subject line or preview text can cause low open rates and fail to capture customers' interest.
Increasing customer engagement rate through emails is a major task for businesses as they need to segment content based on their demographics, profession, and business preferences.
Benefits of Email Marketing
Email marketing offers well-planned and targeted strategies to improve marketing skills and enhance interactivity with the consumer base. Here we highlight some of the popular benefits of email marketing tools and how they affect your business:
Cost-effectiveness
Email marketing tools help you send bulk mass emails at a subscription rate that is affordable with a monthly rate and helps manage business marketing effectively.
Convenience
Email marketing tools usually come with pre-designed templates with drag and drop interfaces that help make your email servicing and marketing appealing.
Targeted marketing
Email marketing tools help segment your customer list unsubscribers and help formulate targeted campaigns with email services to cater to a specific set of audiences.
Analyze customer behavior
Email marketing tools help businesses track campaign results, analyze customer preferences, and adapt their strategies accordingly.
Increase brand awareness and loyalty
Email marketing tools help boost your business visibility and increase its value among customers. With well-crafted emails and regular newsletter updates, businesses can increase their credibility and improve sales pitches and other content that increases customer loyalty and brand awareness.
How to enhance Email Marketing?
Email marketing can be enhanced by considering several factors, like using a suitable email service provider.
An effective email service provider helps businesses manage that email list and execute email marketing campaigns based on testing requirements. This helps personalize the interaction between customers and increase engagement with higher conversion rates.
Why are Email Marketing tools necessary?
Some of the popular reasons why email marketing tools are necessary to include:
A strong email marketing tool helps businesses connect with their target audience and personalize marketing strategies to increase sales.
Enhanced communication channels between customers and increased brand credibility.
Help businesses connect with customers in real-time and plan marketing strategies according to specific demographics and customer requirements.
A well-designed email marketing strategy helps produce higher conversion rates and increase sales over time.
Measuring campaign success via email marketing tools becomes easier, and businesses can quickly adapt and alter their strategies based on customer feedback.
Allow businesses to share targeted messages with clients that highlight their main theme and marketing purpose and display the appropriate content based on different segmented groups.
Aids in increased brand awareness and customers' interest levels and hence build a community.
The email marketing tools provided by LimeCall are known to be effective and enhance businesses' marketing strategies. Check out the best features and marketing tools provided by LimeCall and increase your brand credibility now.
Top 8 Email Marketing tools
MailChimp
MailChimp is one of the most popular email marketing tools that offer FREE Email marketing service plans and various automation features. MailChimp allows easy integration of mails with word press, Magento, Shopify, and various other exclusive platforms. MailChimp has a forever-free plan that allows businesses to send 12,000 emails to up to 2000 subscribers.
However, businesses cannot access extended features like advanced segmentation, send-time optimization, multi-variate testing, and much more with this plan.
Some of the most exclusive features of MailChimp include:
Drag and drop email builder
Autoresponders
Contact segmentation into groups
Tracking for customer analytics
Geolocation segmentation
Price: MailChimp has paid plans starting from $10 per month for up to 500 subscribers. For advanced features like unlimited audiences, multi-variate testing, comparative reporting, advanced audience segmentation, and much more, businesses can opt for their $299 per month plan.
HubSpot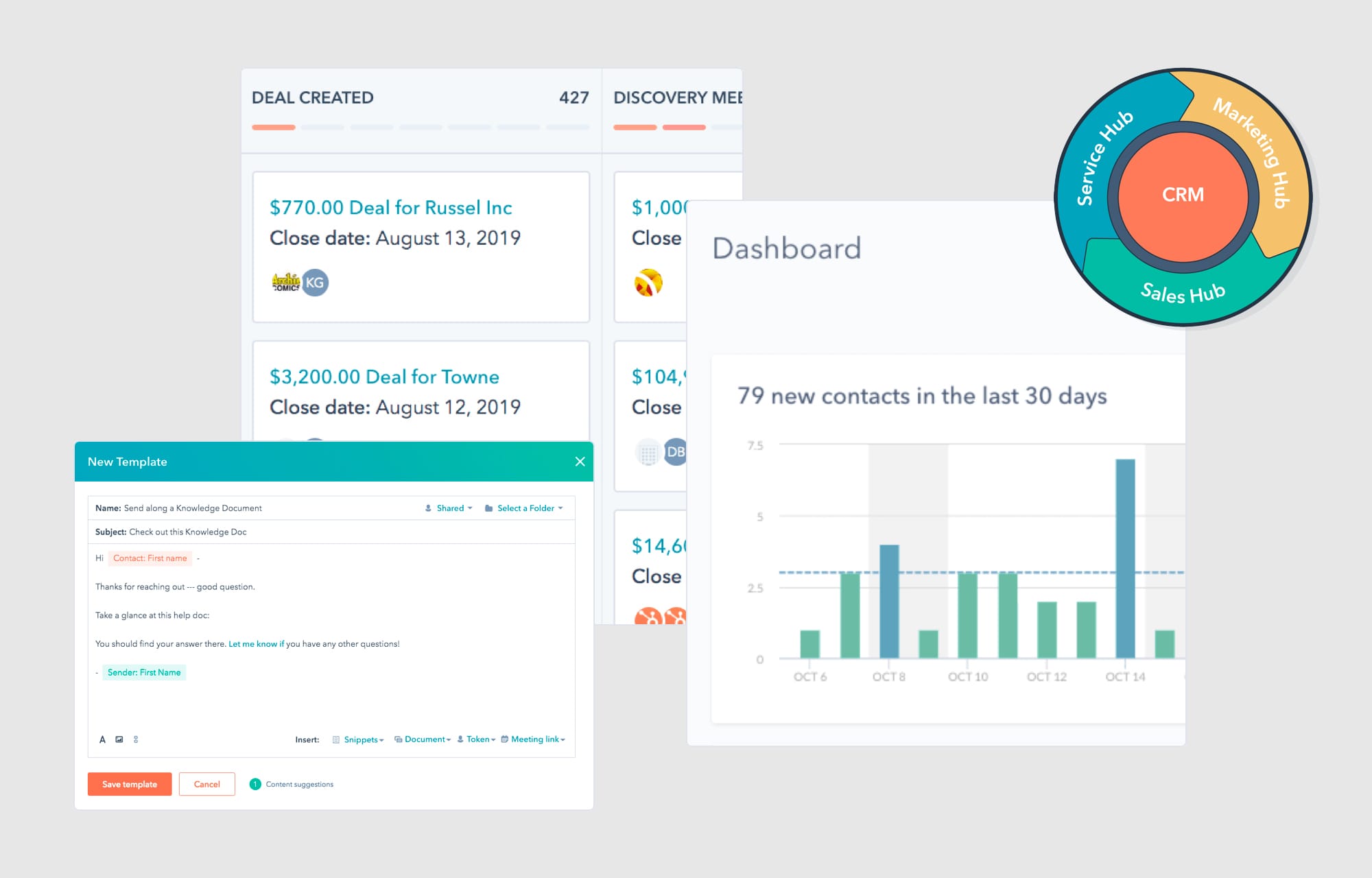 HubSpot is a popular email marketing and CRM tool used often by businesses to increase their marketing services. The tool is packed with essential powerful automation features designed to grow your business and enhance marketing strategies that stop HubSpot. It allows businesses to personalize their emails based on each subscriber and their demographics and provides valuable customer feedback for enhancing business models.
HubSpot is an all-in-one marketing platform that helps with email marketing, CRM, sales tools, website builder, and much more.
Some of the most exclusive features offered by HubSpot Include:
Send time optimization
High email deliverability
Marketing automation
Drip campaigns
Detail performance analytics
Price: HubSpot has a free plan that allows businesses to send 2000 emails with the storage of an unlimited number of subscribers; stop with the free version businesses can also create a custom sign-up and pop-up forms, manage and track online ads, and build their landing pages for further customization.
Businesses can opt for their paid plans that start at $45 per month for advanced capabilities and enhanced automation workflows.
Convertkit
Convertkit is a popular email marketing platform often used by professional bloggers, authors, marketers, and professional businesses. Convertkit allows businesses to easily enhance content with regular upgrades and incentives with email sign-up forms. Their emailing service allows you to send drip emails and easily manage autoresponders.
Convertkit is known to easily segment your audience and customer base and chart out their interest. This helps businesses increase their conversion rates and enhance their targeted marketing strategies. Exclusive features like paid newsletters are often used by creators and professional bloggers but increased visibility.
Some of the most popular features of Convertkit include:
Engaging email templates
Landing page builder
Smarter workflows
Landing page builder
Automated emailing
Price: Convertkit has a 14 day free trial period offer that allows users to access limited features. The average pricing plan of Convertkit starts at $29 per month, and they offer a 30-day refund policy.
The creator pro plan by Convertkit allows access to advanced features like subscriber scoring, advanced reporting, newsletter referral systems, and much more.
Drip
Drip is a robust email marketing platform often used by large businesses and digital marketers; it offers features and tools that make marketing automation, personalization, and sale tracking easier and convenient. The email marketing software by drip allows seamless integration with WordPress and other popular website builders.
Businesses can hence easily add custom pop-ups and sign-up forms to capture more leads.
One of the most intelligent marketing automation tools by drip is the campaign monitor that allows businesses to track their marketing strategy status and ensures reach to targeted customers leading to more sales. Bulk emails and engaging with customers can be made easy using drip for several business marketing strategy activities.
Some of the popular features by trip include:
Smart email segmentation
Split testing features
List groups
The visual automation workflow builder
Revenue attribution
Automation training
Live chat support
Price: the free trial offered by drip allows limited access to features. The paid plans by trip start at $49 per month and include access to all features.
Constant Contact
Constant contact is considered one of the largest email marketing tools that are easy to use and enhances marketing strategy for businesses. With constant contact, businesses can easily manage their email lists and use multiple email templates depending on the content and marketing strategy of the business.
Constant contact makes sales tracking and campaign monitoring easier by using powerful features and tools that set them apart. Small business owners prefer constant contact as it is relatively easier to use and provides access to multiple features that help increase brand recognition.
Some of the popular features by constant contact include:
Email automation
Easy tracking
Unlimited emails
Facebook ads integration
Subject line A/B Testing
Drip campaigns
Built-in social media sharing tools
Price: constant contact provides a 60-day free trial period without any additional cost. The average price of constant contact starts at $20 per month and gives access to all the exclusive features.
AWeber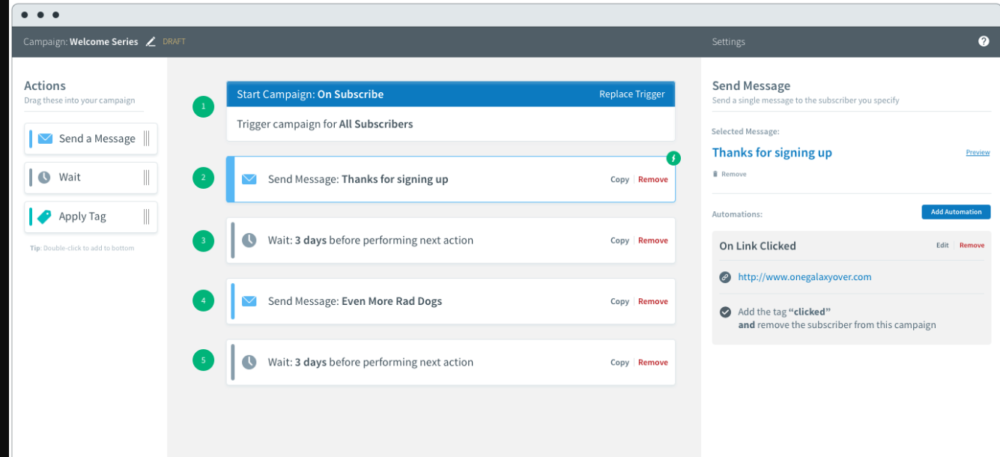 AWeber is among the most popular and oldest email marketing platforms that help manage business marketing strategies and enhance growth. It connects effortlessly with most website-building platforms like WordPress and is filled with powerful email marketing features that help businesses build a strong marketing strategy.
This email marketing tool helps businesses track detailed insights about their business strategies and enhances brand credibility.
Some of the powerful features by AWeber include:
AMP emails
Tag-based subscriber segmentation
HTML email templates
List management
Autoresponders
Email tracking
Price: The limited free plan by AWeber is exclusive for up to 500 subscribers. The paid plan starts at $19 per month, and users can opt for quarterly or annual plans to save up on a budget.
Sender
The sender is among the most popular Free Email marketing tools that ensure deliverability with accurate results. Sender helps you create custom newsletters with engaging templates that can be customized according to customer feedback.
Sender helps you analyze and track your emails and gives information of buyer profiles based on your subscriber actions stop; this helps businesses optimize their existing email strategy and create engaging models for the marketing.
Sender helps you grow your business and track real-time revenue with constant lead generation analytics.
Most interesting features by sender include:
Drag and drop builder
Free templates gallery
Responsive emails
Custom HTML editor
Smart automation
High email deliverability
Campaign analytics
Price: the free subscription plan by sender allows up to 2500 subscribers and 15,000 emails per month. Their monthly subscription plan starts at $46 per month with access to unlimited features and up to 240,000 emails per month.
Benchmark Email
Benchmark email is an effective email marketing tool that helps design responsive emails for increased marketing strategies and revenue generation. Businesses can choose from multiple pre-designed templates based on their industry and customer background and create marketing strategies that help increase credibility and business prospects.
Businesses can also build emails from scratch with their exclusive code editor. To simplify the email creation process, the dual feature of benchmark email helps you design emails while editing. Email helps build relationships with customers and accelerates your business growth by being the most valuable marketing asset.
Some exclusive features by Benchmark Email include:
Email builder
Marketing automation
Lead generation
Landing pages creation
Integrations
Real-time reporting
Price: Benchmark Email has a free plan to access 250 emails per month with basic email marketing features and simple lead generation. Their paid plan includes a $13 per month plan, which gives unlimited emails per month with advanced email marketing tools with higher lead generation and pro marketing automation.
To generate more sales with qualified leads and connect pre-qualified website visitors rapidly, check out LimeCall as an extended lead generation platform. LimeCall provides seamless CRM integrations, with advanced Click call features that enhance business growth with real-time tracking.
Moosend
Moosend is a simple and convenient Email Marketing Tool that helps in managing multiple email campaigns and handling mailing lists effectively. With Moosend, users can create responsive newsletters and design custom email templates that increase business revenue. Moosend is equipped with best-in-class marketing automation features that help with business marketing and distribution.
By using Moosend, businesses can increase their customer interaction effectively and gain deeper insights into customer feedback for optimizing business functions. Moosend provides real-time statistical feed insights and campaign reports that highlight their effectiveness in business prospects.
Some exclusive features by Moosend include:
Building Personalized Emails
Managing Email List
Mass Email Sending
Managing Email Deliverability
Marketing Automation
List Segmentation
Campaign Analytics
Price: Moosend has a free plan that allows up to 1000 subscribers and unlimited email campaigns. For increased emailing lists and inclusive landing pages, Moosend offers a subscription of $10 per month and allows up to 2000 subscribers. Other monthly subscription plans include $55/mo offering up to 10,000 subscribers, $125/mo offering up to 25,000 subscribers, and $205/mo offering up to 50,000 subscribers.
How to use tracking tools effectively?
Tracking tools can be used effectively by incorporating an automation process that enhances your email marketing strategies. Some methods include:
Businesses need two-segment campaigns according to various subscribers and customers and introduced personalized campaigns.
With the right set of tracking tools, businesses need to design a workflow that fulfills the objective of their campaign.
Businesses need to determine the right triggers by using tracking tools to determine the customer feedback and interaction on their emails.
Tracking tools can be used effectively by determining the conversion rates on each email marketing strategy.
Expert Tips for Integrating Email Marketing Tools
Sujan Patel, co-founder of WebProfits
Sujan Patel recommends keeping a healthy email list that benefits the growth of your business. Using an authentic email verifying tool helps reach out to target audiences and improves deliverability.
Shane Phair, Chief Marketing Officer of Campaign Monitor
Shane Phair believes that marketers must be aware of their customer base and provide them with emails filled with relevant information. Phair encourages increased use of personalization to adapt to the subscriber's interest.
Michal Leszczynski, Content Marketing Manager of GetResponse
Michal Leszczynski thinks that email marketing can further evolve as an ideal digital marketing strategy. Michal believes in using advanced features like interactive emails or proper video embedding to increase customer interactivity. Michal also believes that the current customer base requires personalized marketing strategies that satisfy their needs more than anything else. Embedded videos are known to encourage higher customer interactivity.
Joel Klettke, Saas and B2B copywriter behind Business Casual Copywriter, founder of Case Study Buddy
Joel Klettke believes in constantly gathering customer response and feedback over their email marketing strategies. Joel also encourages customers to unsubscribe or detach themselves from the business if they don't receive valuable feedback.
Adam Q. Holden-Bache, Director of Email Marketing at Enventys Partners
Adam Q. Holden-Bache believes in the increasing use of dynamic content. Adam believes in resending emails of a particular campaign to customers, which increases the chances of a potential conversation. Resending emails each time by changing the subject line resonates better with the marketing strategy and increases interactivity. The emails should be sent after 24-48 hours of sending the previous one. This is known to increase 40% of overall conversions with a resend.
Max Modl, Chief Marketing Officer of Newsletter2Go
Max Modl believes in checking yourself and your campaign and analyzing if the content meets the customer's requirements and expectations. Max believes in putting yourself in the shoes of the customer before sending out an email. This helps picture fine details and make adjustments accordingly.
Tim Watson, Email Marketing Consultant
Tim Watson does not feel compelled to make a fancy-looking graphical template and feels that the email copy is essential for the marketing process. Since email is conversational, Tim believes in creating a formatted plain email copy that is interesting and highly engaging for the customers. This effectively increases communication without the need for complex templates.
Kath Pay, CEO of Holistic Email Marketing
Kath Pay believes that Customer Experience is the key to the acquisition, conversion, and loyalty. Hence it is important to include content that highlights what we value in the customers and meet their demland. Starting with content that favors the customer increases engagement levels and brand credibility by just using a simple formatted email that highlights essential points.
To check out more expert advice and suggestions on effective Email Marketing strategies, head onto 12 Experts Share Their 2019 Email Marketing Tips to Increase conversion (expresswriters.com)
Conclusion
While we have looked at what email marketing is and why it is increasingly important for businesses to grow, we have also touched on some of the best email marketing tools available currently in the market. These are known to effectively increase marketing and sales strategy and bring in new audiences for brand loyalty and credibility.
Considering all major aspects of Email Marketing, one can understand the importance of Emails and how they affect a business's revenue growth and lead generation. We have also provided some expert advice from people who have been a part of this industry for a long time. To sum up the importance of Email Marketing, we can say:
Email marketing is highly important to increase customer interaction and communication.
Email marketing helps in increasing Brand Recognition and Credibility.
Email marketing Tools help analyze the effect of your emails and marketing strategies and consider customer feedback.
Learn about SMS Marketing as well here: https://limecall.com/lead-nuturing/guide-to-sms-marketing-strategy/