Grow your real estate business in a SMART way.
Yes, you read that right, many real estate businesses fail to understand the prospects they are dealing with.
Your prospects in 2019 are smarter, more knowledgeable and understand what their needs are.
Open door in its article about Housing marketing trends in 2019 stated, ''When the housing market crashed in 2008, it led to one of the worst economic periods since the Great Depression, often called the Great Recession. The economy has not just recovered from this period, but grown steadily each year since the crash.''
The real estate industry is booming and its growth is becoming evident. Below are the proofs:
As mentioned about your prospects above, if you aim to tap them much before your competitors do, you require the right software which will assist you in making this happen.
What solutions can benefit the growth of your business?
This article has it all covered.
What makes this article different from the ones you read online?
All the software you see below are high rated solutions and will confidently contribute to the success of your business. (PS: they have great reviews)
Try to check also our : Leads tool for automotive business.
Let's get started.
Why does your real estate business need to step up their game?
Animoto shared in its article, "Real Estate provides the highest returns, the greatest values, and the least risk." –Armstrong Williams, entrepreneur
The competition is getting tough and if you want your business to still run on the success path, you need to find a good and permanent way of capturing and converting your leads. Antony hitt stated ''To be successful in real estate, you must always and consistently put your clients' best interests first. When you do, your personal needs will be realized beyond your greatest expectations. (Source)
Your solutions should help you to:
All your leads so that you have your conversion rates running high at all times. Conducting business is huge and in 2019 when the market keeps changing due to the technology growth and the change in trends, the burden doesn't seem to lessen at any moment.
Organize
Manage
Capture
Convert
Engage
Hence it is wiser to invest in a solution that will help you tap your leads quicker.
For instance, say you want to assist your leads the minute they arrive on your website. The best way is to have a callback widget that your prospects can click on to speak to you at the very moment or at a scheduled timeframe.
Check also our : Callback apps for real estate
Using such tools can help you capture leads when you are not available and will also play a role in impacting your lead capture rates. Now with so many callback software in the market, how would you know which one offers you the right benefits?
Thankfully we have made the process easier for you. Let's jump right in.
How to use different softwares to grow your real estate business?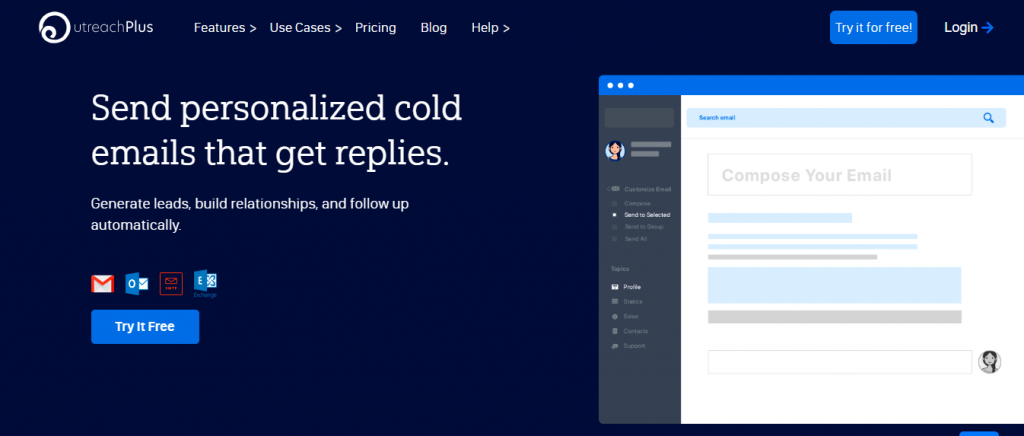 OutreachPlus is an email marketing software that uses personalized emails to capture leads. In real estate following up with prospects or tapping a new prospect seems much better to gain when there is a more humane way of approaching them.
OutreachPlus is a great mechanism here for you because you can send personalized cold emails which will actually revert to you with a great lead response. OutreachPlus aim to help you in 3 significant ways:
Generating qualified leads
Building better relations with the leads
Conduct instant follow-ups so you never miss out on any leads
Features of OutreachPlus:
Sends personalized emails
Customize each email according to your lead to grasp their attention more
Create easy campaigns which can help you advertise your properties and sell better
Let OutreachPlus automation feature conduct your repetitive tasks such as lead follow-ups
Find out which leads can be an asset for your business and capture them immediately
Ratings:
4.0/5
Pricing:
Solo- $18/ Multi user- $28/ Agency $79 (monthly)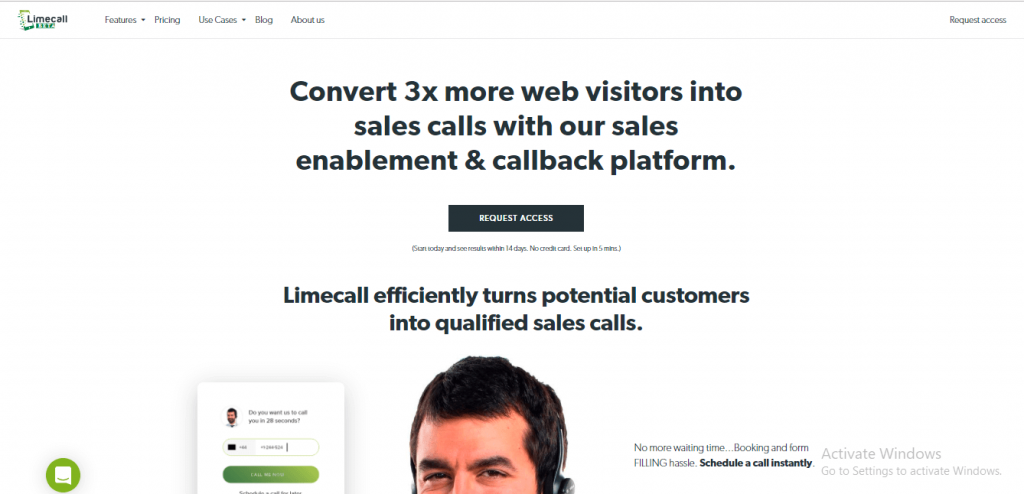 Limecall is a callback software that aims to convert 3x more web visitors into sales calls. This is a great tool since it provides two options for your prospects to engage with you. One is an on the spot communication,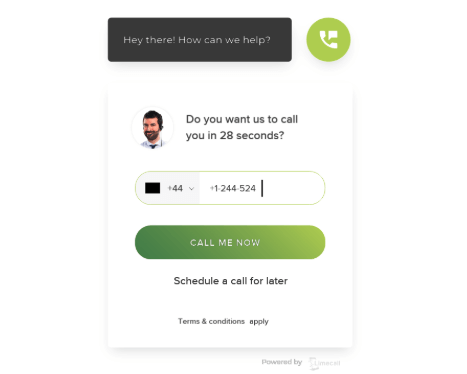 and the other being the booking a convenient time which your prospects can conduct accordingly.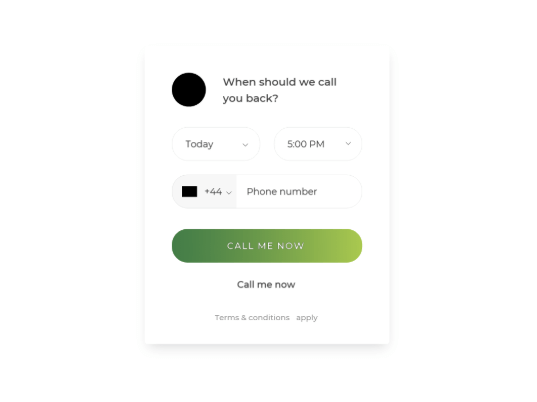 This can be effective as many times your prospects would visit your website to see if you have any properties which will fit their needs and many times they appear when you may not be in office. To ensure that you never miss out on any leads, limecall is the right fit.
Features:
Contact your leads at lightning-fast speed in just 28 seconds
Record all lead calls so that your business can work on creating the right strategies
Your leads are busy, let them give you the time when you can contact them
Have a systemized manner for all your workflow to be in one place by connecting your tools with Limecalls CRM
No restrictions on connecting with your leads. Limecall applies to international lead capture as well
Pricing:
Pro- $35/ $75 advanced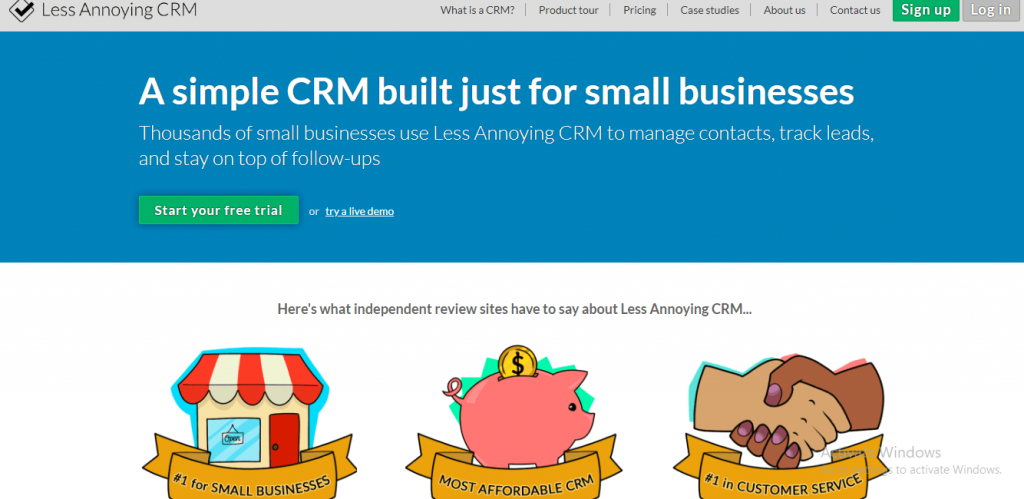 For small real estate businesses, less annoying CRM can be very useful. It is specializes to help small businesses. For such businesses, software like this can be really helpful to sustain and make their mark in the market. They specialize in 3 factors:
User-friendly software
Best customer experience
Cheaper yet effective CRM
Features:
Manage all your lead details in one centralized place
Conduct efficient follow-ups with calendar reminders
Find out all lead information with simple insightful reports
Let your team have access to data which you want them to see
Customize your CRM
Access data from any device you use
Ratings:
4.73/5
Pricing:
$10 per user, per month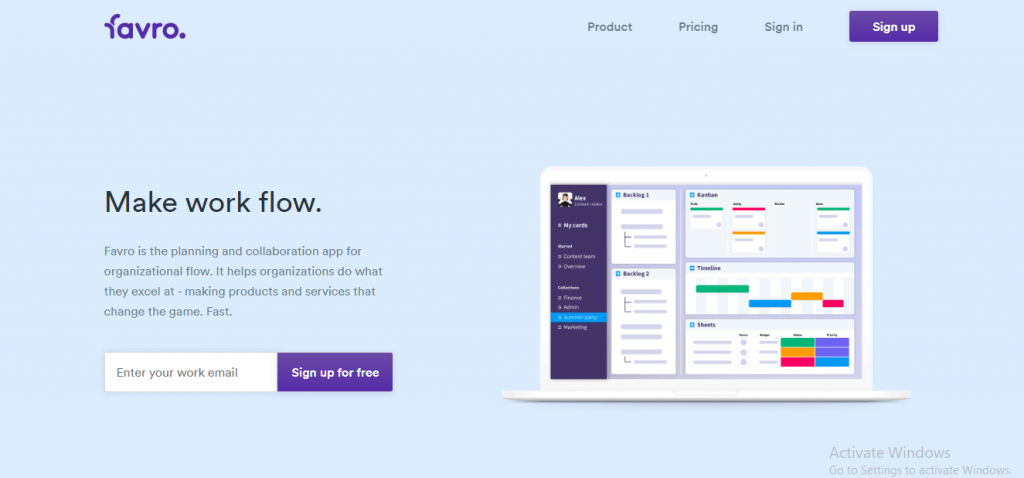 Favro is an all-rounder app that enhances the workflow in any organization. In real estate, tapping leads, following up with them, conducting lead driven activities can put your business into a mess. In order to make sure that every activity conducted is working well, Favro can be used to align them all in one track.
Features:
User-friendly experience for any user to understand the workflow
Find all lead tasks and communications and other engagement under one section
Watch how your team performs and monitor the workflow taking place
Customization of cards and boards are great because it helps work to be segregated and completed sooner
Integrate any tools easily with Fravo without having to make any additional changes
Ratings:
4.39/5
Pricing:
Standard- $13.6/month, Enterprise- $25.5/month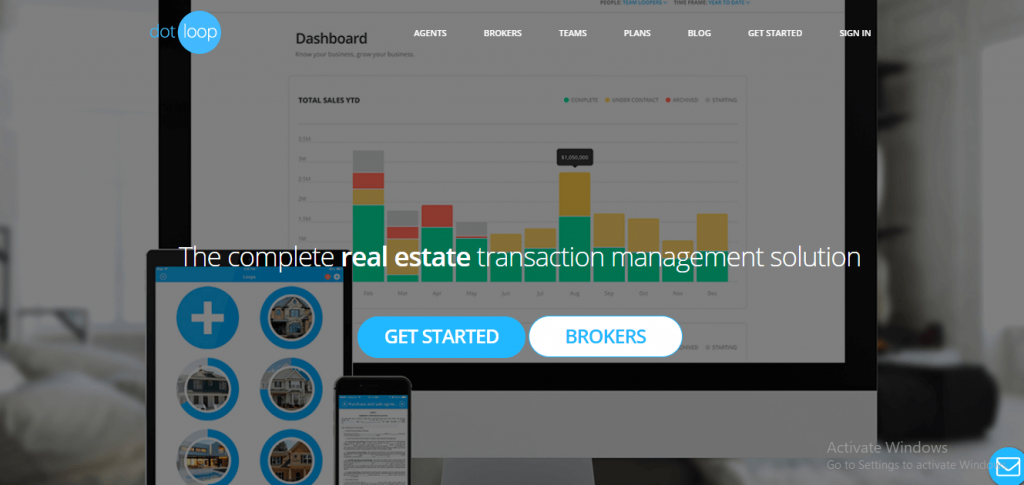 Dotloop is a software that can help you manage all your real estate related transaction processes. With many leads to cater and also to monitor your transactions, dotloop can play a great role in making this process easier for you. They have three dedicated categories, one is for agents and one is for brokers and the other is for teams.
Instead of the usual routine of multiple uses of e-signs and the creation of forms, dotloop offers you're a solution that is more systematic and easier for you to comprehend.
Features:
Conduct a paperless transaction so that more time is put on other essential matters
Can be fitted well in any device
A great support team that is there at your assistance anytime
Receive insights about your productivity and enhance your business accordingly
Automated audit trails and storage
Avoid risks now due to linking up of numerous solutions
Ratings:
4.39/5
Pricing:
Agents- $29/month, Brokers/Teams- Custom pricing option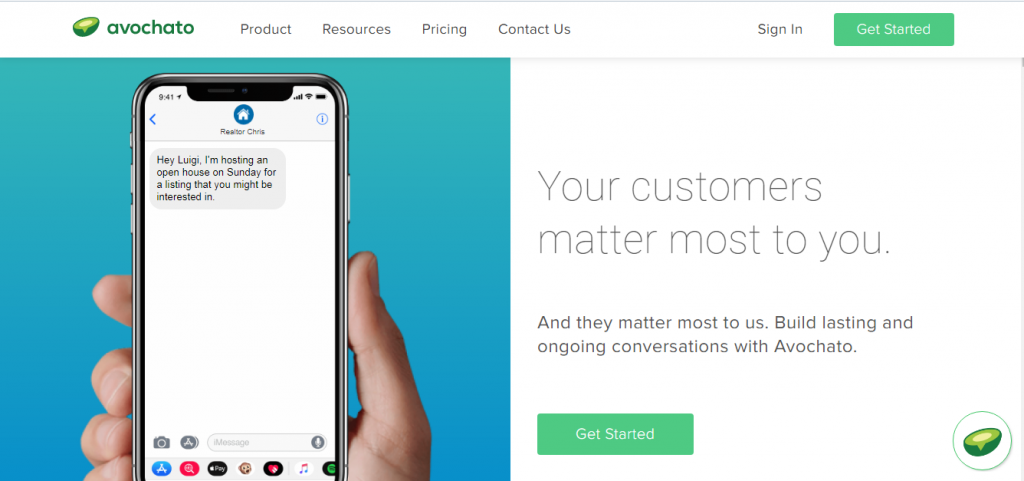 Did you know that apart from cold emails and calls you can also engage with your prospects via SMS? It may be a traditional method but even today many real estate businesses use it.
Avochato is a software that specializes in sending text messages to prospects. It is an app where you can conduct calls as well as send SMS all in one place. It is a great way to reach out to your customers much quicker. It is dedicated to supporting sales teams, support teams, and even the operation team.
Features:
Automated surveys to learn more about the requirements of your prospects
USe of template messages so that replies take place quicker
Manages any type of communication mediums for instance WhatsApp
Automated tags help you to track the place of lead capture and manage them accordingly
High-security measure- SOC2
Send personalized bulk messages to all your prospects
Ratings:
4.72/5
Pricing:
Core- $99/month, Standard $199/month, Pro $399/month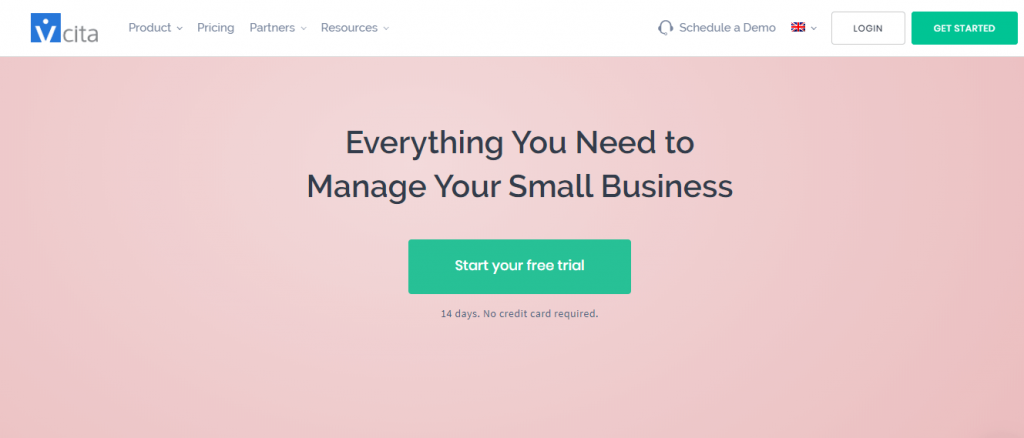 Vcita is software that aims to help small businesses client management, billing, and invoices, as well as calendar management. It is a solution that ensures that all your real estate activities are conducted in one place.
By bonding better with your prospects through better CRM creation, prepping you to contact your leads with calendar reminders to collecting all payment information and sending reminders for payment due, Vcita makes this process much easier for your business.
Features:
Setting up the option for your clients to book meetings and register for any events from your end with the calendar feature
Conducting online payments to provide convenience
Has a dedicated client portal to engage prospects into booking dates or conducting payments and other activities
Has a lead capture widget
Creates campaigns for emails and SMS
Has a mobile-friendly landing page to increase prospect interaction
Ratings:
4.44/5
Pricing:
It is divided into two categories one is Solo. Under that is Essentials-$19/month, Business-$45/month, Platinum $75/month. Under team there is Business- $45/month, Platinum- $75/month, Platinum 10- $117/month and Platinum 20- $196/month.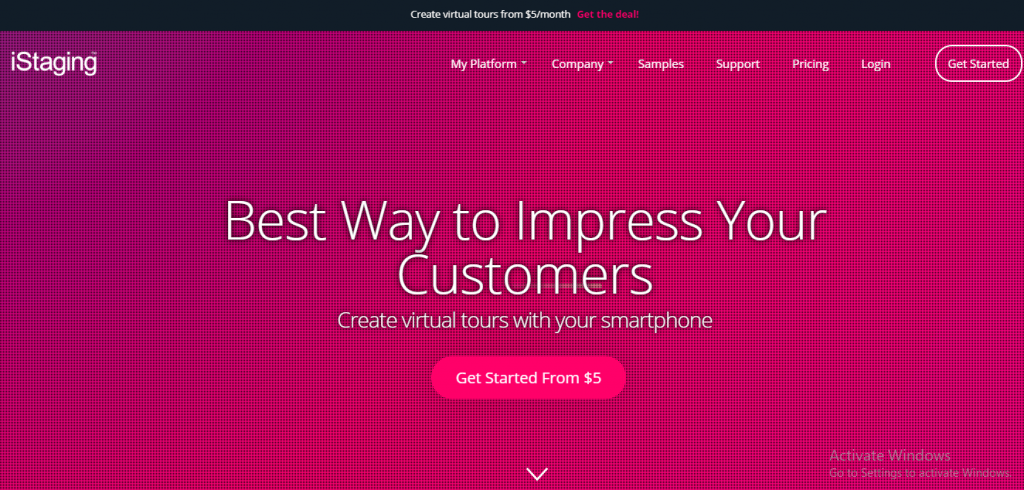 Istaging is a great way to grasp your prospect's attention towards you better. How about giving them a small virtual tour of the property you want to show them? Did you know that virtual tours can appeal to your prospect's attention as well as trigger them to learn more about it?
Istaging uses the help of smartphones to conduct visual tours.No heavy equipment required to stage the process and also enjoy the benefit of sharing a live tour too. Istaging works with just 3 simple steps:
Conduct the tour shooting
Edit the tour for a more personalized experience from your end
Engage with your prospects and sell better
Features:
Receive up to 8k resolution
Create immediate floor plans
Shoot videos within a timeframe of 10 minutes
Guide your leads while simultaneously displaying the property tour
Highly compatible with any 360-degree cameras
Ratings:
4.49/5
Pricing:
Pay by usage $5/month, Annual 10 $219/year and Annual 25 $489/year.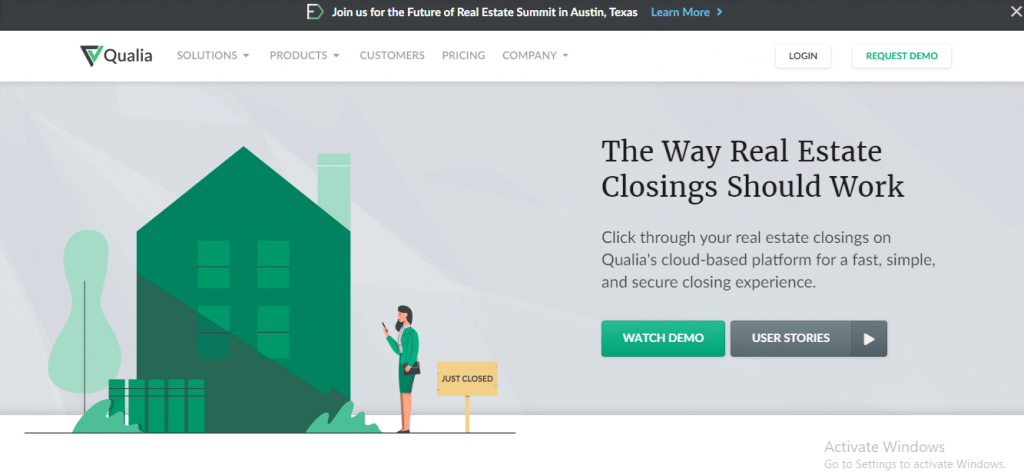 How to close deals with your prospect? Qualia knows exactly how to help you do it. It is a cloud-based software where it assures you that when real estate deals are being closed from your end, it happens in a secure, easy and quick manner.
It delivers industry-based closing standards which is a great ingredient in attracting leads to do business with you. It is really helpful to many individuals in real estate such as lenders, investors, brokers, buyers, sellers and more from other industries.
Features:
Receive a business management platform where all your payment, fulfillment and reporting activities are taken care of
Create better visibility for your business to engage better with prospects or other impactful assets for your business
Receive real-time updates so that your aware of every activity taking place
Use of lesser tools to conduct transactions
Ratings:
4.8/5
Pricing:
(Need to fill in a form to retrieve pricing information)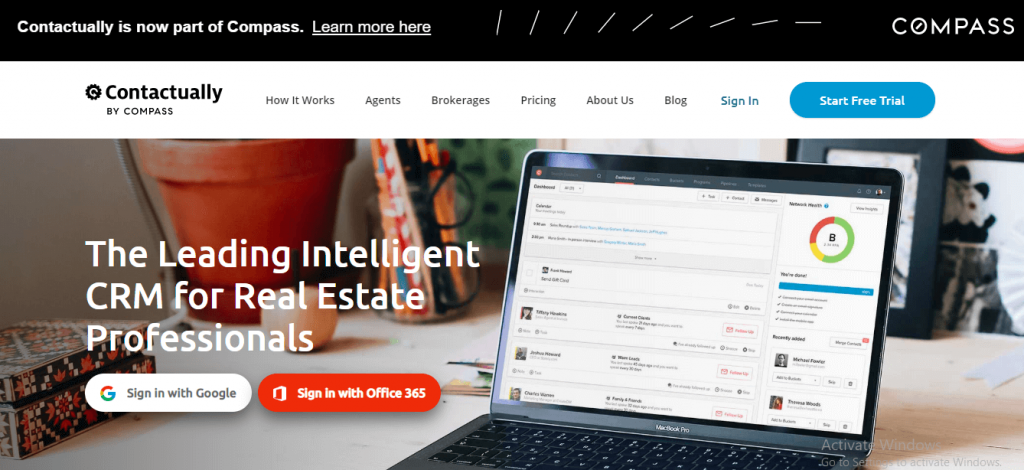 The better you can build a bond with prospects it becomes much better to sell to them. With Contactually, this software aims to build better relationships through this platform. It is a CRM process whose agenda is to extract as much advantage it can get from the relationship being made.
Features:
Organizes leads according to their status such as warm leads, hot leads, etc
Has an effective dashboard to monitor day to day activities
Use of AI to optimize workflows
Opportunity to schedule emails
Uses various tactics such as broker level administration to increase productivity
Ratings:
4.3/5
Pricing:
Professional $69/month, Accelerator $119/month
Onepagecrm is a dedicated software that helps businesses who are more keen on closing deals. In real estate business, closing deals can take a lot of hard work but with onepagecrm, this solution makes it easier for you to conduct the process.
Its main focus is to derive more actions so that better results can be obtained. It derives more focus on a goal-oriented medium.
Features:
Keep track of targets
Helps to conduct right actions at the right time
Stores contacts in a shorter and simpler 'no-nonsense to do list'
Clear clarity on your workflows
Conducts one by one actions to ensure that the closing of the deal takes place affirmatively
Ratings:
4.76/5
Pricing:
Monthly- $12/user, Yearly- $11/user and 1 month free with additional payment.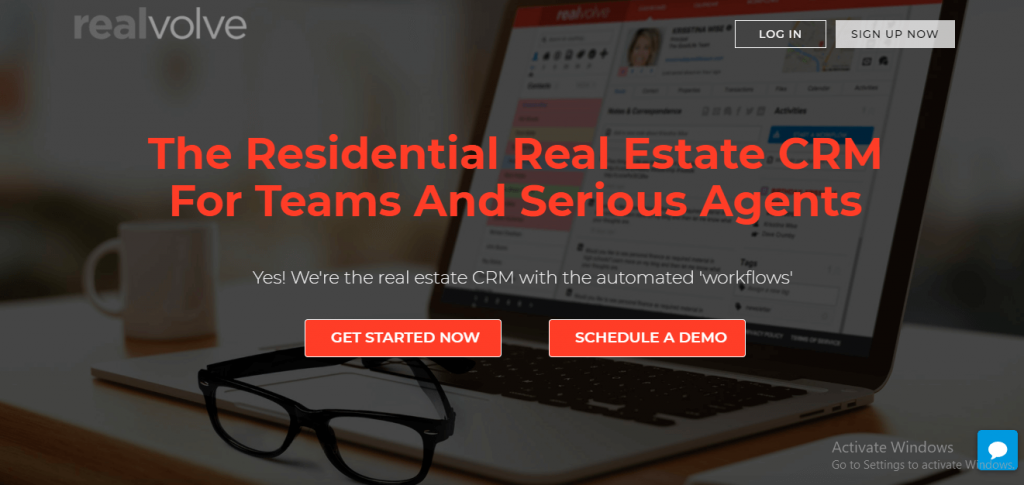 Realvolve is a web-based CRM platform dedicated to real estate businesses. It focuses on monitoring your prospects so that more value is added when forming the relationship, it directs you on what your next action should be and the impact of it and it conducts automation to conduct workflows more efficiently and quicker.
Features:
Automation of internal and external communication
Flexible to any changes being encountered
Has an admin account where detailed insights are shared across for better growth of your business
Rating:
4.68/5
Pricing:
There are two plans, monthly and annual. For monthly there is Pro+ which is $235/month and for annually it is Pro+ for $196/month.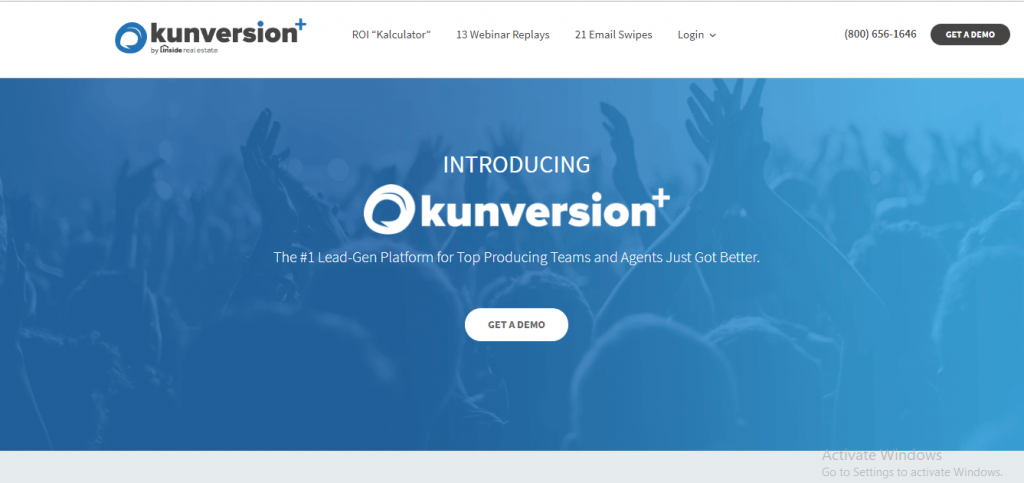 Kunversion + is a software which indulges in lead generation. With this measure, kunversion aims to grow your business at a higher scale. Kunversion offers a brilliant solution that could help you conduct any lead generation activities and view all the information in one place.
It has a powerful CRM that operates efficiently even when you are away. It manages all your leads right from the minute they are captured until they get converted into becoming a sales lead. It helps in enhancing your sphere of influence and also guides you through the next action towards your lead capture.
Features:
Personalized dialer which states the most significant call lists for you to contact each day
Use technology advantage so that you can assist your leads from any device or platform
Offers quicker and response-oriented automation actions for better lead conversions
Ratings:
4.47/5
Pricing:
(No information specified)
The Bottom Line…
With the solutions mentioned above, grow your real estate business without any errors. To outsell your competitors, you need to start implementing solutions which make the process of lead capture easier and more efficient for you.
Did you find the article helpful? We would like to know your opinion as well.
But before you start implementing the following solutions,let's take a quick recap of what we covered:
We understood why your real estate business needs to step up their game
We covered different solutions which would suit your business such as a 360 degree virtual tours of properties, lead generation solutions, CRM which help conduct all your activities in one place and many more
Which software are you planning to use first? Tweet us your answers and Check Limecall Pricing and Choose our Callback Software.