Your real estate business needs a boost and if you're planning to increase revenue & sales, then keep reading. We have made a guide for you.
The real estate business has gone digital. Today instead of planning and scheduling meetings for prospects to view properties, real estate agents are using virtual tours to sell better to potential prospects.
So check our Callback apps for real estate.
So where are your leads right now?
With businesses going digital and leads to finding their needs via the digital platform, it might be time for you to start incorporating 'internet marketing'. An article about social selling stated, ''Using social selling tools can increase win rates and deal size by 5% and 35%, respectively.''
What will you achieve by reading this article?
Learn about internet marketing
Understand how it can impact your current sales strategy
Gain insights on 5 easy internet marketing tips that could help you sell more houses
Let's start selling.
First you could also Check our Leads tool for automotive business.
What is Internet marketing?
Internet marketing is the process of using the online platform, the internet to sell to leads.
Today many prospects use the online platform to learn, monitor and understand what is happening in the market. For instance, when a new house is on sales and if the agent has posted it online, chances are many leads attention would be grasped with just one glance.
To engage better with leads as well as to sell better to them, walking in their footsteps matter. For instance, if your target audience is hanging out more on Instagram, your sales strategy should be:
How can I engage with them on Instagram?
What tactics should I use to trigger their attention on this platform?
What Instagram feature can help reach out to leads quicker?
Internet marketing offers multiple shelters. Hubspot mentioned in its article on marketing statistics,'' About 3.03 billion people are on social media around the globe.''
With such a huge count, internet marketing has many shelters that are occupied by many brands to increase conversion rates and lead captures.
A few examples of internet marketing could be:
SEO marketing
Email marketing
Social media marketing
And the list can go on. Internet marketing is now the hub where your leads are constantly making appearances and if you are not selling there, your competitors can outsell you in no time.
How Internet Marketing can impact your current sales strategy?
1. The outreach is huge
Hubspot mentioned,''There are 2.77 billion social media users globally'' which means that even if you share one of your property pictures online, chances are the number of viewers would be a lot.
The great thing about internet marketing is that as a real estate agent you receive great exposure from any of the online activities you conduct.
For instance, say you have a social handle which you have started recently and has a follower count of say 30 people. With constant engagements and engaging and enticing your prospects with the properties, you have available to send them, the exposure number increases.
What happens here is more and more prospects are arriving at your page to see what you have to offer them. When they are content with what they see and are interested they start to follow you to receive more information and hence share your account to people they know who have similar needs.
Like this from 30 followers, the number increases to a 3 digit and then 4 and it goes on. Internet marketing is a great way for you to display your solutions and sell them in an effective way to your prospects.
To extend your outreach further, you can practice:
Sharing your property listings to many platforms such as groups or via your existing clients or tagging people in your industry
Share more visual pictures and mention information on properties along with a clear call to action statement and contact action
2. Tap leads quicker
Internet marketing can help you tap leads not only easily but much quicker.
For instance, when you share the available property listing, you are using internet marketing tactics to garner more attention. When your prospects take a look or share or ask questions to you, that's when you know you have hit the interest of theirs.
So what you do is you instantly get in touch with them and start your sales process of converting them into sales leads. Isn't that great?
With internet marketing not only can you identify your leads, but you also tap their best interest and nurture and convert their interest into sales numbers.
To tap leads quicker, you can practice the following:
Share relevant property images which entice your prospect needs
Be specific and clear of what your offering, Ex. property location, benefits of the area
Use clear pictures with every detail of the house is highlighted
Use great headings to capture attention, Ex.'your dream home is available now'
Editor's note: If you want tap your website leads quick → Try Limecall.com to get your real estate leads within 28 seconds.
3. Create a convenient platform to engage with prospects
Internet marketing allows you to engage with your prospects anytime, anywhere.
Everyone has gone digital and out of their 24 hours, they spend half their hours being online which gives you the advantage to assist them better.
With such an advantage, you can easily tap your leads, engage with them, answer their queries and convince them for a meeting all in one place. Your prospects can learn more about you and make it easier to understand what needs are you fulfilling for them.
Just like how cold emails and calls conveniently let you communicate with your prospects, internet marketing is another convenient platform that makes it happen.
One example which explains this process is the Facebook messenger.
You were scrolling Facebook when you happen to see a brand that is selling your current need at a discounted rate. You click on the 'Send Message option and are immediately directed to Facebook messenger.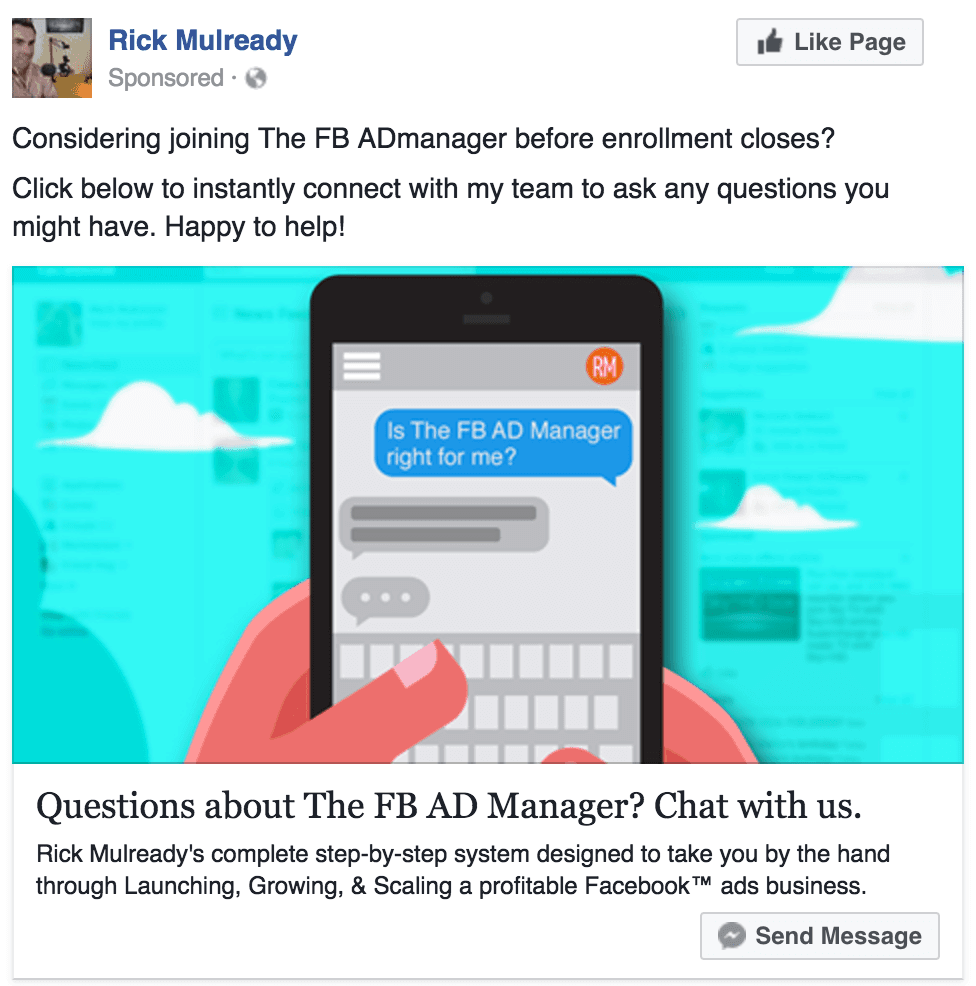 Source: Amy Porterfield
A pop up comes up enquiring, what is it that you are looking for.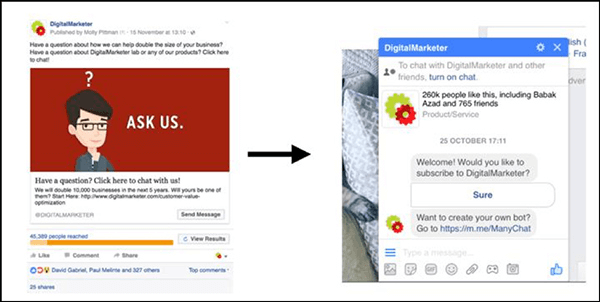 Source: Digital Marketer
The communication takes place between you and the bot who can help you find your needs. Once you are convinced, you reach the checkout and purchase the item.
How easy was that?
Not only did you bring a convenient platform for your prospects you also made your sales look like a piece of cake. That's the great thing about internet marketing, it helps to conduct any form of business activities with so much ease.
You have grasped how internet marketing makes sales better, wouldn't you be interested in knowing how you can conduct such activities on your own?
This article has crafted 15 easy and simple internet marketing tactics that can help you practice the art of internet marketing in a way that could help capture qualified leads without any hassles.
Let's get you started.
5 easy internet marketing tips that could help you sell more houses
1. Identify the right target audience
The main loss any business can incur is when they are engaging with the wrong target audience. Engaging with the wrong audience can waste your time trying to trigger their attention. This impacts your conversion rates as well.
With internet marketing identifying your ideal target audience has become easy. For instance say you have shared one property on Facebook, only interested prospects will like, comment or share your post on facebook.
The ones that enquire about the properties are those leads that are genuine and warm. This can help you to conduct your job of converting them into a sales lead much quicker. Another instance where you can identify your target audience is through the blog section of your website.
When a prospect likes the blog you've shared or have commented, it is understood that the content has drawn their attention which means that you can easily interest them in what you have to offer. With internet marketing finding the right, leads have become easier.
Check also our Callback apps for real estate.
2. Nurturing leads via email marketing
Hubspot claimed, ''86% of professionals prefer to use email when communicating for business purposes.''
Email marketing is another form of internet marketing. Many real estate agents use emails to conduct the process of capturing, nurturing and following up leads. With email marketing, you can easily target a good number of warm leads and can continue to nurture them further.
In real estate, the more you nurture a lead the better it becomes to sell to them. For instance, when you have your prospects information in hand, you would send multiple emails to capture their attention.
If the first email you sent out doesn't interest them to open it the process repeats until they conduct the action. During this stage, multiple emails are being sent out so that the leads feel prioritized and are aware of the solution you are selling to them.
In internet marketing email play a vital role, the reason:
Grasps attention of multiple leads
Gives information on how many leads are interested
A professional way of communicating with a prospect
Emails even today are considered as a great medium to capture leads
In real estate, following up with leads is normal but if you want to conduct this process more promptly and efficiently, email marketing can help you out. In fact, email marketing can be now conducted with automation.
Instead of you conducting this activity with all your prospects, email automation can do it for you. Hubspot states,''79% of top-performing companies have been using marketing automation for three or more years.''
3. Content marketing for faster lead capture
Hubspot stated ''47% of buyers viewed 3-5 pieces of content before engaging with a sales rep.''
Content marketing is another unique method of internet marketing. Through the form of content which may be:
Blogs
SEO
Video content
Visual content
Infographic
Content marketing can be a great way for you to tap leads and sell better. With content marketing, your team can create content in the manner your prospects want.
For instance, say your prospects want to indulge in learning more about why living on the north side of the city is much better, content can be created in order to trigger the attention of cush prospects towards learning the solution you have.
Once they indulge in learning about it, you can easily place your selling opportunity such as a property that is currently available for sales and trigger their attention again to convert this opportunity into a sales lead.
The real estate market keeps fluctuating and your buyers need to cater to the needs and also enlighten them about it.
A great example would be Jade Mill Estates where they resolve the modern problems of finding the right home.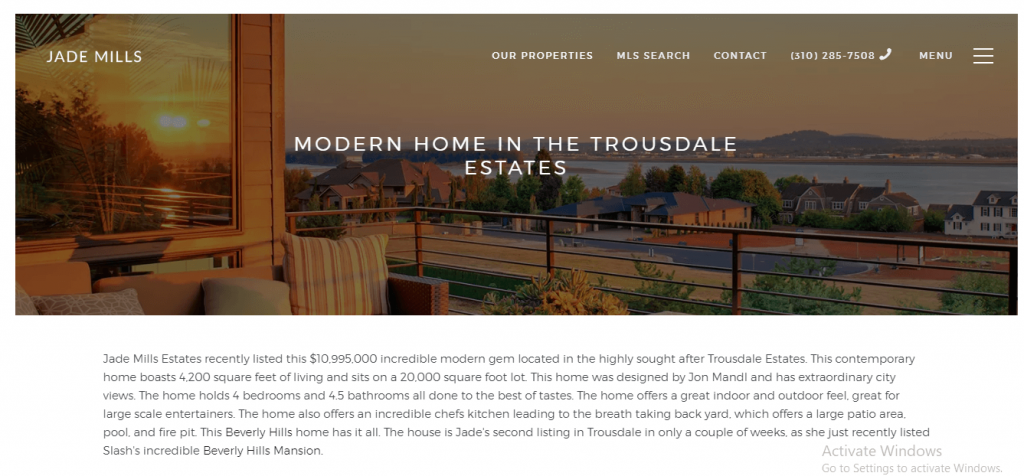 The catchy title brilliantly points the main reason why buyers appear on the website. A brief description is also given which speaks about the achievements, the type of houses being sold by her and the property demand.
Jade Mill estates speaks brilliantly in her blogs about the properties being sold.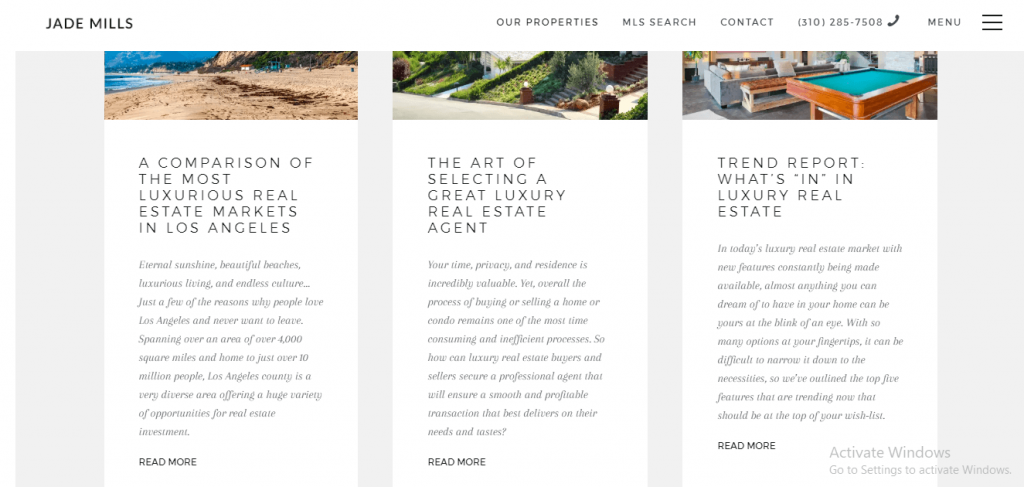 She explains each property with brilliant imagery which helps her buyers to visualize better and provides the right information so that when a buyer reads through they are able to understand whether this is the house they want to purchase.
Editor's note: Instead of writing generic content. Be specific. What does that mean? Talk about Housing in XX Town District in LA, instead of Housing in LA.
4. Turning campaigns into impactful results
Campaigns are a great mechanism to sell much better with prospects. Use the help of a campaign if you want to:
Increase prospect attention
Grasp genuine lead for the long run
Pull prospects towards you more effectively
Campaigns can be considered as another efficient measure of internet marketing. In real estate managing and organizing efficient campaigns can help you grasp better leads than your usual selling strategy.
With campaigns, you can create impactful strategies with your properties and also monitor the performance so that you know which leads are more interested in the properties you are selling and which still needs constant nurturing.
To create a good campaign ensure that you follow the below practice:
Create campaigns with necessary information
Create campaigns which will suit and is ideal of each of your audience
Improvise on your campaign strategies and see which one is working
Always monitor your campaigns so that you are taping potential leads on time
4. Utilizing SEO activities
SEO is another great internet marketing tactic.
With SEO you can easily push your content to the top rank when a prospect searches for relevant content.
Ryan Stewart, a popular digital marketing consultant threw more clarity on this topic in his video stating,
''Optimize the images on your website with traditional SEO tactics.''
For instance, if your prospect is searching for 'Which area is great to buy a new home?' your article should have the keywords which will answer the question such as good areas to buy a home, areas, area for a good home, properties in good areas, etc.
He even continued to state that there are 3 essential factors where SEO in real estate is required more which is: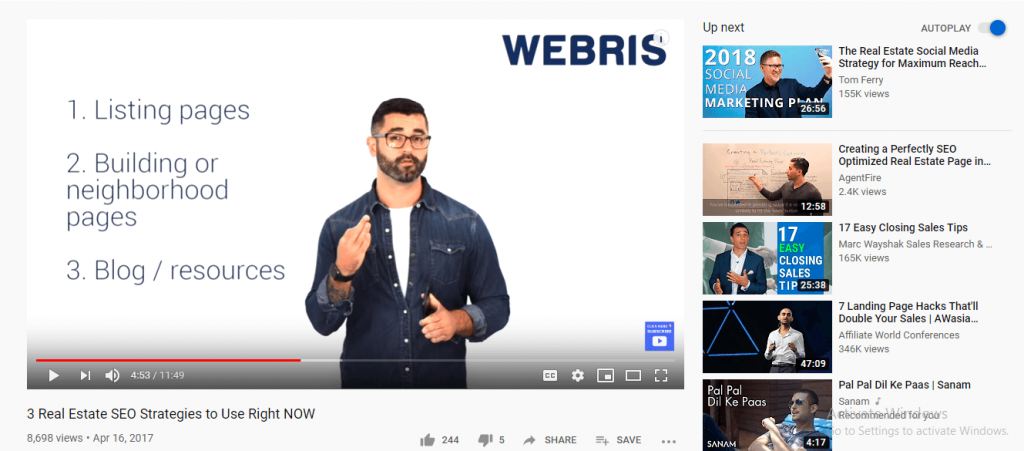 He stresses clearly that these 3 factors, listing pages, building or neighborhood pages and blog/resources are the 3 critical features for real estate SEO which requires your attention.
SEO is a great way of engaging and enticing your prospects because it allows them to find the solution they are seeking as well as give you the opportunity to interact with the.
Another great thing about SEO is that it lets you represent your brand more highly which in turn helps you to sell better.
For instance, when your SEO content ranks higher the great thing is you appear above your competitors. Apart from this you also appear as great expertise in your field.
Check also our Callback software for travel agency
For instance, say your prospects search for the best properties in the south of the country. Your SEO content, if it has the right keywords, will appear as the top 1 suggestion. When your prospects see that, they click on the content. There are chances that your prospects will come to your website to learn more about what you have to offer.
When that happens it becomes easier to convert such warm leads to a sales conversion.
Editor's note: Focus on Local SEO then generic SEO topics.
Check also our Leads tool for automotive business .
5. Target leads using emotional connect
Another great way of using internet marketing in your real estate strategies is the fact that you can easily tap leads with the help of their emotional pattern. Few prospects engage with a brand because they can connect with it emotionally.
Few examples can be :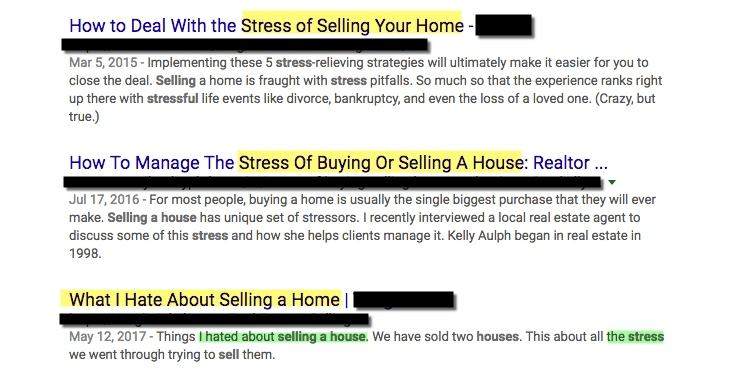 Source: Leadpropeller.com
As you can see the headlines brilliantly target the pain points of a buyer, making them feel that the author understands what they are going through and has a solution which can help them out. This action compels the buyer to click on the content.
In real estate connecting with prospects are bonus points. When you sell to your prospects, they need to understand the tone you are selling it in. For instance, when you want to sell a home you could emphasize:
Why that home is the right fit for them
Give them a vision of their dream home
What will make them happy about their new home
Emotional connection plays a huge role in the online world. When you can trigger the attention of such prospects it becomes a great win for you.
How to find out your prospect's emotional connect?
Keep a close eye on the reviews they share
Watch out for recommendations
Learn how they promote a brand
The Bottom Line…
Internet marketing is what will thrive your real estate business to grow better. With the right tactics mentioned above, it becomes easier to use the top methods to sell homes without any hassles.
Apart from this, you can also use a callback software with a great callback software features and Saas Callback to help your clients reach out to you more easily and quickly/
What did you think of the article? We would like to hear your opinion on the same.
But before you leave, let's have a quick recap of what we covered:
The meaning of internet marketing
Why it matters in real estate? (check our callback apps for real estate )
What are the methods of internet marketing?
Tips on how you can conduct each of those actions
So with the information in hand, which technique will you apply first? Why don't you let us know by tweeting us?