About 75% of consumers expect a consistent user experience wherever they engage, be it on a website, social media, mobile, or in person.
And, when most of your content lives on the website, there is no way you can let go of its engagement factor.
Your website is often the first impression customers have of your brand, so it is essential to make sure it is engaging and accurately represents your company.
Customer engagement has become a must for every company. But there are so many different ways to go about it and a plethora of customer engagement tools that can grab your attention.
But before that, do you know what website engagement tools are?
What are Website Engagement Tools?
Did you know that a site can generate more than 500,000 visitors and still have a low engagement rate? Website engagement is the rate at which visitors engage with the website.
If people aren't engaged, they won't convert, no matter how perfect the marketing strategies are.
Website engagement is, thus, defined as how a brand is capable of attracting and retaining customers. This, in turn, benefits your business.
However, it takes a lot to engage people constructively and turn visitors into readers. The only way to tell whether your customers are loyal to you is from the rate of your website engagement.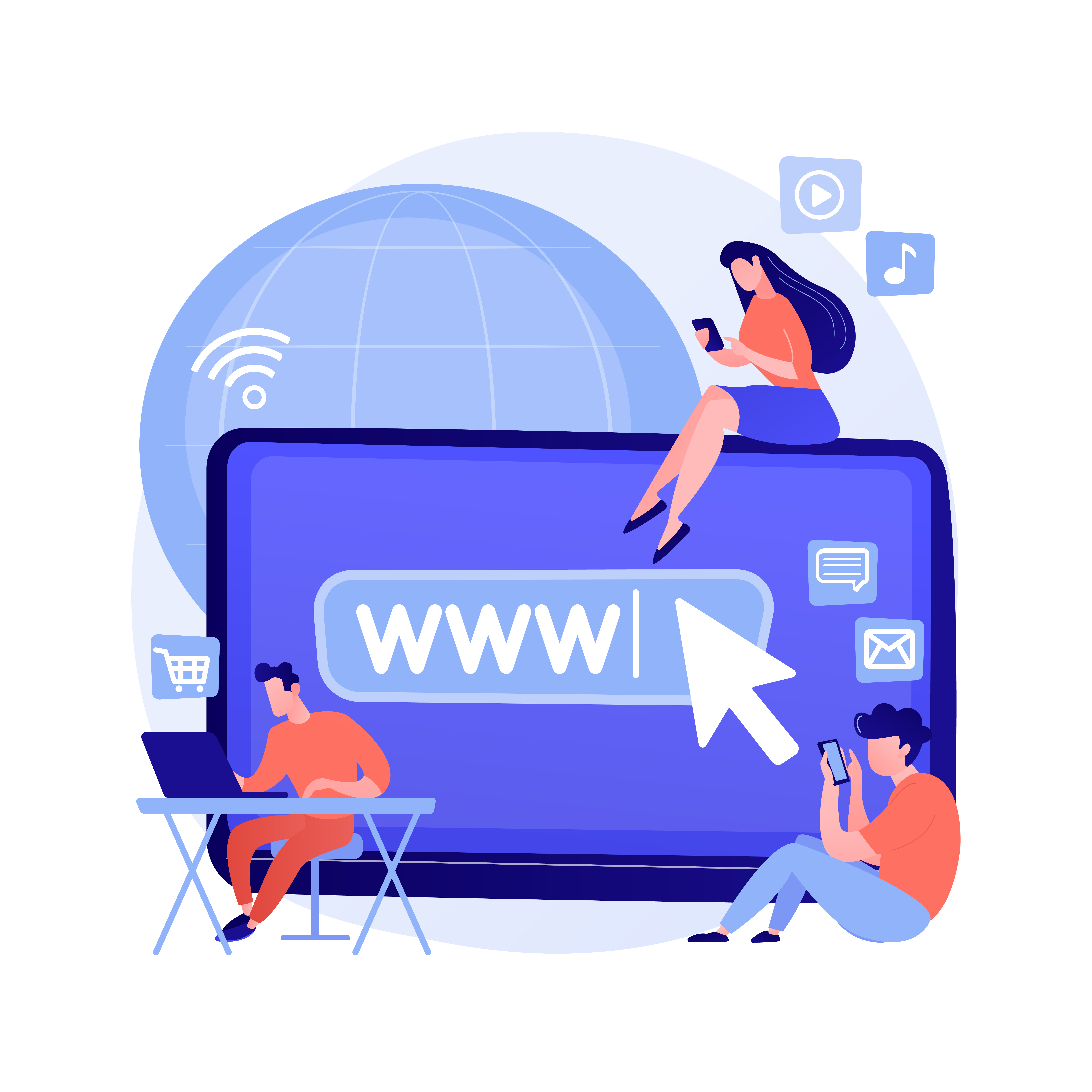 Why is increasing website engagement important?
For every online business to measure success, there is a metric called Website Engagement.
It is vital in calculating the user's interest, behavior, etc. It is used to improve the delivery of the service or the content in a way the user loves.
Having clear insights on what's happening on the site and what content drives more user engagement helps the businesses make the right decision.
You might be thinking, why, right?
You need customers or a marketplace to sell your stuff because if there are no consumers, then there is no business.
Hence, it's becoming essential to measure website engagement regularly for the smooth running of the business.
How to Select the Best Tools for Website Engagement?
70% of customers say they make their buying decisions based on how they are treated and engaged. So, the website engagement tool you choose for your website can make a huge difference.
There are so many different tools and resources out there. The first thing to know is that they are all different, and they may all provide a solution for various website engagement needs.
Take time to look at the features as well as what aspects of engagement each tool focuses on.
For example, the idea is to improve click-throughs on the call-to-action. You will need a tool that offers buttons and pop-ups to get the users' attention.
Choose tools that offer the most customization and personalized targeting solutions.
Therefore, if a marketing strategy targets their needs and provides a specific solution, they're far more likely to engage than if they were blanket-targeted for a marketing email that may or may not be relevant or valuable to them.
Look for comprehensive solutions that include the most features in one platform and that have the best pricing.
Just because Google's tools are primarily free doesn't mean that you are limited to using them. Some tools are worth paying for.
Best Website Engagement Tools
In today's digital world, everyone desires to have their user's attention. There has been a constant drive to arrest the attention of users to a particular website. You are no more out of this league too!
However, just bringing them to your website does not end your work. Once the customers arrive, you need to hold their attention.
Your website is not appropriate if it does not educate the visitors successfully! You need to hold your customer's attention so that they interact, fill in forms, click the CTA buttons, and whatnot. Their maximum engagement will let them enjoy and experience your content. In a way, this will ensure that those customers become loyal.
At present, almost 75% of customers want a user-friendly experience whenever they engage in a website or social media or with people. Thus, the requirement of highly engaging tools comes to your aid. Use them to make your customer's experience on your website much smooth and steady!
Here are twenty-one such engagement tools that will help your users to interact with your website effortlessly. Try them to witness the change!
Survey and Feedback Tools
Survey and feedback tools are handy for many reasons. They help get a 360-degree view and have an understanding of your brand. Here are some of the survey and feedback tools that can help you understand what your customers think and want from you.
SurveyMonkey is a popular tool with its question suggestion, the possibility of replication, and ease to brand and personalize options. It saves a great time, especially for similar and follow-up surveys.
Pricing
There are two types of plans that exist – business plans and personal plans. Check the detailed prices below for individuals:
Standard Monthly: $35/ month
Advantage Annual: $34 / month
Premier Annual: $99 / month
Basic: $0 (Lifetime free)
Why Choose
Reviews: SurveyMonkey is highly rated by G2 Crowd customers and the most popular survey software by Capterra customers.
Experience: With nearly 20 years of survey expertise, they make it easy to start uncovering insights right away.
Efficiency: Creates professional-looking surveys in minutes. Gather feedback and make sense of it at scale. Works across teams and inside existing business apps.
WebEngage is a fascinating choice for A/B assessments of your website features. Numerous feedback formats allow you to get much insight for improving your user engagements.
Pricing
Free Trial – A 14-day free trial is available
Solo – $199 per month billed annually
Band – $899 per month billed annually
Choir – $1499 per month billed annually
Orchestra – Contact the vendor
Why Choose
WebEngage powers the user engagement for thousands of brands worldwide, working across several industries
Offers Behavioral Analytics, Behavioral Targeting, Campaign Management, and Campaign Segmentation.
Provides Action Management, Analytics/ROI Tracking, and Attribution Modeling.
Yotpo is a pioneer in collecting reviews from your audience. It allows you with automatic email selection, real-time notifications, and the option to share the review on your site.
Pricing
Yotpo chooses to hide its pricing, but they have a free option.
From the free version, their prices jump to $700 – $800 per month.
Why Choose
Has Powerful moderation tools, coupons and loyalty rewards, and 25 languages support.
Supports powerful e-commerce platforms, Powerful and effective analytics, and Product recommendations.
It makes the implementation of marketing strategies easier for business
Integrated with major e-commerce platforms and social media websites
The technological giant Google also offers forms for surveys that are very helpful. They offer various options, synchronizations, and personalization buttons to carry on the survey. As they are linked with spreadsheets, you can access the collected data over there also. All you need to have is a Google account. The customization options and free service they provide make this tool very popular.
Pricing
Google Forms is completely free for individual Google users.
Forms are also available for businesses as part of G Suite, starting at $6 per user per month.
Why Choose
It is a free online tool that allows you to collect information quickly and efficiently.
With Google Forms, you can create surveys in a few minutes to ask your clients or collaborators information about your products or service.
To start using this tool, you only need a Google account, the same one you need to access Gmail, YouTube, or Google Drive.
The interface is straightforward to use. Any user with average Internet knowledge can create forms using this tool.
For designing, it is possible to choose between a palette of colors and own images as a background.
Email Marketing Tools
Looking at digital engagement is just like viewing the tip of the iceberg. Since push notifications and email marketing are projected to undergo an exponential increase, it's expected that businesses will advance to use these policies extensively. As engaging and capturing your leads must be done correctly. You should use proper tools among the ones listed below to make personalized push notifications and emails.
Mailchimp is always a big name to mention as we talk about digital engagements. The tool allows you to look deep down your email strategy for knowing detailed analytics and reports.
Pricing
Free: 0/month with 2,000 contacts, all the multichannel tools you need to start marketing.
Essentials: Starts at 770/month with 500 contacts for growing businesses who want more customization and 24/7 support.
Standard: Starts at 1,150/month with 500 contacts for advanced businesses that want more automation and data-powered tools.
Premium: Starts at 23,000/month with 10,000 contacts for high-volume senders who want all marketing features and phone support.
Why Choose
Allows finding new customers and reconnecting with current ones through another channel by creating integrated Facebook and Instagram ads.
Mailchimp's reporting features help users understand who's opening, clicking, and coming back for more. The reports are mobile-friendly and can be exported to share with coworkers or clients.
Email Segmentation is easy with Mailchimp. Send a campaign to your entire list or target people based on available list data such as geolocation or their open/click history.
Mailchimp helps users customize signup forms to match your brand, so you can share them on your website and integrate them into your social media pages.
Mailchimp offers a variety of pre‑designed, responsive templates. Users can also start‑from‑scratch and use the template builder for more customization.
Are you searching for a tool to grow your audience with push notifications? Well, there is no one to mention besides iZooto. Its guidance towards user conversion at minimal cost makes it very popular. The tool helps you in building a rigid communication link between you and your customer.
Pricing
Rise: $85/month, for up to 30,000 subscribers – Ideal for bloggers for efficient targeting and automation
Grow: $250/month, for up to 30,000 subscribers – Ideal for publishers for running everything on autopilot
Why Choose
Built-in KPIs, including delivery rate, impressions, and click-through rate, allows users to analyze their campaigns' performance overall and across specific audiences.
Multiple campaigns can be managed from a centralized platform, with users able to define notification templates, customize notification titles, messages, images, CTAs, and landing URLs, configure tracking parameters, specify notification lifetimes, and more.
Multiple push options are available for delivering notifications, with users able to schedule one-off or recurring notifications, manually push notifications, or automate delivery with event-triggered push notifications.
Permissions for different websites and campaigns can be managed independently, based on defined user roles.
Audience segments can be created based on demographics and subscriber behavior from users' data and target and personalize notifications.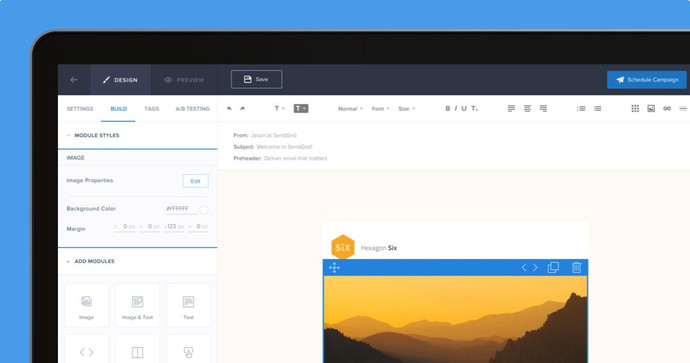 Are you experiencing that your emails do not reach your customer's inbox and land up in the spam box? If it is so, then you must try out a tool like SendGrid. Besides monitoring, it fights email throttling, focuses on deliverability and other problems.
Pricing
Free: 100 emails/day forever, $0/month.
Essentials: Starts at $14.95/month
Pro: Starts at $89.95/month
Premier: Custom Pricing
Why Choose
SendGrid provides reliable email deliverability, which scales with any business.
The cloud-based email solution replaces your email infrastructure, so you don't have to build, scale and maintain these systems in-house.
Get customizable and flexible APIs, real-time analytics, and 24/7 phone or chat support to help you every step of the way.
With segmentation functions, Klaviyo is a brilliant marketing tool. It is viral among online vendors for its integration with the eCommerce platforms.
Pricing
Free: 300 emails/day, $0/month
Lite: 40,000 emails/month, $25/month
Essential: 60,000 emails/month, $39/month
Premium: 120,000 emails/month, $66/month
Why Choose
Users can personalize emails and tailor messages using events, properties, and custom attributes.
Klaviyo has an open API, allowing users to integrate custom eCommerce platforms easily and obtain actionable data effectively.
Klaviyo employs AB testing, helping users optimize the performance of campaigns and email autoresponders.
Users have access to Klaviyo's reporting tools, giving eCommerce companies valuable insight on return on investment.
Users can leverage Klaviyo's dynamic web signup forms to grow their email lists and capture additional customer data.
Klaviyo includes real-time tracking technology, enabling users to monitor campaign results quickly and accurately.
Social Media Tools
Whatever goes on your website is intrinsically linked with social media. Thus, you need proper tools that can aid you in giving an overview of what is happening in social media. It can help you in getting new leads and content opportunities. Here are some of the social media tools that can be very useful to you.
Sprinklr is a reasonable observer who notices everything the customers are saying on open forums, messaging channels, and review sites and generates insights worthy of boosting your strategy.
Pricing
Contact sales or request a tour for more product pricing information.
Free trial: Not Available
Free version: Not Available
Why Choose
Slice and dice drill-down queries can be immediately saved and "injected" into conversation or reporting dashboards for subsequent examination.
Build 360-degree profile views of your customers over time and across hundreds of channels by integrating a Social CRM
Build your custom social apps and run A/B testing, as well as having access to a selection of ready-to-go apps. Schedule deployment and manage app versioning.
Use Sprinklr to track campaigns and conversions, optimize content placement and deployment.
Sprinklr supports Twitter, Facebook, Snapchat, Linked In, Google+, YouTube, Instagram, Foursquare, Flickr, Slideshare, Tumblr, WordPress, Zendesk, Livechat, Bazaar Voice, Survey Monkey, Clarabridge, Sina Weibo, Tencent Weibo, Renren, and VK.
Mention is another powerful monitoring tool that tracks whatever brand you mention throughout the internet and over forty languages. It keenly observes all your social engagements.
Pricing
Free: For individuals who want to get started, € 0 per month
Solo: For entrepreneurs and individuals, € 29 per month
Pro: For marketers and small- businesses, € 99 per month
ProPlus: For growing businesses and skilled professionals, € 199 per month
Company: For teams and agencies, annual billing, Customized amount
Why Choose
Real-time monitoring with the ability to monitor billions of sources in over 40 languages, you won't miss anything being said about what's important to you.
Collaborate with your team by keeping your whole team in the know by assigning tasks and sharing alerts within the app.
Identify influencers by seeing influencer scores showing you the most important people talking about any of your keywords. Find subject matter experts, future brand ambassadors, and grow your community by connecting with VIPs.
Use Mention anywhere available via the web and mobile app.
Marketing and Analytical Tools
Data in your hands will always be a power, and we are sure that you have heard it many times. Thus, you need to engage your users successfully. You can plan personalized strategies by using quality data. Your priority should always be the implementation of the data. It can always help you to translate all user actions into insightful leads. Then you can generate reports that will optimize your approach while progressing.
You can check out Heap if you don't want to get drowned in coding. It is a straightforward tool that captures and measures all user actions like swipes, taps, page views, form submission, clicks, and much more.
Pricing
Free: $0, Up to 10,000 sessions/month
Premier: Custom sessions, Customized amount
Pro: Custom sessions, Customized amount
Growth: Customized amount, Up to 40,000 sessions/month
Why Choose
Key metrics can be plotted over time to analyze trends, and users can adjust the granularity, range, and visualization type to suit their needs.
Events can be defined without code, using the point-and-click event visualizer, allowing users to define events by acting themselves.
Funnels can be created and split across user segments, using properties such as location, referrer, install date, and UTM parameters.
Real-time user-level activity streams allow all actions taken by a user to be observed in a single place, enabling the identification of high-value leads or unexpected paths taken within the app.
All user actions are automatically captured, including clicks, swipes, taps, page views, and form submissions, and all data can be analyzed retroactively.
Google is a tech giant ready to aid you in all ways possible. This freemium tool is one such example. It is a comprehensive platform that provides you with the correct metrics, like session duration, average time on a page, and other stuff.
Pricing
Freemium: $0/year, for small businesses
Advanced: Contact Sales
Why Choose
Identify best-selling products & promotions, trace transactions, and understand customer behaviors with Google Analytics eCommerce reporting.
Use Google Analytics' Site Speed reports to view load times across a site. Quickly identify & fix slow-loading pages to increase conversions.
View and analyze visitor paths with Flow Visualization, then see how they interact with each page using In-Page Analytics.
Use Google Analytics' data import functionality to join the data from CRM, CMS, and other systems with a Google Analytics account and gain more sophisticated insights.
Receive alerts when significant statistical variations occur in website traffic, with Google Analytics' Intelligence Events'.
Measure activities like downloads, video views, and mobile ad click across devices with Google Analytics Event Tracking.
Optimizely is equipped with A/B testing and other convertible optimization features. Besides allowing numerous experiments on the same page, it allows web personalization and testing. You will always get the most out of it from Optimizely, and that is something ensured.
Pricing
CMS Content Cloud: Pricing available on request, Customized amount
Ecommerce Commerce Cloud: Pricing available on request, Customized amount
Optimization Intelligence Cloud: Pricing available on request, Customized amount
Why Choose
Segment visitors through basic or custom visitor segmentation, then target optimized experiences and focus on high-value visitors.
Learn more about the visitors that connect with website & mobile apps through Optimizely's visitor segmentation tools.
Seamlessly integrate data across all your platforms and synchronize Optimizely with the products already in use.
Optimizely's Starter Plan is free and only becomes chargeable once a visitor number threshold is reached.
Improve customer engagement and increase revenue across desktop, mobile web, and mobile apps with A/B testing, multivariate testing, and multi-page testing.
Communication Tools
Communication tools engage your customers directly through communication. It improves your customer service quality properly and enables a constant conversation providing various related information. It can also answer other queries that your customer might be facing. Below are some communication tools that can help you to improve your customer relationship.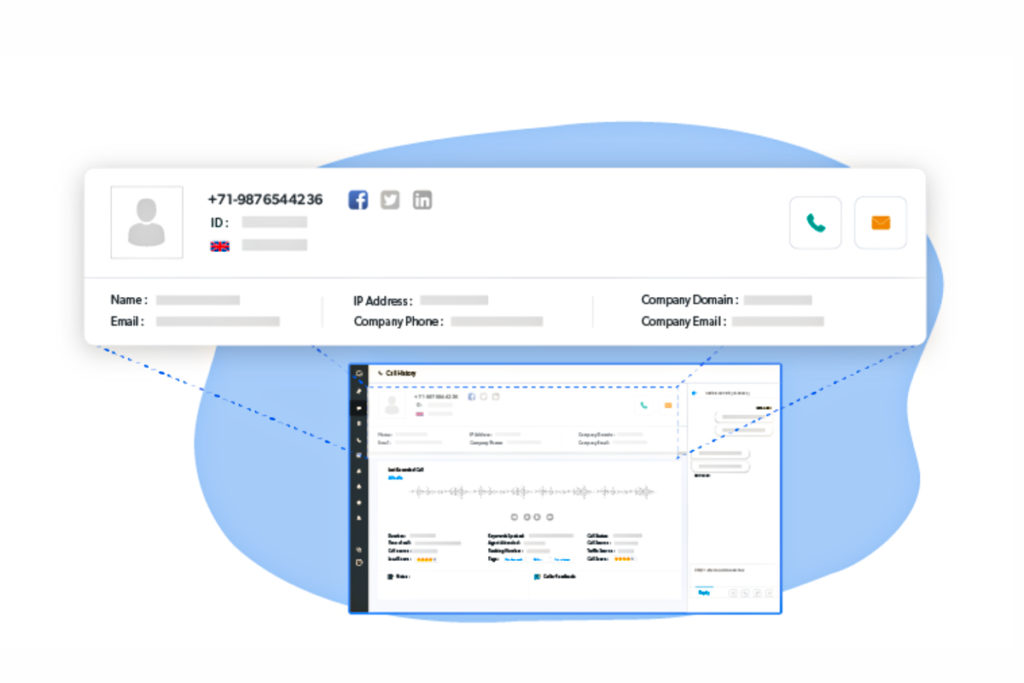 While live chatting and emailing stand out as some of the best communication efforts to date, live calling still has a more significant role. And LimeCall comes to play here – as you can integrate it to your website and connect with your prospects on-call. Connecting via call allows you to solve their problems and answer their queries instantly.
Pricing
Free: Up To 10 Calls Per Month, additional 35 Leads For $29
Features
Up to 10 calls via limecall
Widget installation on one domain
Two call operators
Automatic callback in 28 seconds
Lead Generation
Basic widget customization
One week call recording history
Advocates: $3, per advocate chat when billed monthly
Up To 100 Calls Per Month, +Additional Credits For More Calls
Features
Includes features of Starter plan, plus
100 calls via Limecall
Widget installation on
Unlimited domains
120 SMS per month
Five call operators
Thank you SMS for potential customers
Personalization of SMS, voice messages, and Sender ID
Access to APIs and integrations
Call Routing
Up To 300 Calls Per Month, +Additional Credits For More Calls
Features
Includes features of Pro plan, plus
300 calls via Limecall
Widget installation on
Unlimited domains
360 SMS per month
Ten call operators
Why Choose
It offers effective customer segmentation and helps to map the customer's journey.
With LimeCall, you can measure and track goals by setting up the goals and objectives.
LimeCall offers advanced analytics and data regarding your customers.
Drift is a simple chatbot that is ideal if you are searching for an automated chat builder. It is easy to set up, and you can easily use them to fulfill your customer's queries.
Pricing
The Standard plan costs $40 per month, and there's an extra $20 per month for additional chat seats.
The Pro plan costs $400 per month, and there's an extra $40 per month for additional chat seats and an additional $20 per month for calendar-only seats.
The Premium plan costs $1,500 per month, and there's an extra $80 per month for additional chat seats and an additional $20 per month for calendar-only seats.
Pricing for the Enterprise plan is based on a custom quote.
Why Choose
Conversations can be transferred between agents, with typing indicators showing when another user responds to the conversation.
If a visitor hasn't seen a message within 15 minutes, Drift emails them the entire conversation, with the ability to respond later.
Announcements and NPS surveys can be sent out through in-app messages or email, and in-app messages can also be delivered by email if they have not been seen within a defined time period.
Targeted messages can be sent to different groups based on URL, scroll percentage, or defined segments.
Drift gives users insight into the page a visitor is on when their conversation starts and when they add their information.
Another intense chat set up in the market is LiveChat. It allows you to avail of a 24 x 7 chat service that can significantly aid you. Your customers will never lack guidance or be dissatisfied with your services if you use LiveChat!
Pricing
Starter: Small office / Home office, LiveChat pricing plans, $16/mo per agent billed annually
Team: Full-time support team, LiveChat pricing plans, $33/mo per agent billed annually
Business: Customer service department, LiveChat pricing plans, $50/mo per agent billed annually
Enterprise: Based on a custom quote.
Why Choose
All chats are secured, which makes LiveChat a reliable communication channel.
Companies using it increased sales conversion rate and customer satisfaction level.
It helps increase the average order value.
LiveChat increases the number of successful transactions.
Customers using LiveChat straightforwardly get access to company reps.
Zendesk has customization capabilities and a knowledge database that will help you to guide your customers. It increases the effectiveness of its service by its self-help customer service tool.
Pricing
Suite Team: $49 per agent/month billed annually
Suite Growth: $79 per agent/month billed annually
Suite Professional: $99, per agent/month billed annually
Suite Enterprise: $150 per agent/month billed annually
Additional enterprise-ready plans: $215 per agent/month billed annually
Why Choose
Supports customers across any communication channel, including web, email, chat, and social media.
Accessible to onboard new agents and seamlessly integrate with existing business systems and software using our open API.
Low TCO and month-to-month payment options with secure, reliable, and scalable solutions will meet your growing business's demands.
Robust reporting and advanced analytics, including 20+ ready-to-use reports and dashboards.
Increases and improves the quality of customer interactions.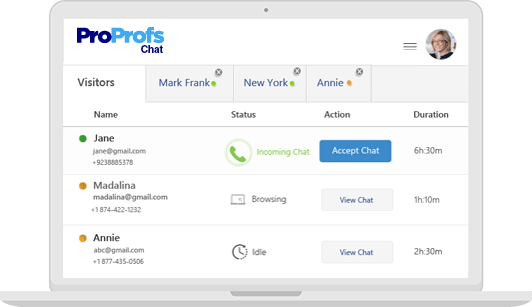 If you want to capture more leads and study your customers' browsing habits, Proprofs Chat is an effective and robust solution. In addition, it enables you to provide instant support from any device. All you need to do is log in to the dashboard.
Pricing
ESSENTIALS: $ 10 Operator/month (billed annually)
PREMIUM: $ 15 Operator/month (billed annually)
ENTERPRISE: Based on a custom quote.
Why Choose
Support integration with third-party tools such as Microsoft Dynamics CRM, Salesforce, Magento, Shopify, ZenDesk, WordPress, Drupal, and more.
Monitor support operators' performance through robust reports.
Chat with your customers in the language of their choice.
Track the number of visitors on your site and easily capture leads through the pre-chat form.
Gather feedback with post-chat surveys and capture leads with pre-chat form.
Extra Tools for Website Engagement
A plethora of tools has been discussed till now. However, there are various other extra tools too that can be at your aid. They enhance your customer engagement and improve their experience very efficiently. Some such evergreen tools are listed down.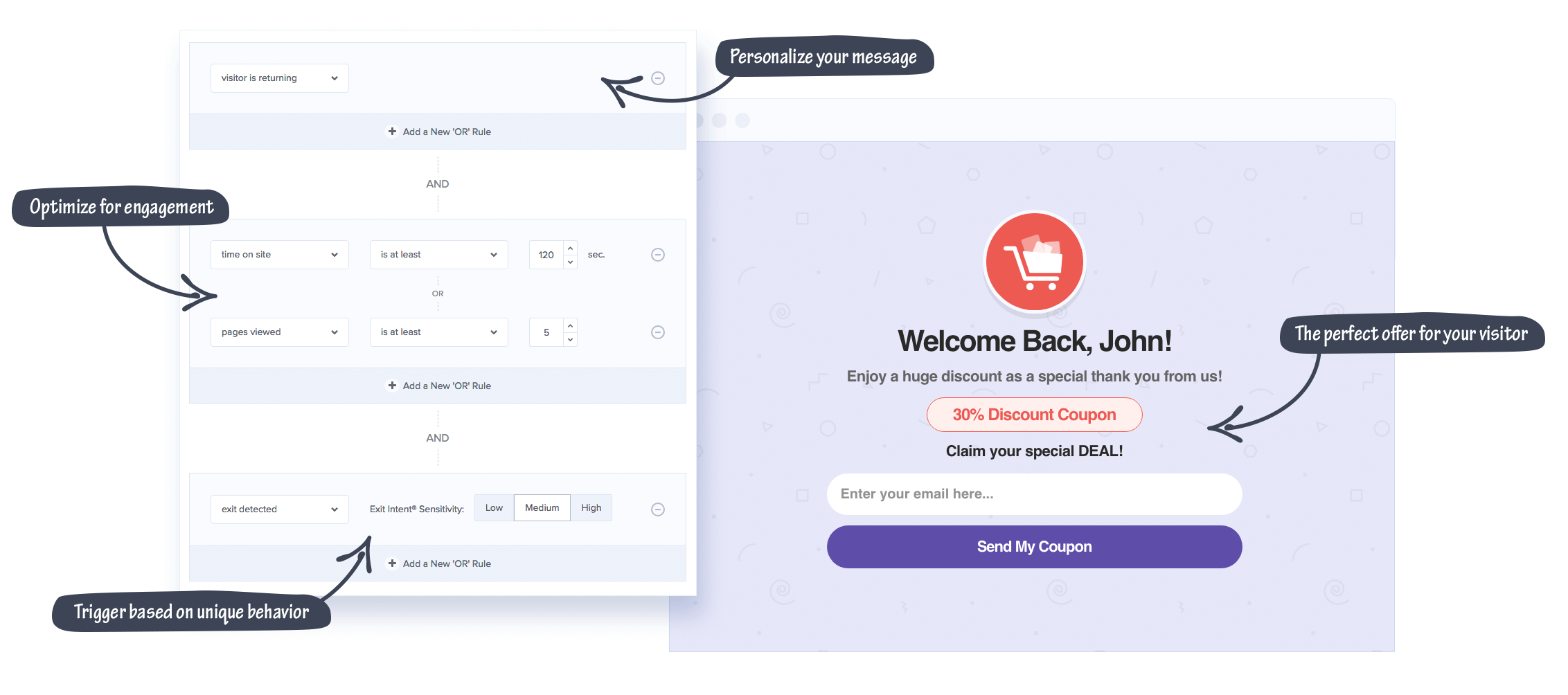 Optinmonster is a cost-efficient way to engage with your users. It is an excellent solution for website pop-ups. Pop-ups generate leads brilliantly.
Pricing
Basic: 9$/mo (billed annually)
Plus: 19$/mo (billed annually)
Pron: 29$/mo (billed annually)
Growth: 49$/mo (billed annually)
Why Choose
Different form designs, content, headlines, and more can be A/B tested to determine which variation has the highest conversion rate.
Built-in analytics and integration with Google Analytics give users an overview of views, clicks, conversion rates, referral pages, and more.
The drag-and-drop form builder can create a range of opt-in form types, including floating bars, lightbox pop-ups, sidebar forms, and slide-ins.
Different forms can be displayed on specific categories or pages to create an email list with highly targeted segments.
Hello Bar increases conversions in a non-intrusive yet straightforward way. Creating a separate and non-scrolling bar at the page top brings more attention to the CTA. So, the Hello Bar does so, whether it is your social media sharing or subscription page.
Pricing
Starter: $0 Free Forever
Growth: $29/mo
Premium: $49/mo
Elite: $99/mo
Why Choose
It provides features and tools that ensure the correct timing of messages to be delivered to visitors.
Teams can enter the website URL, and they will be guided about how to go about installing bar codes, making display ads, and much more.
The platform is a booster for websites, which enables organizations to get more visitors and subscribers.
The operations are simple enough for starters.
Before letting the customers access the various features on your website, you need to authenticate them. However, it is not that easy to manage a customer's log-in with their username and password. Thus, OneAll provides an efficient solution to it. All your customers need is to log in to the social media handles that will directly log-in to your website.
Pricing
There are four plans that OneAll has – freemium, starter, standard, and advanced.
Freemium: 2500 unique users to log in per year
Starter: $8/month, 4000 unique users to log in per year
Standard: $14/month, 8000 unique users to log in per year
Advanced: $27/month, 16000 unique users to log in per year
Why Choose
Social Login: Over thirty different social networks such as Twitter, Facebook, Instagram, Linked In, Google, PayPal, Yahoo, and many others are supported.
Social Sharing: Allow users to share comments, purchases made, reviews, and other activity directly from your site to their social networks.
Single Sign-On: Automatically sign in users as they navigate among the multiple websites in your ecosystem.
Social Insights: Track trends in site registrations, returning visitors, social posts, and referral traffic.
Social Link: Let existing users connect their social profiles to their accounts to gather additional data about your uses and post content to their social accounts on their behalf.
Conclusion
Boosting user engagement on your website isn't something that happens overnight. It requires a willingness to experiment and substantial patience. So, consider it your digital marathon – one that's worth it and will make you stronger than you've ever been before.