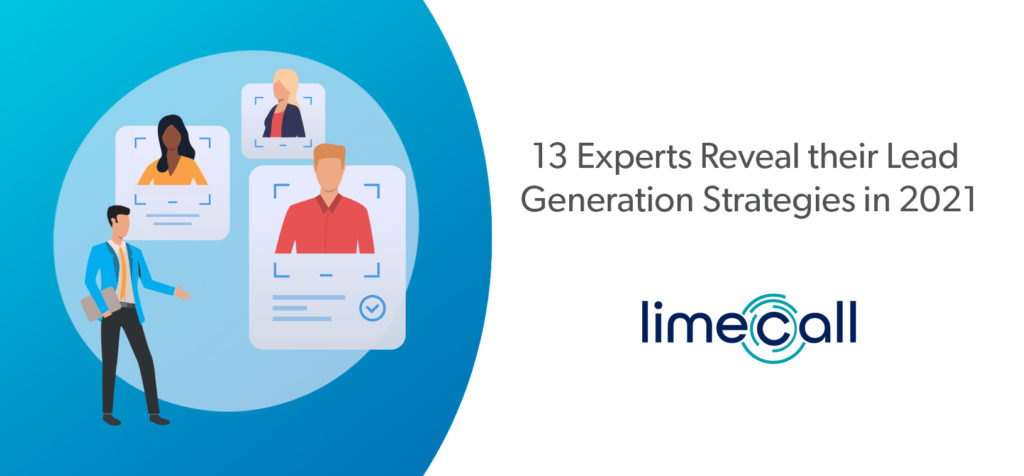 13 experts share their take on lead generation – a process that businesses often struggle with. Let's take a look at what some of their strategies are!
Many businesses often struggle with the process of lead generation. Here we have thirteen experts that share their take on lead generation.
Let's take a look at what strategies they are talking about and what exactly lead generation is.
Lead generation strategies are important for running a business. Sometimes it may become difficult to conceptualize and implement these strategies.to run a business, it becomes essential to acquire new leads and keep the sales increasing.
To understand the right way of executing lead generation strategies, we must first know what lead generation strategy is.
---
What is a lead generation strategy?
A lead generation strategy is basically tactics that attract various interesting prospects and later convert them into leads. Lead is a person who is interested in your brand and has taken some action to be a part of your business. They might share their contact details and other important information to join in with your business.
With so many tactics and strategy, it becomes tricky to execute the right things at the right paths. According to a study, 68% of business struggles with lead generation.
So, to simplify your road to successful business strategy, we have for you thirteen thought leaders to share their take on getting effective lead generation.
To simplify your understanding, we asked them:
What steps can be taken in business to get more effective in generating leads?
What does lead generation look like for your business?
So, let's find out what tips do they have to figure out the right strategies for lead generation that you might find helpful in running your business.
---
13 Experts Reveal their Lead Generation Strategies in 2021
1. Matt Snodgrass, Director of Community Engagement at MarketingProfs
Matt Snodgrass who is the Director of Community Engagement at MarketingProfs categorizes the essence of running a business into two things:
First, that they need to keep a check on their sales and marketing team are in complete alignment– because it generally happens that both marketing and sales teams have different languages and that's where we need to find the commonality to resonate on both sides. This can be done by observing the data.
Getting validated data to the conversion and then making decisions on the basis of the same gets everyone on the same page and also bridges the gap.
Secondly, every firm should start thinking about everyone, not as a lead but a way out to develop a relationship this will create a huge effect because if someone has a good experience with your brand even when they haven't purchased anything, it is quite possible that they talk about it with their peers and colleagues.
That's where it makes a huge difference. It helps your brand in building awareness and making future lead generation easier so that the lead generation is more efficient and effective.
It is all about putting effort at the beginning of every customer's journey. This makes the best possible experience for your customers because if you are not going to give them a good experience, what reason will they have to get back to you?
---
2. Jason Falls, Director of Digital and Social Strategy at Cornett
According to Jason Falls, Director of Digital and Social Strategy at Cornett, emphasizing on the importance of providing elevated content that customers would receive is important.
It becomes your part to give them something of greater value that they are unable to find anywhere. Give them greater value so that they give you their contact information.
Things like webinars, eBooks, white papers, and events work well in the B2B space. According to Jason, he approaches both, front door and back door. Going by the front door approach, it produces content like eBooks or weekly podcasts which are of high-value content and people would enter their contact information for this.
Whereas, the back door approach is either reaching out to people and delivering the gated content via email or inviting them to come on your podcast.
Every business puts efforts to generate more leads. There are certain practices that businesses should practice in order to boost their lead existing generation process.
---
Shrey of ProProfs suggests three basic strategies:
Capturing sales qualifying leads by adding a live chat to the website- it is quite possible that people visiting your website might have some queries related to some specific pages of your website. By this, you can determine if the visitor is a sales qualified or not.
Marketing and socialization through media platforms:
Marketing qualified leads and engagement of customers can only be increased with various targeted posts.
Using the power of Q&A platforms: determining the need of the target audience is a must. Platforms such as Reddit and Quora helps you in doing that. Completing the needs of the target audience can be addressed through the product or service as a solution.
Pro Profs has generated more leads and has paid attention to growing demands and has marketed their products with emerging times. This , in result, has produced more leads in business and delighted customers hand in hand.
---
4. Olga, Freelancer
Olga believes in keeping the product as a prime policy. It becomes useless if you waste time and money in getting new leads and if your product is not mature enough on the other hand to retain the time and money.
To shorten the payback period, it becomes important to work on customer lifetime value(CLTV) and retention and also reinvest the money in the acquisition.
Focusing on the product, it must be everywhere your customer is being offline ads or events and social media. Also, having good- product-market fit oral referrals will work automatically that will generate more user content. Consequently, leads will be generated for you.
Below are some strategies that have been successful in lead generation and engagement of customres:
Building community: Popularity among the community adds great value to your product. Network building opportunities help out in running and staying with your business.
Networking in the community has a group of like-minded professionals that share a similar point of view and values. They are able to manage stuff on business-related issues, exchange challenges, and face them, and can offer help to each other.
Selling in society: Social media platforms like Linkedin and Twitter have a strong fan base and are powerful channels in getting potential buyers and generating leads.
The only aim that must be in your head is to show yourself as experts by sharing valuable tips and other related news so that your name pops up first in the head of potential buyers when the need for the product arises.
Target audiences and partnerships: companies usually generate leads by coming together and having similar target audiences. The results are worth getting if we prioritize partner webinars, guest posting, and newsletters.
---
Monika at MyOperator shares that aligning the content for each lead's sales helps in nurturing and defining your prospects. Building an effective content strategy to get more leads helps build a great network.
At MyOperator, leads are generated solely through an online base. They create content that helps in briefing and giving knowledge to the prospects such as sharing industry case studies and other knowledge for a better understanding of their services.
Offers that are beneficial in providing the leads are always helpful. Just like a webinar or low-ticket service that is helpful for generating target leads.
There's another way to convert leads by directing the target audience through strong sources like blog posts, email lists , ads on Facebook or Google and other social media platforms. This is one of the cheapest ways to convert leads.
---
Charlie believes in an intelligent strategy of not putting everything you have in just one basket as these channels, with time may become more costly or might not be available.
Working at Ampfluence, involves social media outreach, paid advertising at Facebook and Google, SEO and content marketing.
---
7. Jeroen Corthout, Co-Founder of Salesflare
Jeroen Corthout, Co-Founder of Salesflare gives us two easy ways for businesses that are effective in generating leads.
The prima facie is to define and focus on the target audience. The best way is to make a list of the right people on social media like LinkedIn before proceeding to make it using the list with a tool like Dux-Soup.
The second step is the follow up with the leads. With this, you must email the leads at a large scale and then make a follow up with them using CRM automation like Salesflare.
To sum up, the basic keys are:
Keeping a strong target and;
no – break followup
---
CEO of Cognism, James Isilay, shares with us, four tips on how to generate leads effectively:
1. Know your ideal customers:
Take all time you need to know your ideal customers at the start of the process and then define them. Learn that if you will not be able to know who your perfect buyer is, you will never be able to find them.
Build an image of the type of customer you want to attract and then use it to find people that are similar in decision making roles.
2. Get sales and marketing in one line:
This strategy is very effective to get lead generation. Make sure that both your sales and marketing team are on the same page, getting the same leads and working on the same data. All you have to do is to assure that both the teams are aligned, working together in the same umbrella.
3. Get quality leads:
Marketing operation must not affect sales alignment in any way. Lead generation can only occur effectively when there is a consistency in the pipeline of quality leads.
Get achievements through multi channel marketing. Also, publish quality content, start blogs keeping in mind your ideal customers, email campaigns, run paid ads.
4. Keep a check on weekly metrics:
Making adjustments to your startup or scaleup company may take weeks or so. It's better to not waste a week on this and rather work on your strategies quickly. For this, select your metrics and keep a track on them weekly. In case you see a low performance, identify the problem and fix it .
---
9. Angelina from Really Simple Systems
Angelina from Really Simple Systems tells us various ways of generating leads. She thinks that one must adjust their techniques for their customers. A few of the ways are:
If your company is a software selling company, it becomes important for you to work on the optimization of the website, creating content that is useful and appealing for your product.
By doing this, your audience gets conformity to the fact that you are an expert in the field and they can trust you for anything related to this.
Retargeting the leads is another very important factor. Retargeting them and making them remind you about your product and services is very helpful and important.
RSS's main focus is on SEO and PPC campaigns. As a low-cost SaaS product, they are looking to create content that solves their target audiences' issues through the sales channel.
Once they acquire the lead in the line, they manage them with various nurturing campaigns that help them through the onboarding process to become paying customers.
---
10. Sam from Mailshake
Sam shares a common mistake that many businesses make that is marketing to everyone rather than focusing on people who are actually interested in what the company is offering.
In order to generate the leads via outbound sales, you must connect correctly with relevant prospects on multiple channels. For this, the easiest way is to use a sales engagement platform that is user friendly and contains various personalization features that are also unique and special.
Mailshake preaches a better way of sales engagement. They also practice in their sales engagement in outbound sales efforts and keep a followup with inbound leads.
They believe in attracting most of their website traffic via organic search from their blog and marketing website.
The sales team at Mailshake connects with their leads on LinkedIn and then takes a follow up with a phone call. It mostly happens the majority of their leads come from it happens that the sales team proactively engages with the leads and prospects via email, social media, and phone calls.
Interesting Read : 15 Demand Generation Tools to Drive Traffic, Convert Leads, and Close Deals
---
Skyler Reeves, CEO of Ardent Growth, shares some proven tips that add more to the tricky process of lead generation:
Choosing the right SEO strategy: it takes efficiency to have an effective SEO strategy. It generally happens that SEO improves the organic traffic and gives you quality leads.
On the same hand, it requires both art and science to fulfill this tricky task. Try using a mixture of statistical analysis, machine learning, innovations, and creativity to identify the scope of opportunity so that you get better results.
Local SEO is beneficial: There is an overlap of local SEO and a subset of local SEO. while running on two different algorithms, they do overlap.
Local SEO has a location angle on it and takes everything to get a normal result. This the only reason you see different results when you search for things like "dentist" vs "dentist Chicago ".
Site optimization can improve your local search rankings that results in increased traffic at your website.
Rate the existing page: It is easier to rank existing pages quite possibly they might have some equity in the form of links and other existing authorities in the form of links.
Avoid slow pages: Pages that run slow and take time in loading may interrupt research and have a negative effect on search rankings as well. Of Course, you want your pages to load fast primarily for a good user experience that directly impacts the conversion rates of your website.
Adjust your SEO performance with the right tools: Measuring your performance correctly can improve it. It is very important when it comes to SEO to measure your performance. The Performance Report within Google Search Console (GSC) is an extremely useful report for assessing your site's SEO health from a very high level.
It is difficult to generalise one best strategy for every business because every business is of its own kind. Each business has its own market fit and different products.
Therefore, it is advisable to use different marketing channels and see what stays for long.
---
Nicholas recommends the Bullseye Framework by Gabriel Weinberg to organize your tests for best results. It also definitely depends on the growth stage of your SaaS.
At SaaSpirin, they are adepts at "dogfooding". Content marketing is the sole pillar of marketing strategy at SaaSpirin. – but also it is super important to social proof being a productized company where monthly fees are generally higher than your typical SaaS.
Hence, they prefer relying on word of mouth and recommendations made by other people. Because they know that reputation plays a big role in generalising and executing their strategies.
Being a young company, they also reach out via email and LinkedIn but this is manual and they keep it low-key just to make sure that they remain authentic and avoid spams.
Businesses have to understand who their target market is to be able to become effective in their lead generation efforts.
---
Sudeepta shares her strategy of the broken-down version:
It is utmost important to understand your customers and know what they like and what made them stick to you or your products.
Know and determine what appeals the most to their emotions and what works best for your target customers
Know what channels work and what does not
Combine the knowledge and learning from the stated points.
Learn more to get what is perfect
A very important thing to mention here in this strategy is what type of tool is being used throughout the process. The process must be very efficient even though at an individual level but it has to be efficient.
At InsightCraft, they practice what they preach. They begin from defining their ideal customer profile by getting communicated with strategy, messaging and format to the use of tools that makes the process even more smoother at every level for the entire sales.
The structure is just the same in the process but it varies from client to client depending upon their niches.
For example, InsightCraft's lead generation efforts may begin from LinkedIn, then an email, followed by a phone conversation, then to a Zoom demo call before it gets to a closure. It is their way of strategizing the entire process.
---
Conclusion
To conclude with the stated tips and strategies, it can be concluded that it becomes essential to identify who exactly your ideal customer is and who suits well with your strategies to market the products to the customers.
Focus on the target lead and create content such as webinars or e-books so that the target leads could get inclined to you as much as they can.
Make sure that your marketing and sales team are on the same page and are working in an alignment in terms of tracking the same metrics and targeting the same leads.
So! Lead generation doesn't seem scary if you follow the expert advice and tips that we got for you which are of course very useful and will lead your business to great success!
We hope that this proves to be beneficial and helpful to you in running your business.