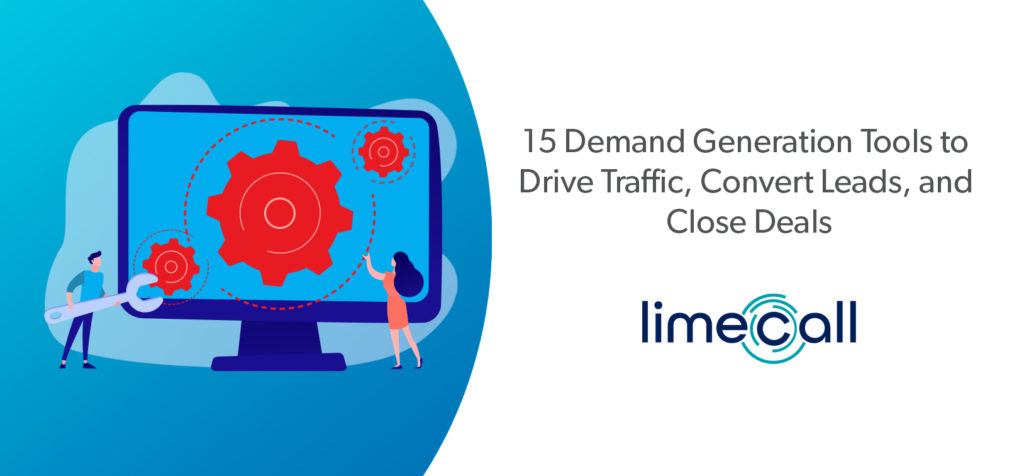 When you talk about a marketer, a B2B marketer's job is to increase demand, generate leads for the sales team, and help sales close deals.
Once you've outlined your strategy to work on that promise, the next step is finding the right tools for the job.Yeah, we know that you have more software options than ever to choose from.
But since it's a daunting process to find the right tools, we did the heavy lifting for you to find the perfect combination of demand generation tools for your stack.
From nurturing and educating to understanding exactly what your leads want from a product, any combination of these tools will bring out more than expected results.
This list of demand generation tools includes tools for both inbound lead generation and outbound lead generation methods.
JUMP DIRECTLY TO
---
Marketing Automation Demand Generation Tools
Modern automation platforms allow businesses to gather an absolutely insane amount of data on their leads. Tracking every touch-point between your visitors and website, it's possible to put activities on autopilot that keep leads in your funnel to eventually convert.
Every B2B marketing team somewhere holds loyalty to one of Hubspot, Marketo, or Pardot for their marketing automation needs, Autopilot is the new gadget in the field worth paying attention to.
Autopilot is simple to use and includes all the main functionality that you want out of your marketing automation (website tracking, Salesforce integration, action based triggers & alerts, drip/nurture campaigns, etc.) without the massive price tag of the others.
Interesting Read : Actionable Tips for SaaS Businesses to Adapt and Grow in the Wake of Covid-19
---
Lead Routing and Scheduling Demand Generation Tools
Here's something to ponder upon: demand is time-sensitive.
This means, just because someone is interested now doesn't mean that their level of excitement and curiosity is going to stay the same in a matter of days (or heck, even hours). Lead routing and scheduling guarantees that you get up to pace ASAP , leaving less lag time for your sales team to get in touch with your leads.
Speed to lead is a thing. That's why these tools exist.
Upon filling the form on the site, Chilli Piper immediately triggers your lead's call with a sales rep or schedule a meeting in a matter of seconds. This eliminates the waiting time that tends to kill your enthusiasm.
And by being routed to the appropriate rep in real-time, your sales team can focus more on helping the customer instead of going back and forth over email just to schedule a meeting.
---
SEO Tools for Demand Generation
Understanding relevant keyword queries is a must-do for attracting top-of-funnel leads and figuring out what they want.
However, SEO not only encompasses the search terms that are relevant for your business but also what people are searching to find your competitors. A keyword analysis serves to bring you on top of the list and in high-demand.
Ahrefs is a comprehensive spy tool to know the SEO strategy of your competitors. Simply plug in a URL to see its highest-performing keywords and how much traffic they bring in.
You can also get a glimpse of which piece of content is trending and see what your competitors would do to build backlinks.
SEMRush offers something almost similar to Ahrefs in terms of competitor analysis, as well as how your competition's rankings have changed over time.
Additionally, you can see which competitors are targeting specific keywords and use that information to inform your own content in the future.
I SEMRush can clue you in, even if you are not exactly sure of who your competitor is.
---
Content Marketing Tools for Demand Generation
Whether it's blogging or via social media, reaching out to your audience through content marketing is a brilliant way to inform existing leads and new prospects alike. These demand generation tools make sure that you create streamline content that reaches and attracts your lead.
Sprout Social is the ultimate all-in-one solution for content marketing on social media. Allowing businesses to assemble a comprehensive content calendar, Sprout's social scheduling zeros in on the optimal times to post on social to maximize engagement.
Additional features such as hashtag analytics and in-depth reporting expand your content reach.
Intelligent choice of title. Creating demand also means creating buzz. By working with industry influencers, you can create a greater sense of awareness and authority around your business.
BuzzStream offers an all-inclusive platform to research and conduct outreach to influencers relevant to your industry. You can also keep track of your relationships and what your top-performing pitches via outreach reporting.
Content creation is an essential thing to do for businesses looking to generate demand. That said, it can also be equally time-consuming especially when you go for a DIY approach or a freelancer approach. To streamline your content creation process, Wordable does the legwork of taking your business' content in Google Docs and automatically exporting it into your CRM (namely WordPress).
This makes for quick and easy collaboration without having to worry about assigning permissions, guest logins or juggling passwords for content creators.
---
Advertising Platforms for Demand Generation
Running ads may seem like an obvious avenue for generating demand, but not all ad types are created equal. Specifically, businesses today should look at audience-targeting and remarketing capabilities afforded by social media as demand generation tools.
8. Facebook Retargeting Ads
Noted for their high ROI, Facebook retargeting ads are the perfect platform to give the business a chance to make an excellent impression on their leads. For example, you can target people based on specific events on-site or on your Facebook page.
Whether it's watching a video, filling out a form or landing on a specific piece of content, you can tailor your ads based on their specific demands.
9. LinkedIn Matched Audiences
If you're working in the B2B space, LinkedIn's ad is a must.Somewhat similar to Facebook's targeting, you can create matched audiences that fit the following criteria:
People who've visited your website
Email contacts you've gathered on-site
Users related to companies relevant to your target audience
Such ads are like golden opportunities for you to introduce your service to hyper-specific prospects who already know your world.
---
Reporting Tools for Demand Generation
Data and demand generation tools go hand in hand. Through robust reporting, you can learn exactly what's driving traffic to your site and how your visitors behave. Based on these data points, you can fine-tune your site to better reflect what those visitors are hungry for.
There's 0 probability that you're already using Google Analytics, right? So why not use it as a demand generation tool?
By setting conversion goals and monitoring the performance of specific campaigns, you can enhance your knowledge on what is and what is not resonating with the visitors.
Also, Google Analytics can point you to your top-performing content and most valuable traffic sources, both of which could influence future campaigns.
11. Grow
Grow is basically business intelligence reporting on steroids. Combining all of your relevant company reports (think: Google Analytics, CRM data, ad performance) in one place, users are empowered to take a more holistic view of their business.
With over 150 instant integrations with today's top apps, Grow stresses quick and boundless implementation as one of their biggest strengths.
These sorts of detailed dashboards help businesses better understand the importance of campaign and lead your focus to streamline your reach.
Interesting Read : 10 Best Practices in Customer Communication
---
Conversion Optimization Demand Generation Tools
Clicks are perhaps the most valuable currency for determining whether or not what you're putting in front of your target audience is resonating. Conversion optimization is an ongoing process that determines what businesses can do to drive more of those precious clicks based on visitor behavior.
Rather than play guessing games with your landing page, Hotjar's heat mapping software examines the real-time behavior of your site visitors. The tool's session recording feature provides an authentic, perspective view of the visitor's journey and how they click around your site.
This allows you to amend your calls-to-action and link placement to see what's working and what might be falling flat.
In other words, you can tune your landing pages on behavioral, objective data to optimize them for conversions.
---
Landing Page Demand Generation Tools
Landing pages are a sort of make-or-break moment when it comes to demand. If you aren't sending the right message or otherwise suffer from a high bounce rate, it's high time to understand by the numbers what the issue is.
Given the number of variables on any given landing page, regular testing of your marketing messages and creatives are crucial. Unbounce gives a real-trial platform where businesses create multiple versions of their landing page and can test them in real-time to find out which brings in the most leads
Another big benefit of Unbounce is its drag-and-drop functionality, meaning that tweaks to your landing pages are a mere few clicks away. This encourages frequent testing without having to worry about breaking your site or complicated coding.
---
Account-Based Marketing (ABM) Demand Generation Tools
By targeting leads on an individual level through account-based marketing, businesses can tailor their messaging and services based on the actions behind their accounts. Again, specific leads have specific needs and therefore can't be treated as a one-size-fits-all affair.
Engagio provides an overall tracking and reporting for your ABM campaigns, specifically focusing on how long your brand "spends" with leads during ABM campaigns.
Assigning scores to leads based on their activities including actions via email, downloads and calls, businesses have a better pulse on what their accounts need to move forward.
Terminus' selling point is it's "360-degree" view of each of your accounts, combining first and third party data to map out your relationships. In-depth analytics including opportunity insights and account-based scorecards signal which accounts need attention from sales or marketing.
This level of data empowers the sales team to stay in sync with marketing and scale their ABM efforts together.
As clearly stated above by these demand generation tools, businesses have millions of ways to increase their reach and spread awareness to their leads.
And we know that different lead generation tools have widely different approaches, but there are some common grounds that are best for the purpose:
Learning as much as you can about your leads
Appealing to the needs of your audience, both on an individual and big-picture level
Enabling leads to take immediate action