With the constant growth of population, there is a forever increase in demand. Also, the business industry in the market has become intensely complex and competitive.
This being said, it becomes an obligation for a company to cope with these interactions to be able to thrive. Here comes in pictures instruments used by progressive companies to deal with the changes in corporate milieus is sales management software, or Customer Relationship Management software (CRMs).
With the fast-paced flow of demands, sales teams need to maintain their efficiency and dependability, which is where sales management tools come in.
Sales management is an important discipline required in the business industry, as it has a direct impact on your sales. For better results, it becomes important to manage the entire cycle of sales and maintain coordination between all the processes in the sales field.
Accordingly, this becomes an important responsibility which is handed over to a sales manager. A sales manager heads such a vital responsibility and its efficiency directly correlates with the net sales.
Interesting Read : 15 Demand Generation Tools to Drive Traffic, Convert Leads, and Close Deals
Certain factors should be considered when choosing the right Sales Management software for your company. In your decision-making process, you'll need to undergo further research about the software available online, and consider things like:
Will it blend seamlessly with your current sales operation? Will it be accessible for your agents when they report offsite or onsite? Will it be conducive to support your company's social media functions? Will it come with easy to comprehend functions? And, will your software provider cater to your complaints if you eventually encounter troubles with their product?
To help with this decision, here is a list of software for sales management. Everything on the list has free trial versions which provides companies the liberty to experience each CRM, and help ease the process of choosing the software for you.
---
Top 10 Sales Management Softwares and CRMs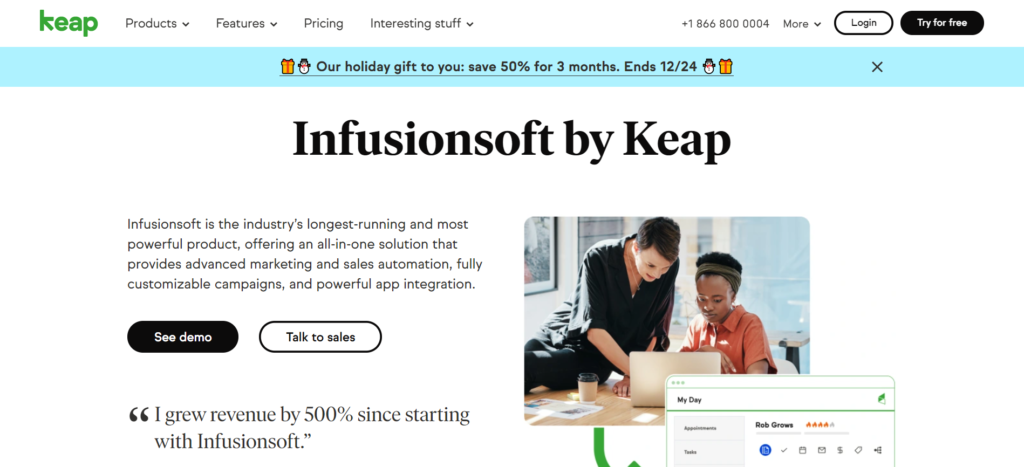 InfusionSoft is a software build to give ease to the sales manager i.e. make his job easier. It is basically a sales and marketing automation software which is uniquely built for the success of small-scale business.
Infusionsoft has supported small-scale businesses for over 16 years with the assistance of their experts who have proved to be immensely successful in the area of sales management.
Infusionsoft helps you with various processes like analyzing business leads by optimizing your engagement with your audience, improving your business' conversion rates to directly cater to clients, bettering your fluency in e-commerce with a "seamless online shopping experience, 24/7," guiding you with following up your sales process and maximizing your time to be able to focus on other tasks vital to your operations.
One more facilitating feature is that it also provides you with a mobile application to stay updated on your sales process.
---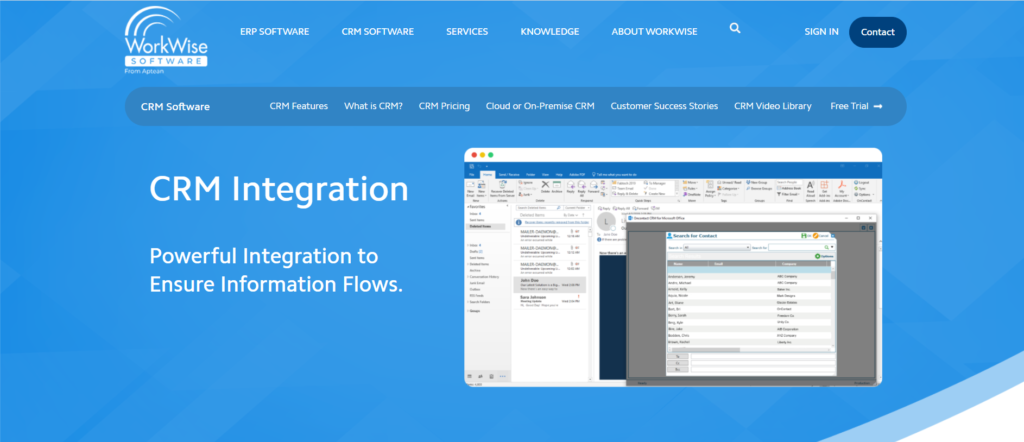 With its built-in Marketing Automation, Contact Center and Mobile functionality, what is there to not favor about OnContact CRM? This software's selling point is its "all-inclusive single price" that provides an easier purchasing decision for your clients.
15 years of existence in the sales industry has helped OnContact support businesses by assisting them with tedious sales operations tasks to allow them to streamline their transaction processes. It is one of the leading customer relationship management solution in the mid-market companies.
It is easy to use, cost-effective, and enables you to give better services to your prospects.
---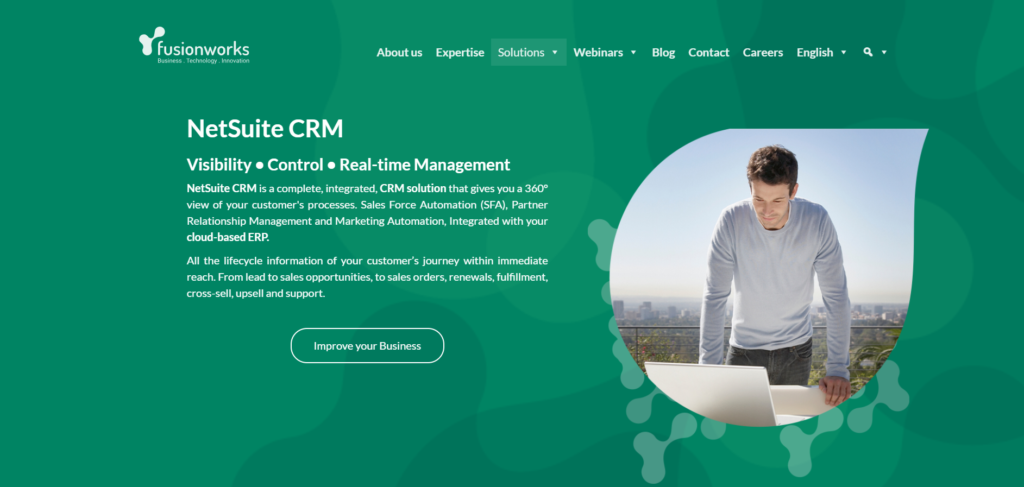 Boasting a volume of 40,000 clients, NetSuite accommodates the needs of various business sizes, industries, roles, and software. This CRM powered by Oracle provides its clients a "real-time, 360 degree view of your customers."
NetSuite assists its users in gathering and analyzing leads until these turn into actual opportunities for your company to grow. Besides the traditional functions of a CRM, NetSuite provides you with "quotations, order management, commissions, sales forecasting, and integrated e-commerce capabilities."
NetSuit is an all-in-one solution, it provides all the powerful capabilities in a single cloud solution, which includes Sales force automation, Marketing automation and customer service and support.
---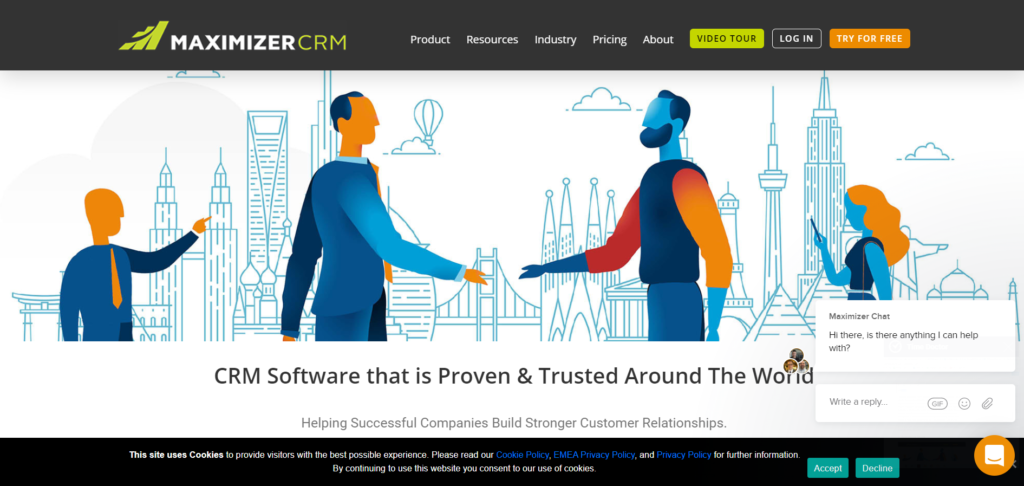 "We Help Businesses Grow" happens to be the tagline Maximzer sells to its clients. It is an integrated CRM which is suitable for all sizes of organisations and in various industries.
This software equips your company with a competitive advantage by maximizing lead generation, managing pipelines to shorten sales cycles, helping you close more deals and increase revenue, and allowing you to deliver exceptional customer service.
Transparent in their website is a list of figures from one of their case studies to show their effectiveness as a CRM software.
Here are the numbers from that company alone: 30% increase in sales calls, 20% growth in revenue, and 70% productivity savings. It can be used on both on-premises and in the cloud
---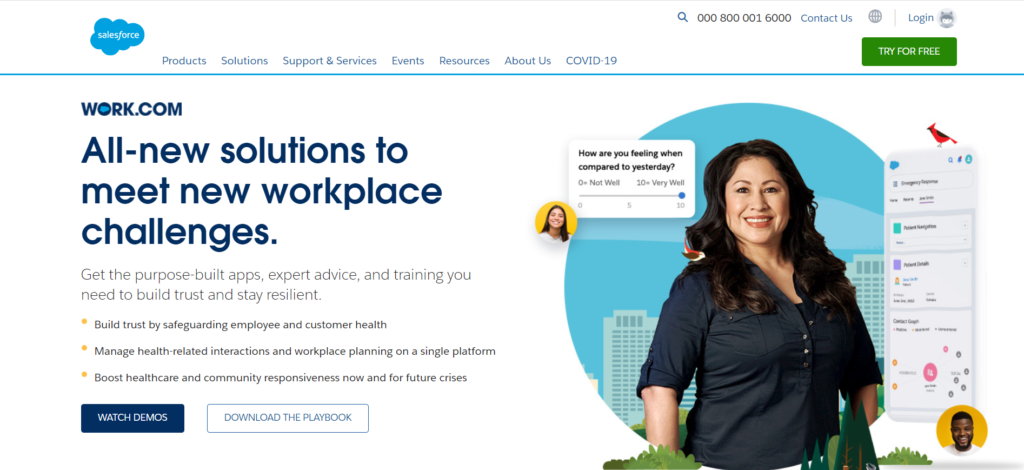 Salesforce guarantees your business efficient service, and effective marketing. This software has created what they call Cloud Services, a division that dedicates its services to maximizing your business' ROI.
Salesforce also developed a personalized Standard Success Plan for the smoothening of your processes.It also helps you manage and organize your interactions with potential customers or prospects.
To aid you further in your day-to-day operations, Salesforce gives you the opportunity to work with their specialists and consultants to act as your corporate advisors; and, educates you by training you and certifying you as experts in the sales industry that guarantees an 80% ROI for you.
It's the predictive analysis and accurate forecasting that makes it easier for employees to convert qualifying leads into sales. Salesforce offers services and products like Salesforce Sales Cloud, Salesforce Marketing Cloud, Salesforce Analytics Cloud, Salesforce IoT Cloud, etc.
---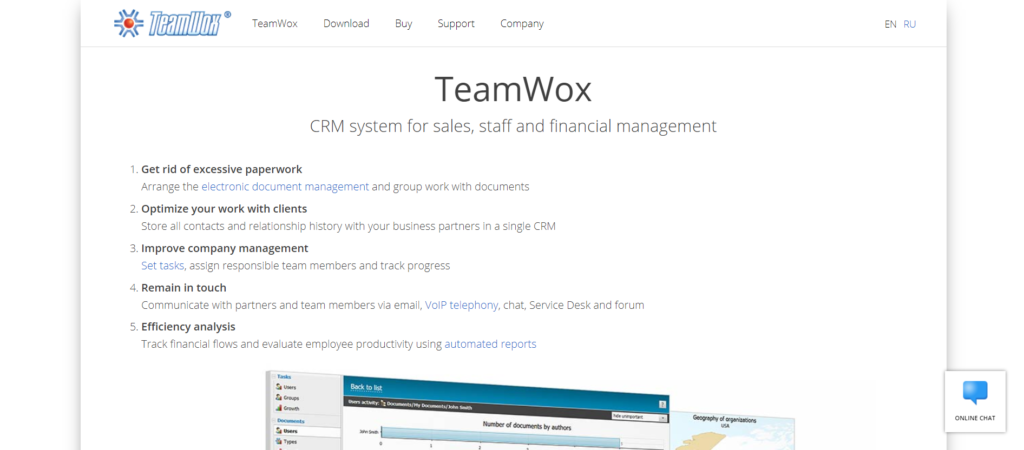 TeamVox enterprise management system is ideal for small to medium-sized businesses. The software prides itself on providing your organization the transparency it needs to improve employee productivity and reduce your company's costs.
It allows you to effectively organize working group documents and avoid problems related to multiple projects and campaigns. Listed on their site are the assistive measures they provide like: Human Resource Management, Task Management, Documents Management, IP PBX Phone System and Voice Communication, CRM, Corporate Social Tools (Forum, Live Chat), Corporate Search System, Analytics (Report) and Accounting, Customer Support: Help Desk and Online Assistant, and Email Client.
---

As simple as its name is, the Base software provides simplified navigation through its interface. The app works efficiently on any device it is installed on (i.e. laptop or smartphone operating on either Android or iOS). The base is rated as the #1 mobile sales app.
It guarantees 6-times faster implementation of data, seamless tracking of your team's activity, data syncing in real-time, and gives you insights based on the data it collates. It improves your team's productivity significantly.
Starts with $45 per month per user, with advanced features so you can build an easy interface.
---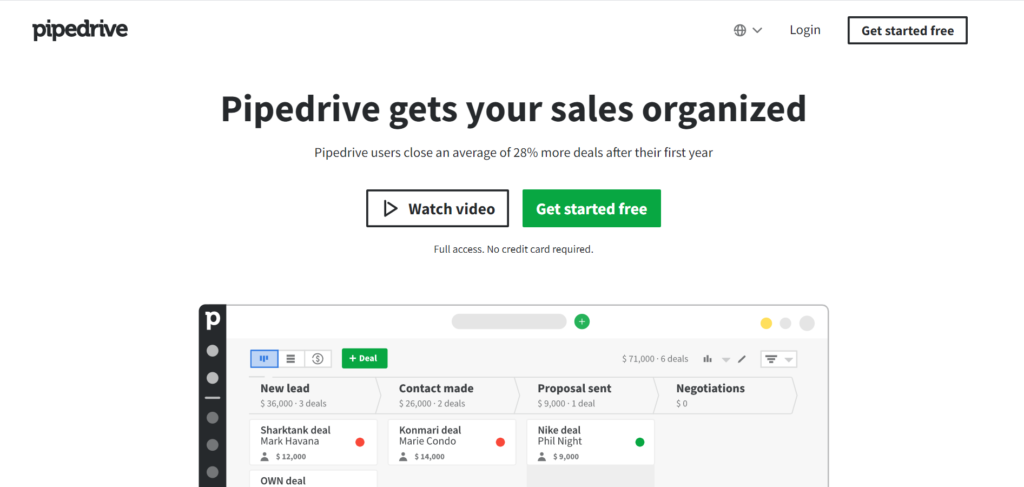 An organized sales process is what Pipedrive guarantees. The software does this by providing you with helpful tools like: a feature that helps you plan your employees' activities, holistic data tracking function, an online manager that liaises your deals with your clients, and an assisting function that just makes your work a lot less tedious.
It is the easiest to use CRM which keeps a track of the sales deals and automates busywork, this gives the team member more time to focus on selling.
Interesting Read : The Top 20 Live Chat And Chatbot Strategies
---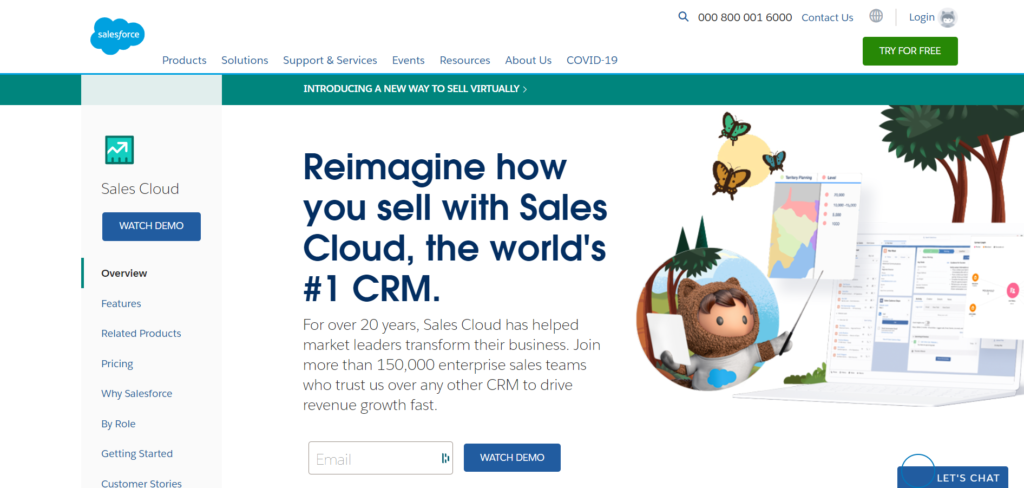 SalesCloud is one of the innovators in the CRM game that is slowly revolutionizing the whole playing field.
Through this employment of advanced technology, SalesCloud is able to efficiently provide its users real-time data, all you need is just to log in and let technology deliver you information like: generated leads, customer satisfaction, social media and mobile customer interaction, and predictions of customer demands.
---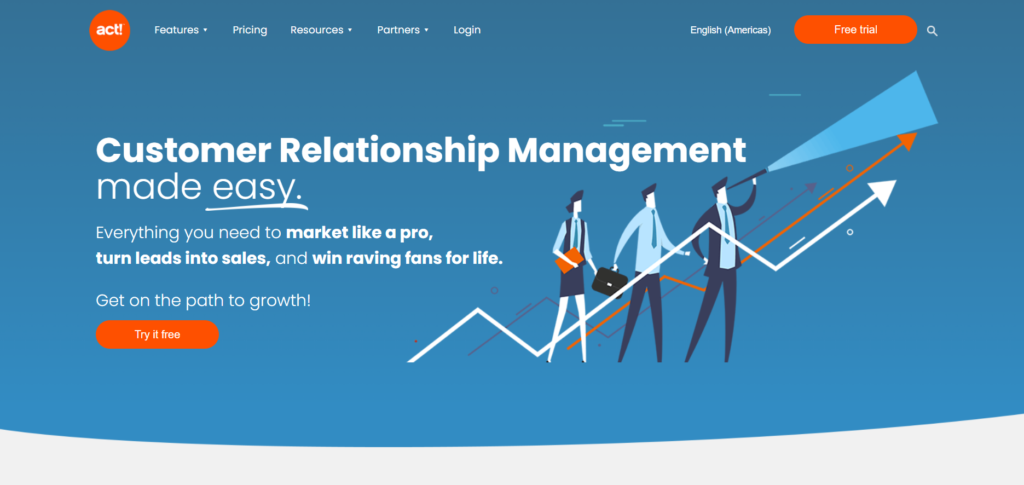 One of the more cost-efficient CRM software available online, Act!, in a nutshell, provides companies with solutions in organizing prospect and customer details, ensuring email delivery, product and service marketing, and driving sales results.
It combines marketing automation and sales pipeline management into a single, centralized platform. This solution includes tools for sales process automation.
---
Conclusion
Once you have been through the above details, it should be confident and sound enough to make the decision about which sales software is best for your company.
Also, remember never to rush the decision-making process when choosing your company's online sales management software. Remember that your chosen software should easily be adapted to by the whole team, and benefit the sales management system, such that even a person who is new to CRM is able to crack it easily.
While a software's price should be a consideration, also keep in mind the added value of streamlining your sales operations it will contribute to your business' growth.
Lastly, make sure that the CRM software you choose is fitting to your sales team's objectives, requirements, and expectations by involving everyone in the deliberation. The right software will bring unexpected results.
If you still practice traditional methods in running your sales team, and you find them lacking in results, it is high time that you seek the assistance of a CRM that will ensure that you, your sales team, and the audience you cater to are all free from stress.