The communication between the employees as well as the communication between a seller and a buyer has always been important. It is an inevitable part of a complex process such is the sales cycle.
Many businesses make the mistake of trying to minimize customer communication in order to save time. However, they are doing the completely wrong thing.
Of course, it is important to automate every process that allows it and that brings some benefits through automation. You can also automate many aspects of communication thanks to the various tools on the market.
You should not neglect automation, as your customers will also feel neglected. Today, the focus is on the buyer, not the seller.
Unless you prove that there is excellent customer support behind your business, your target group will, without thinking, go straight to your competitors who are showing in every possible way that they care about them.
If you are reading this article, you probably already tried RingCentral which means you recognized the potential of consistent communication. This is a great indicator that your business is striving for progress.
However, in case this tool does not meet your expectations, we will present to you the top 3 RingCentral alternatives & competitors. They will help you raise your communication to an even higher level.
Advantages & disadvantages of RingCentral
RingCentral is a cloud phone system that combines phone, messaging, video, and meetings in one tool.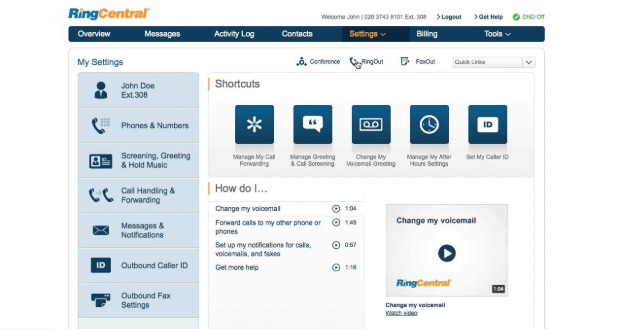 What are the advantages of RingCentral?
This platform is easy to implement.
There is a variety of phone numbers available so you can choose the one for you.
You can install the RingCentral app on any device, phone, desktop, or tablet, so you can have access at all times.
It covers over 40 countries. In addition, it includes inbound virtual numbers in more than 100 countries, so you do not need to use different phone systems.
When it comes to meetings, this tool has a special part named RingCentral Meetings that provides opportunities for:
Webinars
Video conferencing
Audio conferencing
Cloud telepresence
RingCentral allows you to share files and tasks with your team and collaborate effectively.
All of your information and work are secured because there is a system with seven security levels.
All calls made are saved, and you can search for them by looking at the day or hour when they were made, as well as by the phone number.
There is an option to put a call on "do not disturb" if you can't receive more calls at the same moment.
You can set different ringtones for the particular numbers you interact with the most, so that, as soon as you hear the sound, you know if someone from your team may be calling you.
What are the disadvantages of RingCentral?
There are certain flaws that can become quite a problem.
After implementation, there are many options, so it takes some time to adjust to this tool to your needs.
RingCentral does not store calls older than three months, and it can often be extremely important for businesses being able to go back and see what happened earlier.
When the wifi connection gets worse, the phone stops working.
You can't use the extension for the whole team.
Audio and video conferencing are separate parts, which may be confusing.
It can happen that missed calls are not displayed immediately, but only after a few hours.
When a call comes in, it interrupts what you were doing and, at that moment, you can't finish what you are working on.
In the end, RingCentral is definitely on the more expensive side when it comes to this type of tool.
Pricing: Choosing an annual instead of a monthly membership fee can save you up to 33%. The packages and their prices depend on the number of users.
Prices start at $19 per user, with each package offering a free trial period. You can compare plans and see which one might work for you.
Considering the advantages and disadvantages, you might want to give one of the following RingCentral alternatives & competitors a chance.
1. Limecall – The Sales Enablement Calling Tool
Limecall is certainly one of the best RingCentral alternatives & competitors.
It is a callback platform that will help you improve your communication with your visitors on the website.
Ease of use: It takes only 5 minutes to implement Limecall.
It is very easy to use, and the few minutes you spend on setup will convert up to 3x more website visitors into customers.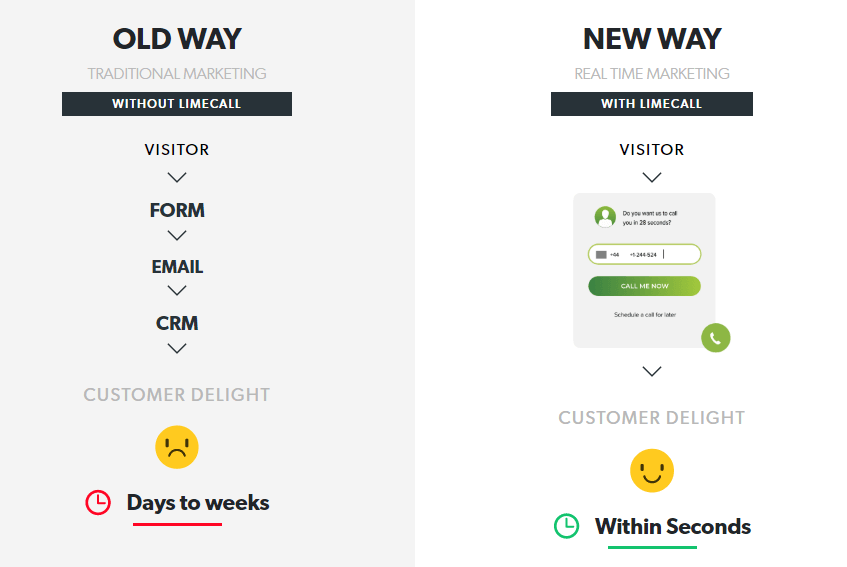 Customer support: For every problem you have, there is customer support: people who will do their best to offer you an adequate solution in a very short time.
If you run into some trouble anywhere along the way, with their help, you will be able to get back on track and reap the full benefits of Limecall very quickly.
It is intended for: Limecall is intended for all B2B niches, whether it is the automotive industry, SaaS, travel, or any other.
Main features: The features are an integral part of any well-designed tool. Some of the most important Limecall features are:
This feature monitors the behaviour of your leads, so you will have the opportunity to get to know them better and offer them exactly what they need.
Each call is recorded so you can go back and listen to it whenever you want. This way, you do not lose sight of the important information.
Your visitors can choose the time they want to contact you and it will automatically be added to your schedule.
Limecall can be linked to your CRM or some other tool that is important to you like HubSpot, Zapier, WordPress, Intercom, and others.
But, the most important feature that sets Limecall apart from other communication tools is the callback widget.
Specifically, when a website visitor wants to ask you a question, a window which looks like this pops up at the same moment: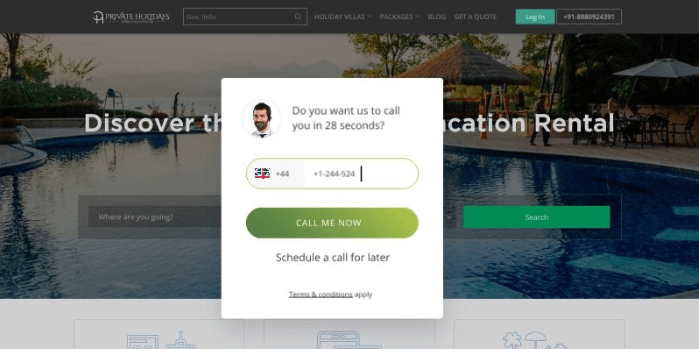 Such a quick reaction, where you show potential users that you are able to get in touch with them in less than half a minute, makes a very positive impression.
People do not expect such a quick reaction at all. Not only do you maintain an initial interest with your leads, but you also create an overall better impression when it comes to taking care of your customers.
Of course, if having a conversation at that moment does not suit your visitor, he or she can schedule a call for later: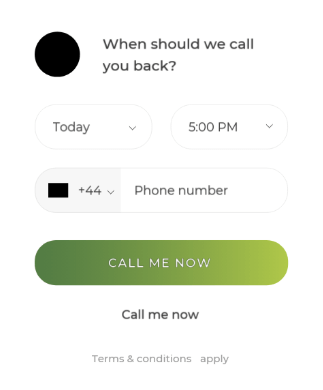 After each call, the user has the opportunity to leave feedback. All information about it is stored in a dashboard that you can access at any time.
Pricing: Limecall offers a 14-day free trial without credit card required so you can try the tool for yourself and see if it works for you. There are three plans available, a Starter that is free, a Pro that costs $35 per month, and Advanced that costs $75 per month.
All three plans include callback integrated widget and lead generation 24/7. An Enterprise Package is also available that you can customize according to your needs in consultation with the Limecall team. Consult for Limecall Pricing.
Why is Limecall one of the best RingCentral alternatives?
In addition to a special widget that helps build strong connections with potential customers, Limecall has the following benefits:
It is extremely easy to use. It is designed in such a way that there are no complicated options that can slow down your business.
Pro and Advanced packages offer the ability to install callback widget on an unlimited number of domains.
You can personalize each offer.
After the call, customers have the opportunity to express their opinions, which helps the business itself to thrive.
It simplifies and accelerates the sales process without compromising the quality of communication.
It provides the ability of SMS follow-up.
It has the option of purchasing international numbers so that your users do not have to bear the costs and can call you from any time zone.
The Limecall callback platform generates leads for your business non-stop, so even when the working hours are over, you do not have to worry about missing out on anything.
2. Jive Voice
Jive Voice is one of the most famous VoIP (voice over internet protocol) phone services.
It is designed for businesses of all sizes, from small businesses to large companies.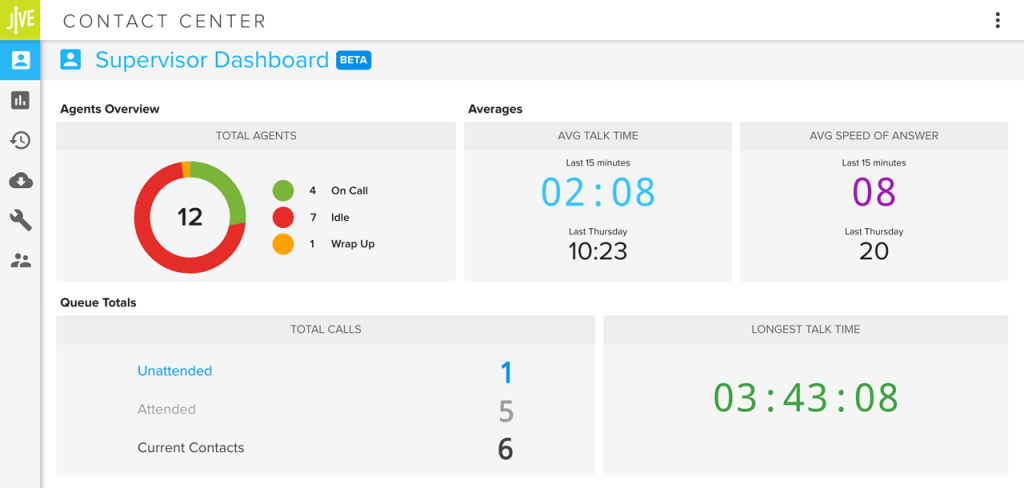 Source: GetApp

Jive Voice allows you to communicate from any place in the world thanks to the mobile app.
The mobile feature helps you to prevent missed calls. The control is completely in your hands.
You can select "No disturb", or turn on instant notifications.
By connecting all the devices you use such as cell phones, desk telephones, desktops, you keep your business going and maintain communication with your users even when you are absent.
There is a visual planner editor where you can organize all your important information about calls, voice mailboxes, and auto-attendants.
Without the interference of content support, you can customize your dial plan, edit your call routing and auto-attendant services simple and easy.
You are able to upload a file for music that is played while the call is on waiting and to change it anytime you want.
Jive cloud runs on multiple data centres, so it can deliver exceptional voice quality.
It integrates with Salesforce, Zoho, Redtail, both Apple and Android apps, and many more.
Jive Voice offers you unlimited calls, SMS, and fax.
The security is at a high level. It includes layered authentication and encryption networks.
Everything is cloud-based, so you do not need any extra tools.
You can make a custom schedule and custom greetings, too.
Before you try out Jive Voice, you can have a call with their consultant which will help you choose the right feature for you and set up this RingCentral alternative.
Offered features:
Voicemail
Fax
Unlimited calls
Mobile App & Softphone
Auto-attendants
Page & Ring groups
Call queues
Pricing: You can choose a month-to-month account without any obligations, or you can opt for a long term contract that can bring you additional benefits such as lower prices.
A package that covers up to one hundred users ranges from $19.25 to $29.95, depending on the number of users logged in.

Why is Jive Voice another good RingCentral alternative?
Jive Voice provides better call quality than RingCentral.
It does not require additional hardware, your existing hardware and Internet connection are sufficient for it to function properly.
It offers integrations with many important applications.
Datacenters are widespread all over the world. In order to establish the fastest connection, your calls are routed through the closest datacenter.
Jive Voice is constantly updating and incorporating new features to make it function even better.
Customer support is available to customers 24/7.
Their team is very reliable and responsive. If the person who received your request is unable to assist you, they will immediately forward it to someone who will resolve your issue.
Many sites have classified Jive Voice as the best tool on the market.
3. Grasshopper
Grasshopper is another one of RingCentral alternatives & competitors and it is a virtual phone system.
It is a great option for big companies that get a lot of calls on a daily basis to help them organize themselves and increase productivity.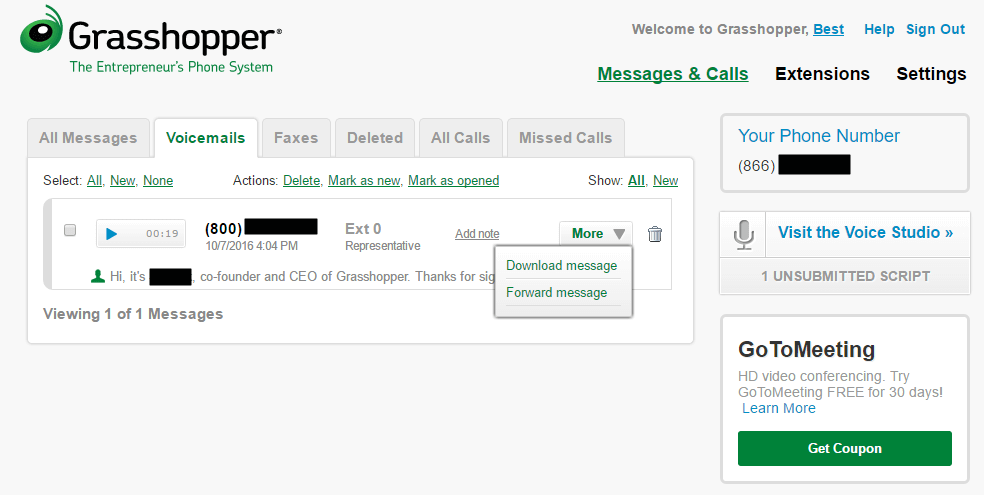 Source: Virtual Phone Systems
The setup is very simple and it only takes a few minutes.
You can use your current phone number or choose a new phone number through Grasshopper.
It is also one of the cloud-based systems.
When you receive a call on your mobile phone, it is marked as a "Grasshopper call" so, even if you keep your current number, you would know when the call is related to work.
Because of its ease of use, it is ideal for small businesses as it requires no introduction to the complex ways of the functioning or complicated implementation.
All messages and calls are in the inbox, organized by contacts. This means that it doesn't matter which channel of communication the person used to reach you. You will not have to search for them because everything is located in one place.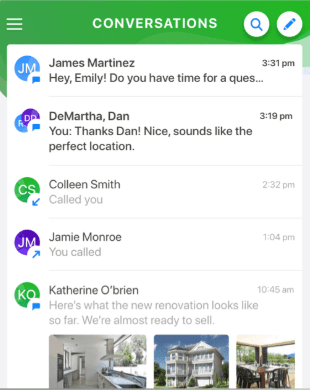 Sync to your email account, so you do not have to switch applications to answer.
You also have a complete timeline view of each interaction you have completed, which allows you to know exactly what was going on, and when. It is easier to make a follow up because you have all the information you need.
The multiple calls can be diverted to another phone or a team member if you are busy or unable to answer.
Offered features:
Connect Inbox
Interaction timeline view
Phone number inventory
Custom greetings
Voicemail transcription
Virtual fax
Call forwarding
Simultaneous call handling
Incoming call control
Reporting
Pricing: Every package offers a free trial so you can familiarize yourself with the tool before you subscribe to a specific package.
Grasshopper offers three different paid packages starting from $26 per month. Grasshopper Connect costs $35 per month.

Why is Grasshopper a reasonable RingCentral alternative?
Grasshopper has some amazing organization options such as Grasshopper Connect inbox that keeps all your interactions in one place.
It includes various number options such as:
800 prefix numbers
833 prefix numbers
Toll-Free numbers
Vanity numbers
Local numbers
Depending on what you need for your type of business, you can choose the right number for yourself.
You can separate your personal contacts from your work contacts and conversations.
Check also our : Leads tool for automotive business and Callback Apps for Real Estate.
Custom greetings help make your customers feel comfortable and give you an even more professional impression.
For every problem you encounter, there is customer support that is available at all times for you.
The bottom line
Communication is the key to success. It is important to know how to maintain communication with your leads.
That exact leads will become your customers. So, when they want to reach you, it is your obligation to establish ways in which they can easily get in touch with your business.
Imagine walking into a store and there is no one there asking if they can help you. You would be confused and go immediately to a competitor who will give you the customer experience that you deserve.
The customers today are thinking the same way when it comes to the online world. If you want to prevent this from ever happening, do not give up if RingCentral doesn't meet your expectations, but try one of RingCentral alternatives & competitors.
Your customers deserve to be treated in the best way possible and to be provided with all the information they need at the moment they need it.
It is extremely important that you take advantage of that moment when your potential customers are most "warmed-up" and not leave them waiting and, eventually, forgetting about you.
Limecall can be of great help to you with that, as this tool, with its special widget and quick response, just guesses that moment when your visitors need you the most.
In order to respond in real-time and avoid losing numerous customers, try this callback platform out. Try our Callback Software and Check Limecall Pricing Now!
And remember, it is crucial to generate the leads constantly if you want to increase your sales engagement.
By using such innovative tools, your advantage over your competitors will be enormous.