Your website traffic is amazing, but does it convert enough? Does it answer all your customer's questions? Do you want more customers and more sales? Do you want better conversion rates? In this article, we will reveal all the secrets and best practices you need to know on using callback software to capture more website visitors and convert them to your customers.

Let's dive right in the ultimate guide to use callback software in your sales!
What is a callback software and how can it help you to grow your revenue?
In today's world where the internet gave us access to almost everything, people don't want to wait for the information they need. We demand answers immediately.
When someone jumps on your website, what can they see? They probably see some information about your company. But, does it satisfy their needs? Is the information you showed them through your website enough for them to be satisfied?

Who knows!

Who knows why they visited your website. Perhaps, it's because they want to learn more about your product, your pricing, or maybe they just want to go through your blog and learn more about some specific topics.

In a lot of times, your website visitors are leaving your website after several seconds.
Do you want to know the reason behind their short visit?
They are not satisfied with the information you're showing them. They want answers to something else.
That's the time where callback software jumps on the scene.
The purpose of callback software is to engage with your visitors and connect them with your sales repository, customer support or call centre, so they can provide your website visitors with relevant information which can improve your sales.
The mission of callback software is to allow your sales team to close more sales and make more deals, by connecting your sales team and your website visitors with unique widgets.
Implementing callback software on your website and in your sales funnel will not just improve your sales. It will also make your website visitors and customers happier because it will satisfy their hunger for information.
Check our : Callback apps for automotive business
Let's take a look at the following infographic – showing the comparison between the old way of closing deals, and a new way of closing deals with callback software: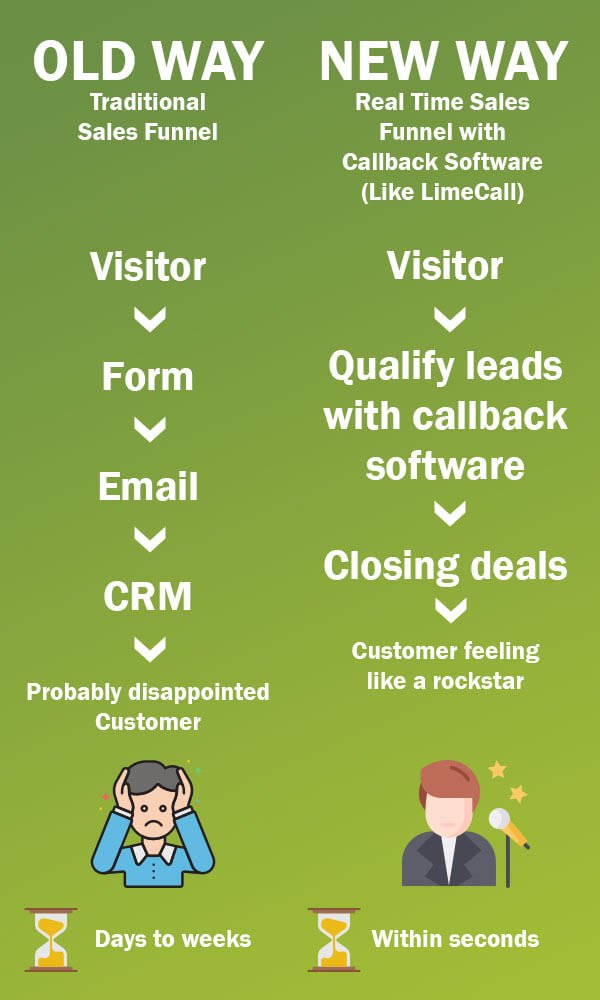 Now when we understand the differences and pros between the old way of closing deals and a new way of closing deals using callback software, let's dive right in the best guide on using it and its use cases!

Do you want your customers to feel like rockstars? Are you ready?

If you are, then set your belts, because this will be an amazing ride!

Skyrocket your website conversions with Callback software

According to Impactbnd, average landing page conversion rates are between 2% – 5% – and most of the website out there have conversion rates lower than 2%.
There are numerous things which can improve your landing page conversion rates, and with no doubt – they work.
For example, you can't have converting landing page without the amazing copy or killer call-to-action button.
But, have you ever thought about implementing callback software on your landing page? Certainly, your conversion rates will jump for a few percents!
Australian Marketing Agency tried this, and can you guess its results? They conversion rates grew by 70%!
Isn't that amazing?
So, how can some callback software, like Limecall for example, help you to improve your conversion rates?
The trick is – callback software automatically qualifies the most interesting website visitors for you and show them callback widget. The widget looks like this: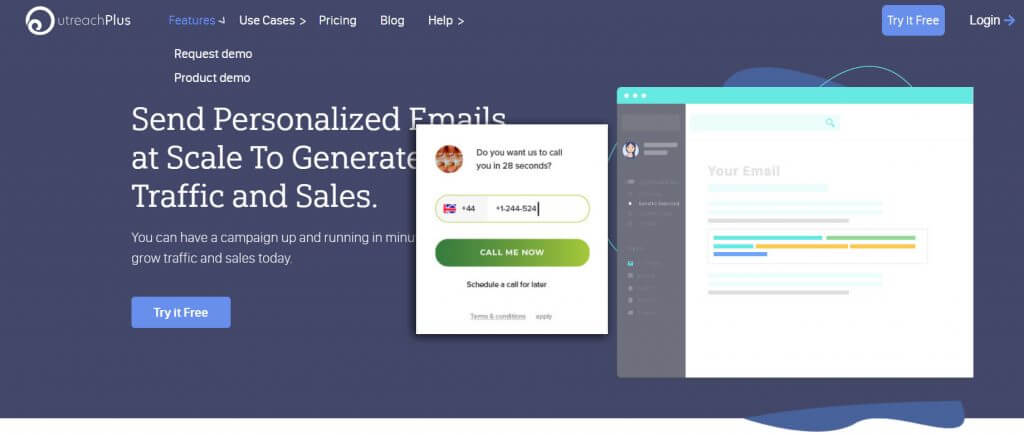 Asking your website visitors for a "sales call" in the next 30 seconds is a very powerful technique, especially because they will not recognize it as a sales call. Just like we talked at the beginning of the article – they want explanations, they want answers – really fast.

Why?

Because, a lot of people will forget about you a few minutes after they leave your website, and probably, even if they were interested in your product, they will never come back.

Show your potential customers that you care about them. Show them that you are available for them every day, and finally, show them that your mission is to empower their business and solve their problems.

There is nothing more powerful than using human interaction in every aspect of your business – but we will talk more about this right belove!

Switching chatbots with human interaction and callback software

People adore when you take care of them. Actually, imagine by yourself. Would you like more to chat with a real human behind your computer, or with a chatbot? Who will answer your questions? Who will better explain to you how to solve your problems?

Chatbot or customer support?

Switching from chatbots to real human interaction with your customers is super easy with callback software.

But, of course, everything has its pros and cons. With callback software, you will create better relationships with your potential customers and engage them more. But on another hand, you will need additional human resources.

But at the end of the day, even that isn't a big problem, since with callback software, you will speak just with the most interesting and hottest leads and website visitors.

You are probably thinking right now that AI and chatbots are the future. Yes, they are. And they are pretty good in some segments, but human interaction will never be outdated.

Even better from switching chatbots with callback software is creating a mix of both of them.

Here is what can you do to create a killer connection:

Use chatbots on your website and landing pages for quick customer support with cold leads, in order to easily transfer them through the funnel.

And later use callback software features to build better relationships with your leads and close the deals.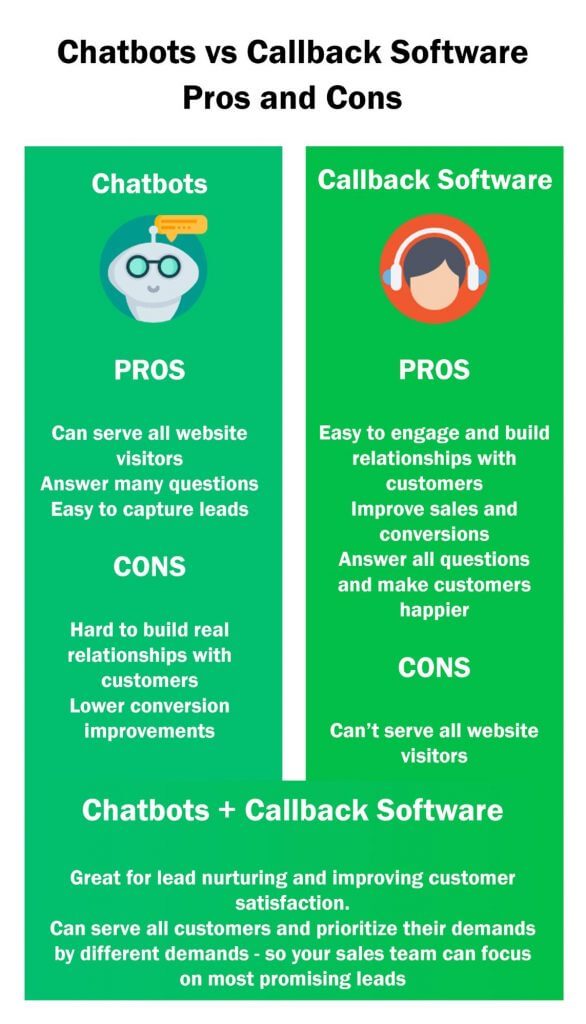 Take all the pros from both chatbots and callback software, and build a killer sales funnel nurturing process.

Showcase more demos and schedule more meetings
Yap, callback software can find its implementation even here!

When you're determining how would you like to use callback software, it's up to you on which pages will you put the callback widgets. That can be your home page, product landing pages, features, competitor comparisons or even contact page.

As I said, callback software found it's implementation even in demo and meetings scheduling.

Based on your sales funnel, you can put your callback widgets just on one step before your potential customers are usually requesting your product demos.

Why would you do that if you already have a couple of people who are requesting a demo?

Well, the answer is pretty easy. Just like in the all use cases above, using a human interaction via phone and calls will supercharge your conversions. Even more, you will be able to collect more personalized information about your prospects.

Admit it, filling forms is both boring and limited. Then why would you force your potential customers to waste their time on that?

With direct conversations with your potential customers, your sales team or customer support will be able to collect more information about your prospects and give more answers and information about your product to them.

Providing demo through email conversations and collecting necessary information about your prospects in order to do that, takes years to accomplish.

But with callback software, it takes only 30 seconds.

When it comes to scheduling your meetings with prospects, callback software will help you to have more meetings with almost zero effort.

Despite what you think, almost every business process is slow and it takes a long time to be finished – especially if you're selling your product to high-end buyers and large enterprises.

For example, if your goal is to schedule a sales meeting with a big enterprise, your process can look like this one:

Once they visit your website, they're navigating through it in order to quickly find answers to their questions and problems. Probably, they jump on your features page and start exploring it. Probably, they like your features, and then, they go to your Pricing Page. If your pricing plan suits them, they will very likely schedule a demo or start a free trial. After that, based on your user journey, in order to gain their loyalty and trust, you will need to send them several follow-ups before you even schedule a meeting. This process can last for a couple of weeks.
Do you see the problem here? The process can last for a couple of weeks.

And now I would like to ask you, what do you think about the following process?

Once they visit your website, they're navigating through it in order to quickly find answers to their questions and problems. They jump on your features page and start exploring it. If they like your features, they will visit your Pricing Page. At his moment, if they stay on your pricing page for more than several seconds, a callback widget pops up asking them for a quick call and short, but informative demo tour. The happy visitor leaves its phone number and impatiently waits for your call.

Which process would you like more to see on your website? The first one, or the second one?
Empower your lead generation with callback software
As you can see, callback software will certainly help you to close more deals. But, on another hand, its purpose can also be found in the lead generation too!

Using callback software both in lead generation and closing deals makes it a necessary part of your sales funnel.

Of course, callback software can't replace all of the lead generation processes you're using, but it will certainly help you to collect more leads.

So, how can you use callback software to generate more leads?

Literally, when it comes to implementing callback software wherever you want, the only thing you need is imagination. You can implement it in almost every department of your company or step in your sales funnel.

For example, when it comes to lead generation, here are couple of ways of how callback software can help you to empower the top of your sales funnel:

– If someone is visiting your blog for a couple of weeks now, set up your callback widget and offer them call where your sales team will answer all of their questions regarding the topics they are interested in.

– Tie up callback software widgets with your lead generation channels (for example, show your widget to everyone who is visiting your website from LinkedIn or from some other channel).

The most important thing to keep on your mind when using callback software is to release your imagination and play as much as you can.

Now when we know a couple of best use cases for callback software, let's see some of the best practices out there for using them!

Shall we?

Best practices for achieving greatest results with callback software
Of course, nothing can be achieved without some insight tips, tricks and practices. Right?

A few other use cases for callback software are:

– Use it in your cold emails or follow-up emails – using callback software in your sales and outreach is a powerful way to boost conversions and close more deals.
– Use it for support calls – you realized that your customers are navigating through your knowledge base or support documents for too long – answer their questions with callback software and build better relationships with them!
– Use callback software with Google Ads – you can easily improve Google ads conversions by putting permalink into them, so your customers could get an auto-call.
– Use it on high converting pages, especially on "pricing page" – callback software will never be underrated on landing pages. On the simple way, catch your visitor's attention and easily convert him.

We went through the dozen examples of using callback software, but you will need to know a few things more before you're ready to implement it in your sales funnel.

It's the same as when you listen a thousand of digital marketing podcasts, and you think that you're expert, but didn't work on any campaign.

Honestly, if you don't know how to use callback software, you will not achieve any results. Implementing callback software on your website it's pretty easy, and depending on the provider you choose, it can take up from 2 minutes to 20 minutes.

But, the hardest thing here is knowing and preparing your sales team on how to use it on a proper and most effective way.

Let's see some of the most interesting facts about using callback software!

Website visitors from both mobile and desktop computers are equally likely to accept your calls
Don't bother yourself with mobile and desktop website visitors. By the analysis from the summer last year, both of them are equally likely to accept your goals.

So, instead of putting your effort on choosing between one of them, channel it somewhere else.
Personalized SMS messages after the call will boost your conversions
Yap, you heard me right!

Sending personalized messages just after your call ends will skyrocket your conversions. Now, you can send them various types of messages.

For example, you can send them the outlines of your call, or simple call-to-action buttons. It's up to you!

Fortunately, tools like Limecall, have support for automatic follow-ups via SMS and you can also ask for feedback on the call, so you don't need to worry about anything

"Warm up" your website visitors before asking them for call
Cold website visitors are less likely to accept your call invitation. So, what's the reason behind this?

It's pretty simple. The less they know about you and your product, the fewer are chances that they will accept your call.

So instead of just wasting your credits and time, try to first "warm up" your website visitors a little bit.

For example, you can show them your callback software widget somewhere in the middle of your sales funnel or after they navigated through several pages on your website.

Just avoid showing your widgets immediately after they visit your website, because they will probably restore it down and forget about it.

The bottom line
Well, before I finish the article with my favourite ending, I would like to summarize everything with you, and, of course, I would like to say you: "Big Congratulations for finishing this amazing and in-depth guide on using personalized callback software widgets !"
You really must have a lot of passion for growing your company if you managed to read my entire article. I know I can be annoying sometimes, but also very helpful.
So, before we finally go on our own paths after reading this, let's see what are some key takeaways from this article:
As we mentioned above, the mission of callback software is to empower your business using real human interaction with your potential customers.
The purpose of callback software can be found in many departments and steps in your sales funnel.
You can use callback software to convert more website visitors, generate more leads, improve your customer support, or even to schedule more demo showcases and sales meetings.
Although this sounds very attractive, you will not achieve great results if you don't know some of the best practices and tips for using callback software.
Beside some obvious practices, like using native English speakers in your call centre, some things like sending personalized SMS follow-ups will skyrocket your call's successes.
So, what are you waiting for? Contact your Callback service provider.
Check Limecall Pricing.
Create personalized callback software widgets, show them on the right place and in the right time, and empower your business and close more deals! Fingers crossed – I know you have the strength and passion for achieving big things!
Try your Limecall free trial right now – with no credit card required!